Browse Experian's Client Testimonial Videos
Hear from Experian clients on how our best-in-class products and services have helped them grow and protect their businesses through tough economic times. Below, you'll find videos, case studies and recent initiatives driven entirely by feedback from our customers.
Patrick Fernandez, Intuit

"I manage a team of analysts that mine data so we look for trends and KPIs and we also work with third-parties such as Experian to help give us better insight into our merchant portfolio."

Dave Hillery, National Grid

"Our job is to help them who can't pay, but want to. That's where we come in with the help of Experian... The Behavior Scoring Model allows us to treat individual consumers individually."

Dave Griffing, FirstEnergy Solutions

"Using the data that Experian has, we were able to specifically target customers... We were able to lower our cost per acquisition by about a factor of three and still maintain the take rates that we had previously."

Ted Bauman, SouthStar Energy Services

"Experian's taken the time out to come up with ideas for me."

Dave Hillery, National Grid

"They know our needs. They make it simple."

LaDonna Bohling, Contract Callers

"The results we've seen are higher contact rates. Higher contact rates yield higher recoveries. Sometimes it's just a matter of us helping the consumer resolve the debt."

Jacques Machol, Machol & Johannes LLC

"We've used the Experian scoring models to help us segment portfolios. That allows us to better work for our clients."

Mike Cushing, Fourscore Resource Capital

"They're integrated into how we do business. To us, it's worth it. The ROI is there."

Carrie Shumway, Arizona Federal Credit Union

"We've invested a lot with Experian, and Experian has invested a lot with us. Experian understands what we're trying to accomplish. And this isn't about understanding the credit union vertical. This is about understanding Arizona Federal Credit Union and what we're trying to accomplish."

Carl Rohr, Sound Credit Union

"I'd say, prior to Experian, we had higher losses on the prescreens than we have since we implemented them with Experian. It's just a bit more sophisticated development of criteria."

Jade Beckman, Mountain America Credit Union

"One thing we try to do is take a deeper dive on our Quest data to really try to understand what relationships these members have and how we can better deepen our relationship we have with them."

Carl Rohr, Sound Credit Union

"Four years ago, we did a credit score validation. We were working with a particular analyst, he did a fantastic job. We've had outstanding results since that time. Our losses have come down. Our delinquencies have come down. Our approval rate has gone up. So it was extremely successful."

Miguel Jurado, Director of Sales and Business Development
"I believe Experian is meeting or exceeding their goals. Since working with Experian, everyone from the account managers, the product managers and the support staff have been very quick and diligent in getting us the quality data we need to help us make our own educated business decisions."

Direct Energy

Kam Newman, Senior Collection Analyst

"Two or three words to describe Experian - the first one to come to mind is stability. Proven - there's a track record and a level of comfort that we have with Experian. And lastly, being in the credit net world, the privacy associated with it - the security that Experian as an organization has is probably the third thing that we are very comfortable with."

Per Sorenson, Vice President Credit, Collections & Risk Management
"Some of the successes that we have had are really in more efficently being able to manage the group that is looking at credit. We've been able to really focus on the types of customers where we need to do more work."

Ian Cohen, CEO
"The world of data exchange is changing...data has changed because it has become very decentralized. There is the old way of doing it, and the new way of doing it. Experian has one of the richest data sets out there. And they have chosen to step up and share that data set with consumers."

Stacy Fifield, Vice President of Consumer Lending and Operations Support

"What I value most is each challenge that I've faced I have always been able to call my rep and she's able to find a solution to what I'm looking for. So it may not be what I was originally looking for, but in the end it ends up being the best solution."

Ronda McCoy, Vice President of Lending

"It's really obvious that the reps like to build a relationship with us and so they go out of their way to answer questions and get us information in a very timely manner which is very important these days. So I think that's what I value most."

Nick Machol, Director of Operations
"We've experienced an ROI on that product exceeding well beyond 10,000 percent, which is one of the highest ROI products we have in our waterfall mix."

Tosha Eagles-Williams, Chief Operations Officer
"Experian is a very innovative and dynamic company. The products and services they offer allow us the opportunity to better serve our members, to better understand our members and also, it allows us to compete in this challenging environment."

Greg Harned,Vice President
"When I speak about Experian, I speak about partnership. They really understand what we're looking for, and the challenges that we face. We put our minds together to figure out the best way to attack that challenge with the ultimate goal being to make sure that we service our customers the best we can."

Mike Cushing, Executive Vice President, Business Development
"Experian's greatest strength is their people — their salespeople, the marketing group, the sales group, the support people. They're not trying to sell you a product. They're actually trying to be a help to you."

Mike London, Manager
"The Collections Advantage tool that we've implemented has allowed us to go from more of a "dialing for dollars" kind of recovery effort to a more targeted, queuing workflow pipeline, so it's a much more efficient process."

Bruno Mariejeanne, Senior Director of Credit-Debt Management
"Working with Experian we have been able to reduce our bad debt, to reduce our delinquency as well as to grow the business."

Matthew Maloney, CIO
"We were one of the early adopters of the Experian Collection Advantage product. As that has evolved, we've used that product in all facets of our business."

Alan Greenfield, Vice President
"The size of Experian and the volume of their data provide a lot of opportunity for us to provide better services to our clients. The quality of service both from a technology perspective and understanding the application has been excellent."

Mark Ritter, Assistant Vice President for Business Lending
"The reason I like partnering with Experian is because there are many companies out there that provide data and software but Experian really focuses on solutions. They have people who understand my business and come up with solutions for my business...not simply the solution that they are selling."

Steve Kusic, CEO
"Not only were we getting more hits, but the percentage of the hits being the correct phone numbers was significantly greater."

Rick Slater, Chief Operations Officer
"We recommend Experian to anybody like us who is looking for products and we also try to recommend Experian products at credit unions for those products that are institution-specific."

Miguel Jurado, Director of Dealer Services
"Our company continues to grow each year that we've partnered up with Experian. We have big goals, and fortunately for us, we've met each goal in each year and Experian has been a big partner in that."

Anthony Repanich, Executive Vice President
"Experian really understands our business of financial services. It's like talking with another banker down the street. They understand what we're trying to do for our clients. They also understand the regulatory challenges we're up against."

Michael Karosas, Chief Operations Officer
"I've been very impressed with not only the products that Experian offers but also the resources they invest into developing new ideas and targeting what our industry needs are."
First Financial Asset Management

Utilizing Experian's Collection TriggersSM product, First Financial Asset Management collected $3.5 million­ — a return of $72 for every $1 spent on trigger data, within two years. The company simultaneously improved its operational costs associated with the collection of these and similar customer accounts.

Income Insight Risk Analysis

Income InsightSM can help you better understand the risk profile of your accounts and strengthen the credit quality of your portfolio. This analysis shows that a consumer's actual payment behavior correlates more closely with Income Insight than it does with stated income.

Bay Area Credit Service LLC

Bay Area Credit Service LLC conducted a three-month trial program that proved Experian delivers superior account management, programming capabilites and account scoring and high-quality data, resulting in dramatic performance improvements and enhanced profitability.

Franklin Mint Case Study

By implementing an auto prescreen campaign, Franklin Mint Federal Credit Union exceeded its return on investment goal by nearly 200 percent and increased its one-year campaign net profit by 60 percent.

Bass and Company

Utilizing the Experian PINpoint ServicesSM product, a leading multistate natural gas utility company identified and linked duplicate customer records. Of the bad debt that could belinked to active customers, 57 percent was recovered in less than 90 days.

Focus on the Energy Industry

Experian PINpoint ServicesSM helped an energy company identify and link duplicate customer records, resulting in the collection of $730,000 in unpaid balances. Of the more than 3.3 million customer records sent by the energy company, Experian PINpoint Services matched and assigned a personal identification number to 92 percent.

Like many credit unions, SC Telco Credit Union faced many challenges when trying to increase their bottom line. Over the past year, their goal was to grow their loan portfolio by offering new and used auto loans to prospective and existing credit union members. Learn how Experian® helped SC Telco Credit Union grow its loan outstandings by more than $2 million using Experian's estimated interest rate calculation (EIRC) attribute and Auto In the Market ModelSM product.

Snap-on Credit

When Snap-on Credit needed to grow its business and find ways to better manage its highly diversified customer base, it turned to BusinessIQSM to help proactively monitor accounts and mitigate commercial credit risks associated with high volumes of customers. As a result, the company was able to increase customer approval rates by 5 percent while continuing to limit its exposure to business risks.

C&H Distributors

The ability to quickly finance and process orders is challenging for many companies. BusinessIQSM Premier Profile helped C&H Distributors significantly reduce information costs and bad debt by offering the information and data needed to expedite risk assessment in fast-paced environments.

Acquire more international commercial customers using better data

Rubicon Project

With relevant, up-to-date data, Experian's International Development Profiles helped U.S. based company to safely expand into untapped markets and uncover new growth opportunities overseas.

Los Angeles County Metropolitan Transporation Authority

With BusinessIQSM, the Los Angeles County Metropolitan Transportation Authority was able to significantly shorten their credit application cycle as well as limit accounts over 90 days past due to less than 5 percent of their total receivables.

Wurth Louis and Company

Companies wanting to gain more insights on prospective business customers rely on BusinessIQSM for its proprietary data. One such company, Wurth Louis and Company, was able to save time, achieve sales goals, and mitigate business credit risks.

Secura Insurance Companies

Secura Insurance Companies solicited the aid of Experian's Intelliscore PlusSM and BusinessIQSM to streamline its policy renewal and new applications processes, leading to increased sales despite multi-year decreases in pricing across the industry.

Daylight Transport

To maintain its key competitive advantage of speed and customer service, Daylight Transport needed to make quick decisions. With BusinessIQ Premier Profile and Portfolio Scoring and Alerts, the company was able to speed up customer approvals, meet sales growth objectives and also make plans to expand its business.

Experian Order to Cash

Utilizing its parent company's products and services, the Experian Order to Cash team increased visibility into client relationships across different business units, developed new collection treatment strategies and monitored changes within their client base; this resulted in a 55 percent decrease in balances more than 90 days past due over the span of just a year.
Featured Testimonial
Featured Case Study
Reduce mail volume by targeting individuals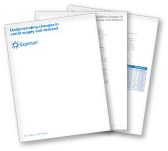 By implementing an auto prescreen campaign, Franklin Mint Federal Credit Union exceeded its return on investment goal by nearly 200 percent and increased its one-year campaign net profit by 60 percent.