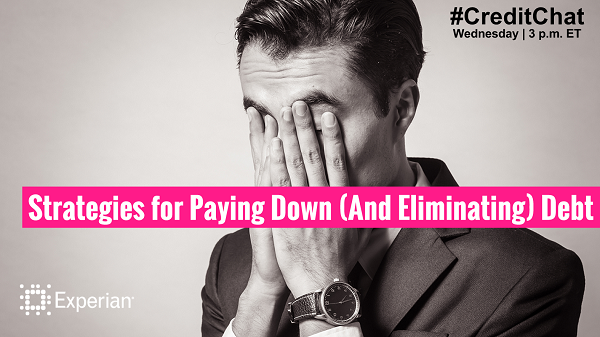 Join our #CreditChat on Twitter and YouTube every Wednesday at 3 p.m. ET.
High outstanding debt can impact your credit scores so it's important to reduce and/or eliminate debts on "revolving credit" accounts. In this chat, we're going to talk about strategies for reducing and eliminating debt. We hope you can join this discussion with us.
Topic: Strategies for Paying Down (And Eliminating) Debt
When: Wednesday, March 11 at 3 p.m. ET.
Easy ways to chat with us on Twitter: Twubs or Tchat
Join us on Twitter by using the #CreditChat hashtag – and tune in to the discussion on YouTube. The video panel will include: Carey Ransom – CMO of Payoff, Leslie Tayne, Managing Director of Tayne Law Group, Rod Griffin – Director of Public Education at Experian and Mike Delgado – Community Manager at Experian.
We will embed the live streaming video on this page during the chat. If you'd like to join a future video chat, please let us know by tweeting @MikeDelgado. We would love to meet you.
If you've never heard about #CreditChat, here is a brief overview:
Upcoming Chats
April 8: TBD
April 15: How to Rebuild & Raise Your Credit Scores – JK
April 22: How to Get Financially Ready for College
May 13: TBD
May 20: Fun & Frugal Summer Vacation Ideas
May 27: The Importance of Gratitude & Giving
Check Out Past Chats:
Check out all the tweetchats storified here.
Featured In: