At Experian, one of our priorities is consumer credit and finance education. This post may contain links and references to one or more of our partners, but we provide an objective view to help you make the best decisions. For more information, see our Editorial Policy.
The Southwest Rapid Rewards® Priority Credit Card has a valuable intro bonus and offers the most perks of the three Southwest consumer credit cards. While its annual fee is also the highest of the three, the benefits make it a great option even if you only take a few Southwest flights each year.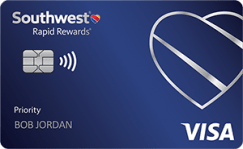 Southwest Rapid Rewards® Priority Credit Card
Apply
on Chase's website
Recommended FICO® Score*
Good - Exceptional
Southwest Rapid Rewards® Priority Credit Card
2X
points on Travel
Earn 2 points per $1 spent on Southwest® purchases and Rapid Rewards® hotel and car rental partner purchases. Earn 1 point per $1 spent on all other purchases.
1X points on All Other Purchases
Earn 40,000 points after you spend $1,000 on purchases in the first 3 months. Plus, earn 3X points on dining purchases for the first year.
Card Details
Earn 40,000 points after you spend $1,000 on purchases in the first 3 months. Plus, earn 3X points on dining, including takeout and eligible delivery services, for the first year.
7,500 bonus points after your Cardmember anniversary each year.
$75 Southwest® travel credit each year.
4 Upgraded Boardings per year when available.
20% back on inflight drinks and WiFi.
Earn 2 points per $1 spent on Southwest® purchases.
Earn 1 point per $1 spent on all other purchases.
No foreign transaction fees.
| Pros | Cons |
| --- | --- |
| Potential to earn the Southwest Companion Pass | An annual fee |
| Receive travel credits, in-flight discounts and anniversary points | Modest rewards on purchases |
| Earn tier qualifying points that count toward elite status | |
| No foreign exchange fee | |
Chase customer service
800-432-3117
Card Services
P.O. Box 15298
Wilmington, DE 19850
Experian Review
With the Southwest Rapid Rewards® Priority Credit Card, it's possible to earn towards a Companion Pass, get a 20% discount on certain in-flight purchases and be reimbursed for four upgraded boarding positions each year. There's a $149 annual fee, but that's offset by $75 in annual Southwest travel credits and 7,500 points you receive each year on your account's anniversary.
Intro Bonus Earns Points, Companion Pass
As a new cardholder, you can earn 40,000 bonus Southwest Rapid Rewards points if you make $1,000 worth of purchases during your first 3 months with the card. In addition, during the first year, new cardholders can earn 3 points per dollar on dining, including takeout and select delivery services.
To earn the Companion Pass, you need to either fly 100 qualifying one-way flights or earn 125,000 qualifying points in a calendar year. This card's intro bonus offer counts towards the required qualifying points to earn one. Once you receive the Companion Pass, it'll be valid for the remainder of the calendar year in which the status was earned and for the entire calendar year immediately following.
With a Companion Pass, you can add a person of your choosing to the same flight and only pay for their taxes and fees—which start at $5.60 per one-way flight whenever you book a flight (even if you book with points). You can only designate one person as your companion at a time, although you can change companions up to three times each year.
Whether you're taking a one-hour flight, heading across the country or heading to the beaches in Hawaii, it's nearly a buy one, get one free deal on every flight. And you can use the Companion Pass as many times as you want.
Get Multiple Cardholder Perks and Benefits
Southwest Airlines is known for its unusual boarding process and lack of assigned seating. If you're late to check in for your flight, you might be stuck in a middle seat rather than spread out in an exit row aisle. Love it or hate it, it's how the system works.
If you're worried about boarding late, you may be able to purchase upgraded boarding (for an A1 to A15 spot) on your day of travel. These upgrades cost $30 to $50 each depending on the flight, but if you pay with the Southwest Rapid Rewards® Priority Credit Card, you'll get reimbursed for up to four of these upgrades each cardmember year.
Additional cardholder perks and benefits can save you money while booking flights, during flights and when traveling abroad. They include:
20% back on drinks and Wi-Fi.
A $75 Southwest annual travel credit, which you can use to purchase flights and pay for the taxes and fees on rewards fights.
7,500 bonus points each cardmember anniversary year.
No foreign transaction fees.
You can also earn 1,500 Tier Qualifying Points (TQPs) for every $10,000 you spend with the card, up to $100,000 each year. The TQPs count toward A-List and A-List Preferred status in the Southwest Airlines frequent flyer program, which can give you priority access to ticket counters, boarding and security lines, bonus points on flights and free same-day standby flight changes.
Earning and Redeeming Points
Using the Southwest Rapid Rewards® Priority Credit Card, you'll earn 2 points per dollar on Southwest flights and Rapid Rewards partner hotels and rental cars, and 1 point per dollar on other purchases. It's a lackluster rate considering other co-branded airline cards and general travel cards offer higher rewards on travel (not solely airline) purchases. However, the points are often worth more than 1 cent each if you use them to book airfare.
The exact value varies as Southwest's Rapid Rewards program ties the number of points you need for a flight to the current cost of a flight. However, on average, each point is worth around 1.5 cents when you use them to book Southwest flights.
You can also redeem points for merchandise, gift cards, hotel stays, rental cars and international flights on select carriers. And as a cardholder, you can redeem points for experiences, such as a cruise or wine tasting. But you'll often get the best value redeeming points on Southwest, particularly if you choose Wanna Get Away fares.
Receive Additional Travel and Purchase Protections
When you apply for the Southwest Rapid Rewards® Priority Credit Card, you may be approved for either a Visa Signature or Visa Platinum version of the card. The intro bonus, rewards, perks and cardholder benefits are identical.
You'll also get the same travel and purchase protections, for the most part. Limitations and coverage amounts may vary depending on if your card is the Signature or Platinum version:
Auto rental collision damage waiver: Secondary coverage that provides protection if your rental car is damaged or stolen.
Roadside dispatch: Connects you to a roadside dispatch service that offers pre-negotiated rates on services.
Lost luggage reimbursement: Reimburses you if your bags are lost, stolen or damaged and the airline doesn't cover the full cash value of the items.
Baggage delay insurance: Gives you up to $100 per day for up to three days to spend on eligible emergency purchases if your bags are delayed by more than six hours.
Travel accident insurance: Up to $500,000 in benefits ($250,000 for Visa Platinum cards) for covered accidents, including loss of life, speech, hearing or limbs.
Travel and emergency assistance services: Only available with the Visa Signature version, the service can help refer you to local medical, legal, translation or transportation providers while you're traveling. It can also help you replace important documents or prescriptions that were lost, stolen or forgotten at home.
Extended warranty protection: Receive up to one additional year of warranty coverage on items that have an original warranty of three years or less.
Purchase protection: Get reimbursed up to $500 if something you buy with the card is stolen or damaged within 120 days of your purchase.
Many credit cards offer these types of benefits from their network (Visa, for example). Generally, you'll have to make the purchase with your credit card in order to receive the benefit, which is one reason it's often a good idea to use a credit card to book travel and make major purchases.
Additional Info
| | |
| --- | --- |
| Purchase APR: 15.99% - 22.99% Variable | Grace period: 21 days |
| Transfer APR: 15.99% - 22.99% Variable | Annual fee: $149 |
| Cash advance APR: 24.99% Variable | Balance transfer fee: Greater of $5 or 5% of the transferred balance amount |
| Minimum interest charge: None | Cash advance fee: Greater of $10 or 5% of the cash advance amount |
| | Foreign transaction fee: None |
| | Late payment fee: Up to $40 |
| | Returned payment fee: Up to $40 |
Authorized-User Policy
You can choose to add an authorized user to your Southwest Rapid Rewards® Priority Credit Card and give another person a card that's tied to your account. The authorized user will be able to make purchases with their card. But as the primary cardholder, you'll be responsible for all the bills.
The authorized user won't receive an additional four reimbursements for upgraded boarding purchases. However, the 20% discount applies to their eligible purchases, and the points from the purchases get added to your account and can help your progress toward a Companion Pass.
Is This Card Right for You?
The Southwest Rapid Rewards® Priority Credit Card could be a good fit if you plan on taking at least a few Southwest flights each year. The $75 annual travel credit and 7,500 points are worth $187.50 (assuming each point is worth 1.5 cents), which is more than the card's $149 annual fee. Plus, you're getting discounts on in-flight purchases and reimbursed for four upgraded boardings, when available.
However, the card is limited in that you won't earn a lot of points from purchases and will want to redeem the points for Southwest flights. If you won't get much use from a Companion Pass and won't benefit from the other cardholder perks, a more general travel rewards card would likely be a better fit.