At Experian, one of our priorities is consumer credit and finance education. This post may contain links and references to one or more of our partners, but we provide an objective view to help you make the best decisions. For more information, see our Editorial Policy.
Although it looks like one, the Upgrade Card is not a traditional credit card. Instead, it gives you access to a line of credit, which you can access with a card or by transferring money to your bank account. Your draws are then combined and turned into an installment loan, which you'll repay with fixed payments over the loan's term.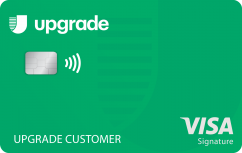 Upgrade Card
Apply
on Upgrade's website
Recommended FICO® Score*
Fair - Exceptional
Card Details
Combine the flexibility of a card with the low cost and predictability of a loan
$0 fees - $0 annual fee, $0 activation fees, $0 maintenance fees
No touch payments with contactless technology built in
See if you qualify in minutes without hurting your credit score
Access to a virtual card while you wait for your card to arrive in the mail
Great for large purchases with predictable payments you can budget for
Mobile app to access your account anytime, anywhere
Enjoy peace of mind with $0 Fraud liability
| Pros | Cons |
| --- | --- |
| No fees | Charges daily interest on all transactions |
| Fixed interest rates and repayment terms | No rewards or cardholder benefits |
| Potentially high credit limit | |
Upgrade Customer Service Contact Info
855-997-3100
275 Battery Street, Suite 2300
San Francisco, CA 94111
Experian Review
If you're planning on making large purchases and want predictable repayment terms, the Upgrade Card could be a good option. Unlike credit cards, which can lead to carrying high interest debt while you make minimum payments, each draw with your Upgrade Card has a set monthly payment and repayment period—generally, two to five years.
Does the Upgrade Card Work More Like a Credit Card or a Personal Loan?
The Upgrade Card works more like a personal loan than a credit card.
Credit cards are revolving credit accounts. Your credit card has a set limit, which is the highest your balance can go before you must stop making any additional purchases or transactions. Each statement period, your transactions get added up to determine your balance.
With a credit card, you can then make a minimum payment and carry over the remaining balance to the next month if you choose. When you do, you'll pay interest on the remaining balance and on new purchases. As you pay down your credit card balance, you can borrow against the credit line again, which is why it's called a "revolving" credit line.
The Upgrade Card functions more like a personal loan or personal line of credit in some ways. Your account will have a credit limit—$500 to $50,000 (most accounts have a limit under $20,000)—which you can borrow against multiple times. But, unlike a personal loan, the Upgrade Card allows you to borrow as you go (up to your limit), which will help you avoid the added cost of overborrowing.
You can use the card to make purchases or transfer money into a linked bank account. At the end of your billing period, the total from your transactions is added together and turned into an installment loan. Each installment loan has its own fixed payment amount and repayment period.
Those payments, along with whatever has already accrued, are combined to determine the monthly payment due on your Upgrade Card. Having the predetermined repayment period and set monthly payment can help borrowers stay on track, and save them money compared with making minimum payments on a credit card or paying back an unnecessarily large loan. You can also pay off the balance early without paying any penalties.
Interest Accrues Differently From a Credit Card
Another important distinction between credit cards and the Upgrade Card is that credit cards generally have a grace period. If you pay off your entire balance every month before the grace period ends, your purchases won't accrue interest.
The Upgrade Card doesn't have a grace period: All of your purchases immediately start accruing daily interest.
Your loan's interest rate will be determined by the rate you receive when you first open your account, and you can get an interest rate discount by using autopay when you're taking draws. But once your transactions are bundled into an installment loan, the rate on that loan won't change.
Upgrade can change the terms of your account, which may mean increasing the interest rate or repayment period length, on future draws.
How Can the Upgrade Card Impact Your Credit?
When you apply for a new Upgrade Card, the company will check your credit using a soft inquiry, which will not impact your credit scores. Once you are approved, Upgrade will do a hard inquiry on your credit report, which can have a small negative impact on your credit scores but may not affect your loan approval.
Once your account is open, Upgrade will only report the account to the credit bureaus after you use the card or make a transfer to your bank account. If you have multiple Upgrade installment loans, the aggregate monthly payment and maximum repayment period are reported as one account in your credit report. As with other types of loans, making on-time payments can help you build credit, while late payments can hurt your credit history.
The Upgrade Card is reported more like an installment loan on your credit report, as your repayments have fixed payment amounts and set repayment periods. Because of this, the Upgrade Card may not impact your credit utilization ratio or count as a revolving account in your credit mix, depending on the scoring model used to calculate your score.
No Fees, but Also No Rewards or Benefits
Unlike some personal loans and personal lines of credit, the Upgrade Card doesn't charge any application, origination, annual, monthly or inactivity fees. And, unlike some credit cards, there are no foreign transaction fees or cash advance fees (you can only transfer money to a bank account—you can't withdraw cash at an ATM or get cash back when making a purchase).
There isn't even a late payment fee—but if you are late on a payment, Upgrade will temporarily stop you from making more purchases or transfers until you bring the account current.
Whether the Upgrade Card makes sense will largely depend on the interest rate on your account (which applies to both purchases and fund transfers to your bank account) and how you plan on using the card. Considering the Upgrade Card doesn't offer a grace period, rewards or benefits, a credit card may be a better option for everyday purchases that you pay off at the end of each month. There are also credit cards with no annual fees.
However, for purchases that you'll pay off over time, the lack of fees could make Upgrade a cheaper option than other lines of credit. And, being able to tap the credit line multiple times without submitting a new application can be more convenient than taking out a personal loan.
You'll want to compare rates before taking out a loan, especially because personal loans and lines of credit may have large interest rate ranges. Fortunately, you can see your estimated rate and credit line with a soft-inquiry application for the Upgrade Card, which won't impact your credit scores.
If you decide to open an Upgrade Card, you can monitor and manage your account using the Upgrade app or sign in to your online account. You can also add your Upgrade Card to the Apple Pay and Google Pay digital wallet.
Additional Info
| | |
| --- | --- |
| Purchase APR: 6.99% - 29.99% | Grace period: N/A |
| Transfer APR: N/A | Annual fee: None |
| Cash advance APR: N/A | Balance transfer fee: N/A |
| Minimum interest charge: N/A | Cash advance fee: N/A |
| | Foreign transaction fee: None |
| | Late payment fee: None |
| | Returned payment fee: None |
Authorized-User Policy
You can't add an unauthorized user to your account with the Upgrade Card.
Is This Card Right for You?
The Upgrade Card could be a good option if you're planning on making large purchases and know you'll need to pay them off over time. However, if you want a card for everyday spending and regularly pay your bill in full, you can avoid interest and earn rewards with a credit card.