Learn about the Experian-Broadridge alliance
Experian® has formed a strategic alliance with Broadridge® Financial Solutions to develop and offer the most comprehensive, timely and actionable consumer-wealth data available in the industry. This unique offering enables financial-services marketing, investment services, retail banking, life insurance, credit and lending professionals to develop data-driven marketing, practice-management and business development strategies to succeed in the market place.
Wealth Insight ServicesSM combines Broadridge's unparalleled access to direct-measured investor data with Experian's proprietary analytical techniques, patent-pending data aggregation technology and industry-leading consumer credit, marketing and automotive statistics to deliver the industry's most sophisticated wealth ratings, wealth scores and household financial profiles.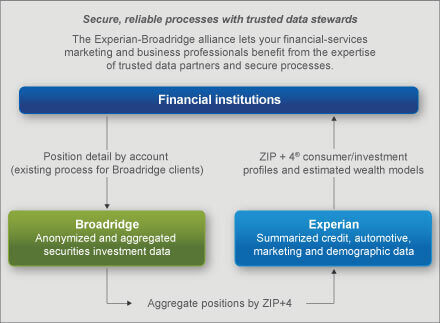 About Broadridge
Broadridge is the leading global provider of investor communications and technology-driven solutions to banks, broker dealers, mutual funds and corporate issuers. With more than 50 years of experience, Broadridge has an infrastructure that underpins proxy voting services for more than 90 percent of public companies and mutual funds in North America.
Broadridge's solutions help clients reduce their capital investments in operations infrastructure, allowing them to increase their focus on core business activities. Broadridge employs approximately 6,400 full-time associates in 13 countries. For more information about Broadridge, please visit http://www.broadridge.com/.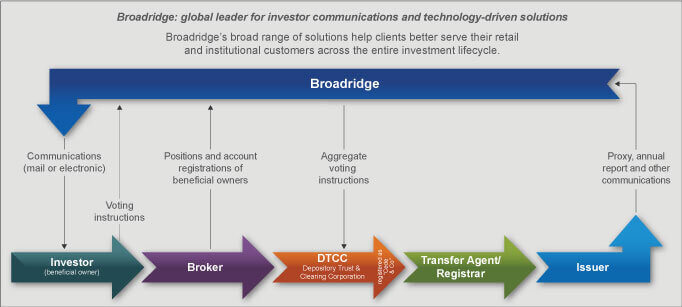 About Experian
Experian is the global leader for consumer data management, providing expert insights, analytical tools and marketing services to organizations and consumers. Leveraging the company's comprehensive understanding of individuals, markets and economies, Experian helps organizations find, develop and manage customer relationships, optimize strategic planning and uncover new opportunities to drive growth and make their businesses more profitable.
Experian's multifaceted consumer data assets are unmatched, spanning from consumer credit, vehicle registration, marketing, Internet traffic, healthcare, catalog purchasing habits and fraud.
Click here to learn more about Experian.