At Experian, one of our priorities is consumer credit and finance education. This post may contain links and references to one or more of our partners, but we provide an objective view to help you make the best decisions. For more information, see our Editorial Policy.
The Surge® Platinum Mastercard® is one of the easiest credit cards to get if you have bad credit, but the card's annual and monthly fees may reduce its appeal. If you're considering the Surge® Platinum Mastercard® to build credit, here's what you need to know before you submit your application.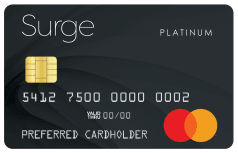 Surge® Platinum Mastercard®
Apply
on Celtic Bank's website
Recommended FICO® Score*
Poor - Good, Rebuilding
Surge® Platinum Mastercard®
Card Details
See if you Pre-Qualify with no impact to your credit score
Up to $1,000 credit limit doubles up to $2,000! (Simply make your first 6 monthly minimum payments on time)
Free access to your Vantage 3.0 score from Experian (When you sign up for e-statements)
All credit types welcome to apply
Card offers are for an authentic Mastercard with a Credit Limit between $300 - $1,000 (subject to available credit)
Mastercard Zero Liability Protection (subject to Mastercard guidelines)
Use your card at locations everywhere Mastercard is accepted
Monthly reporting to the three major credit bureaus
29.99% APR (variable)
$75 - $125 annual fee
| Pros | Cons |
| --- | --- |
| Easy to qualify for, even with bad credit | Charges high annual and monthly fees |
| Reports to all three credit bureaus | High APR |
| Offers prequalification without a hard credit check | |
Continental Finance Customer Service
866-449-4514
P.O. Box 3220
Buffalo, NY 14240
Experian Review
The Surge® Platinum Mastercard® is designed to help people build credit. So if you're new to credit or you've made some missteps in the past and are looking to rebuild, this card may be on your shortlist.
However, it's important to understand the card's costs, especially compared with other available options.
Use It to Build or Improve Your Credit
The primary purpose of the Surge® Platinum Mastercard® is to help you establish a positive credit history. The card's servicer, Continental Finance, reports your account activity to all three credit bureaus (Experian, TransUnion and Equifax), ensuring that your on-time payments get noticed.
This feature is relatively basic, and most major credit cards report to all three credit bureaus. There are, however, some credit cards for bad credit that don't. If you're looking for a card to help build your credit, it's an essential feature.

Multiple Fees May Add Up
The Surge® Platinum Mastercard® can help you achieve your goal of building or rebuilding your credit history, but the cost of having the card may not be worth it versus other cards that can do the same.
For starters, the card charges an annual fee of $75 - $125, depending on your creditworthiness. While an annual fee on a credit card for bad credit isn't unusual, this one is a bit steep, and there are plenty of other options that charge no annual fee at all.
In addition to an annual fee, the card also charges a monthly maintenance fee, which can range from $0 to $10, depending on your creditworthiness. While the fee isn't assessed during your first year with the account, it can cost you as much as $120 a year after that, increasing your yearly cost to as much as $219. Most credit cards, including bad-credit options, don't charge a monthly fee.
You'll also pay a one-time $30 fee for each additional card you want on the account, so keep that in mind if you want to add an authorized user.
The card also charges a cash advance fee and a foreign transaction fee, but these are fairly standard.
An Unsecured Card With the Potential for Credit Limit Increase
The Surge® Platinum Mastercard® offers an initial credit limit that ranges from $300 to $1,000, but you may be able to get a credit limit increase if you make your first six monthly payments on time.
To improve your chances for a credit line increase, the lender suggests the following:
Try to pay in full every month
Avoid maxing out your card
Update your income with the lender
Pay down other debt you owe
If this card is one you're considering, it's important to look at other options before you make a decision to apply or accept an offer. You may want to focus on finding a similar card that doesn't charge annual or monthly fees like this one does.
If you're approved for the Surge® Platinum Mastercard®, you'll be on the hook for fees as high as $99 the first year and up to $219 every year after that.

Online and Mobile App Account Capabilities
You can manage your Surge® Platinum Mastercard® account online or via the Continental Finance mobile app, which is available for Apple and Android devices.
The card servicer's mobile app allows you to view your current and past transactions, make payments, edit your contact information and report a lost or stolen card.
The card also comes with complimentary access to your VantageScore® credit score. You'll receive your updated score monthly when you enroll to receive online statements.

Additional Info
| | |
| --- | --- |
| Purchase APR: 29.99% Variable | Grace period: 25 days |
| Transfer APR: N/A | Annual fee: $75 - $125 |
| Cash Advance APR: 29.99% Variable | Monthly maintenance fee: $0 to $10 |
| Minimum interest charge: None | Cash advance fee: 3% of the advance amount ($10 minimum) |
| | Foreign transaction fee: 0% - 3% |
| | Late payment fee: Up to $40 |
| | Returned payment fee: Up to $40 |
Authorized-User Policy
You can add an authorized user to your account for a one-time fee of $30. Authorized users can use their card to make purchases on the account, but only the primary cardholder is legally responsible for making payments.
Shop Around Before You Apply
While the Surge® Platinum Mastercard® may be easy to qualify for, it can be an expensive way to build credit even if you qualify for the lowest annual fee and no monthly fee. For people who are new to credit, the Petal® 1 "No Annual Fee" Visa® Credit Card issued by WebBank charges no fees whatsoever and also offers rewards.
If you have bad credit due to negative items on your credit report, Indigo® Mastercard® has a similar annual fee but no monthly fee.
You might also consider a secured credit card, which may require a security deposit of at least $200. The fees charged on most secured cards will be cheaper than those charged on the Surge® Platinum Mastercard®, you can get your deposit back when you close your account or possibly even sooner if you use them responsibly. Secured cards can help you improve your credit the same way the Surge® Platinum Mastercard® would.
Whatever you do, take some time to research several options, comparing the fees and features other cards offer to find the best fit for you. Experian CreditMatch™ can help you do this by matching you with credit cards that fit your unique credit profile.