At Experian, one of our priorities is consumer credit and finance education. This post may contain links and references to one or more of our partners, but we provide an objective view to help you make the best decisions. For more information, see our Editorial Policy.
Genesis Financial Solutions offers several credit cards for people who have no credit or less-than-perfect credit. With the Destiny® Mastercard®, you can prequalify without impacting your credit and open a new card without a security deposit. Once opened, your account will be reported to the credit bureaus, which can help you build credit.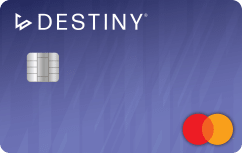 Destiny® Mastercard®
Apply
on Genesis FS Card Services's website
Recommended FICO® Score*
Poor - Good, New to Credit, Rebuilding
Card Details
An unsecured Mastercard for less than perfect credit
Online servicing available 24/7 at no additional cost
Multiple card design options to choose from at no extra charge
No security deposit needed
Reports your payments to all three major credit bureaus
Worry-free fraud protection if your card is lost or stolen
EMV chip included for added peace of mind
An opportunity to build and access credit
| Pros | Cons |
| --- | --- |
| Doesn't require good credit | High annual fee |
| No security deposit | Low credit limit |
| Reports to all three credit bureaus | High interest rate |
| | No rewards and few benefits |
Genesis FS Customer Service
844-222-5695
15220 NW Greenbrier Pkwy Suite 200
Beaverton, OR 97006
Experian Review
The Destiny® Mastercard® could be a good fit for people who have poor credit and don't want to pay a security deposit to open a new credit card. However, the card has a high annual fee, a low credit limit and lacks rewards or many cardholder benefits. In some cases, you may be better off with a secured card.
Reports to All Three Credit Bureaus, Helping You Build Credit
One reason to open a credit card when you have poor credit is to help build credit. Paying your bill on time and only using a small portion of your credit limit can show responsible use. But you'll also need your card issuer to report your account to the national credit bureaus, which create your credit reports.
The Destiny® Mastercard® gets reported to all three major bureaus (Experian, TransUnion and Equifax), which is ideal if you're building credit. Many major card issuers report to all three as well, although some card issuers only report to one or two.
If your account isn't reported to a credit bureau, then it can't be included in your credit report from that bureau. If a new credit card account doesn't show up in your credit report, the on-time payments you make on the card won't be able to reflect positively in the credit scores based on that report.
Additional Info
| | |
| --- | --- |
| Purchase APR: 24.90% | Grace period: 25 days |
| Transfer APR: N/A | Annual fee: $59 - $99 |
| Cash advance APR: 29.9% | Balance transfer fee: N/A |
| Minimum interest charge: $.50 | Cash advance fee: $0 for the first year, then 5% ($5 minimum and $100 maximum) |
| | Foreign transaction fee: 1% |
| | Late payment fee: Up to $40 |
| | Returned payment fee: Up to $40 |
Authorized-User Policy
The Destiny® Mastercard® website doesn't clearly state whether you can currently add an authorized user to your account. If the card issuer approves your request, there's no fee for an authorized user and the other person will receive a card linked to your account.
Authorized-user accounts may be reported to the credit bureaus as well, which could help the other person build credit. And while the authorized user can use their credit card (with your permission), you'll be responsible for the total monthly bill.