Demand deposit account capabilities
Experian's demand deposit account life cycle capabilities help increase deposit revenue by targeting higher-profit consumers, automating decisions to increase speed and accuracy, ensuring compliance with changing regulations and increasing the number of cross-sell engagements, all while positively impacting the customer experience.
Comprehensive demand deposit capabilities that span throughout the entire Customer Life Cycle
Our products, services and segmentation tools minimize the cost-to-acquire expense by determining the needs and attitudes that drive consumer behavior, improving activation across all channels. Our transparent consumer screening process reduces compliance costs by authenticating customers instantly during account opening while adhering to current regulations.
Experian® also can help establish and deepen your relationship with consumers by delivering a real-time prescreen solution that presents relevant offers when they are engaged and in the market to buy. Throughout the process, our experienced consultants provide expert insight to ensure the strategies put into place are as effective as possible.
Benefits
Minimize the cost-to-acquire expense and improve activation across all channels
Reduce risk and positively impact the customer experience by providing instant decisions that match the best, most affordable product to each applicant
Obtain a consistent source of new revenue by offering up-sell and cross-sell opportunities at every consumer touch-point
Implement effective strategies to maximize profitability
Get More Information
Would you like to talk to someone at Experian about consulting services? Please submit the form below and we'll be in touch with you soon.
Featured resources
Managing the DDA Lifecycle:
Discover how Experian's DDA capabilities can help effectively manage your deposit portfolio throughout the customer lifecycle.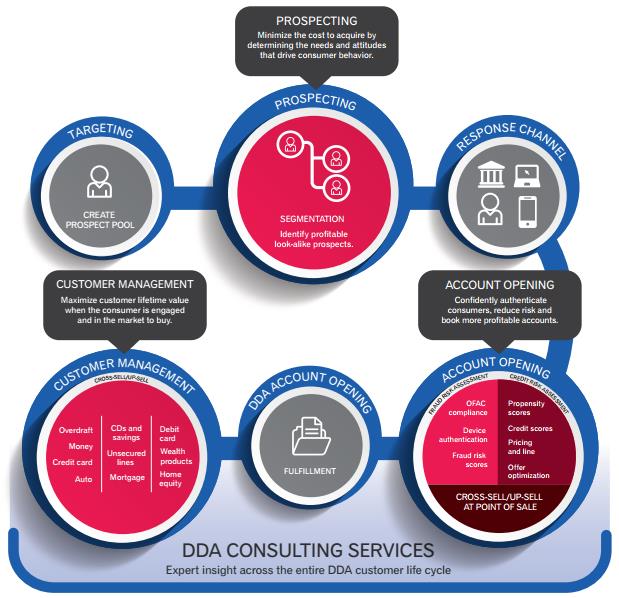 Visit our communities
Gain valuable insight on trends and best practices.