Safeguard and monitor with:

Watch list screening for unsanctioned entities

A comprehensive compliance program

Compliance screening to help reduce false positives
What is OFAC compliance?
The Office of Foreign Assets Control (OFAC) is an office of the US Treasury responsible for outlining and prosecuting trade sanctions to support national security and protect against targeted individuals and entities, including foreign countries or individuals engaging in organized international crime. According to the Federal Financial Institutions Examination Council (FFIEC), meeting OFAC compliance consists of: blocking accounts and other property of specific countries, entities, and individuals, as well as prohibiting or rejecting unlicensed trade and financial transactions.
Building your OFAC compliance program
In order to keep your organization on track to comply with OFAC regulations, it is recommended to start an OFAC compliance program, which calls for establishment and maintenance of a written program to meet compliance that takes into account the risks that your organization faces. For example, you need to consider the geographies in which you conduct business, customers you serve, or transactions you typically complete to determine to level of sophistication your program should include. Once you understand these risks to your organization, OFAC calls for policies and procedures to be established for reviewing your transactions and those involved.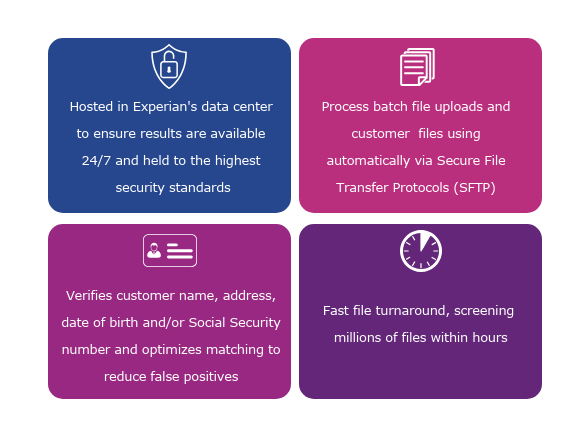 How we can help
List matching capabilities that search against OFAC Designated Nationals List (SDN), FINCEN 314a, and other watch lists to protect your business.
Automated service that completes the review of millions of records within hours.
Sanction lists are updated on a daily basis, ensuring you always have access to the most-up-to-date data available.
Help you to reduce false positives through keeping track of previous matches and leveraging sophisticated matching technology.
Trusted fraud and identity platform to monitor and spot suspicious transactions fast.
Implement robust identity verification to ensure you can confirm who you are doing business with.
Empower your team to monitor your portfolio against sanction lists.