Webinars
Stay on top of healthcare industry trends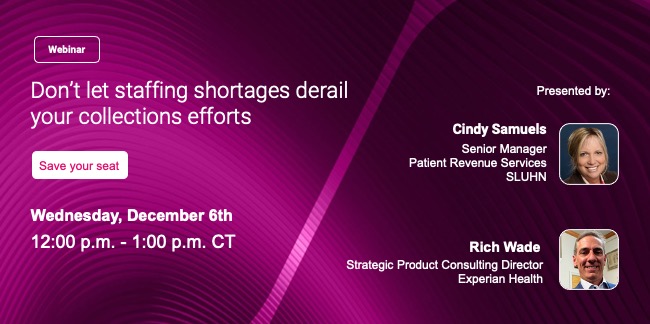 Don't let staffing shortages derail your collections efforts!
Join us live: Wed, Dec 6, 2023 2:00 PM - 3:00 PM ET
Discover how St. Luke's University Health Network (SLUHN) achieved a 22% uplift in self-pay collections - amounting to $7.8M - with automated processes during a staffing shortage.
Register today!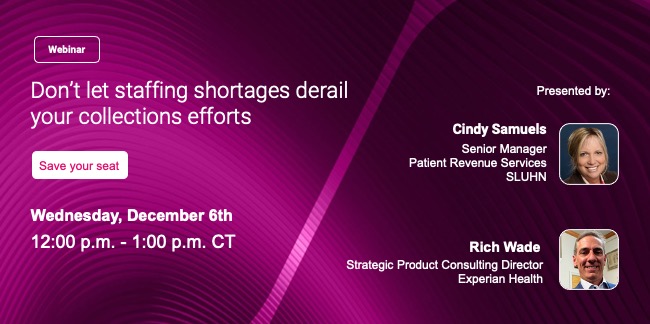 Upgrading your collections game to enhance the patient financial experience
Hear from UC San Diego Health's leader of Patient Revenue Cycle on the actions they've taken to tackle collections and catapult results. Understand their tech transformation to tackle segmentation, enhance collections and improve the patient experience and gain a first-hand look at their KPIs and timeline to success.
Achieve better care management by addressing the social determinants of health
This on-demand webinar focuses on how organizations are approaching SDOH to improve health outcomes for patients and members, while enriching their experiences and lowering costs of care. Key topics include: sourcing SDOH data and privacy guidelines, optimizing engagement strategies, and best practices around operationalization. 
You can book flights online - why not medical appointments?
Access this webinar to learn how using an online, data-driven scheduling platform enables patients to schedule appointments online—improving patient access by fostering the integration and communication to make sure both patients and providers have a better care experience. 
Take a patient-centered approach to collections
Learn how to balance your most important priorities, along with the key criteria needed to achieve the expertise to effectively collect patients' increasing share of healthcare costs—while saving staff time and expense, and maintaining the patient/provider relationship.
Patient identification – The challenges healthcare leaders and the industry are facing today
Dr. Gettinger has extensive experience in the field of health information technology. He led the development of an electronic health record (EHR) system at Dartmouth and subsequently was the senior physician leader during Dartmouth's transition to a vendor-based EHR. 

How to better engage patients in the age of consumerism
Patients are paying more out of pocket, so they're shopping around and being pickier about where they go for care. They want to be more involved in their care and manage their accounts online as they do with everything else.