Patient Financial Advisor
Finally, a solution designed to deliver patients price transparency and payment options on their healthcare journey
More than 90 percent of Americans vastly underestimate the costs associated with major medical procedures, and 77 percent of healthcare consumers says it's important to know prices before treatment.
Still, the norm in healthcare is for patients to go into procedures blindly, with limited information on what they will ultimately owe. What will the insurance cover? Will I need a payment plan? Are there loans or charitable options available?
Patient Financial Advisor is the first solution in the market to deliver consumers with a pre-service, mobile-estimated patient responsibility and payment experience. It's designed to offer individuals with a clearer understanding of costs and payment options prior to their medical procedures, helping them feel financially confident.
The personalized, price estimate is based on the patient's real-time benefit information, the provider's payer contracted rates and provider pricing. Patient Financial Advisor additionally offers methods to make secure a payment.
Text-to-mobile experience
A message is sent to the patient based on a scheduled appointment. With a few simple clicks, your consumer can see a personal estimate and submit a payment.
Secure access
Utilizes a question-and-answer functionality through multi-factor authentication to secure access to the patient's healthcare information and payment options. 
Touchless processing
Your client-specified configurations generate the patient estimate for applicable procedures and automatically starts the text experience. Reduce the need for patient calls communicating estimates.
How Patient Financial Advisor looks to your consumers
Mobile experience that provides patients with an estimated cost breakdown based on the provider's payer contracted rates, real-time patient benefit information and provider pricing. It also provides methods to make a secure payment.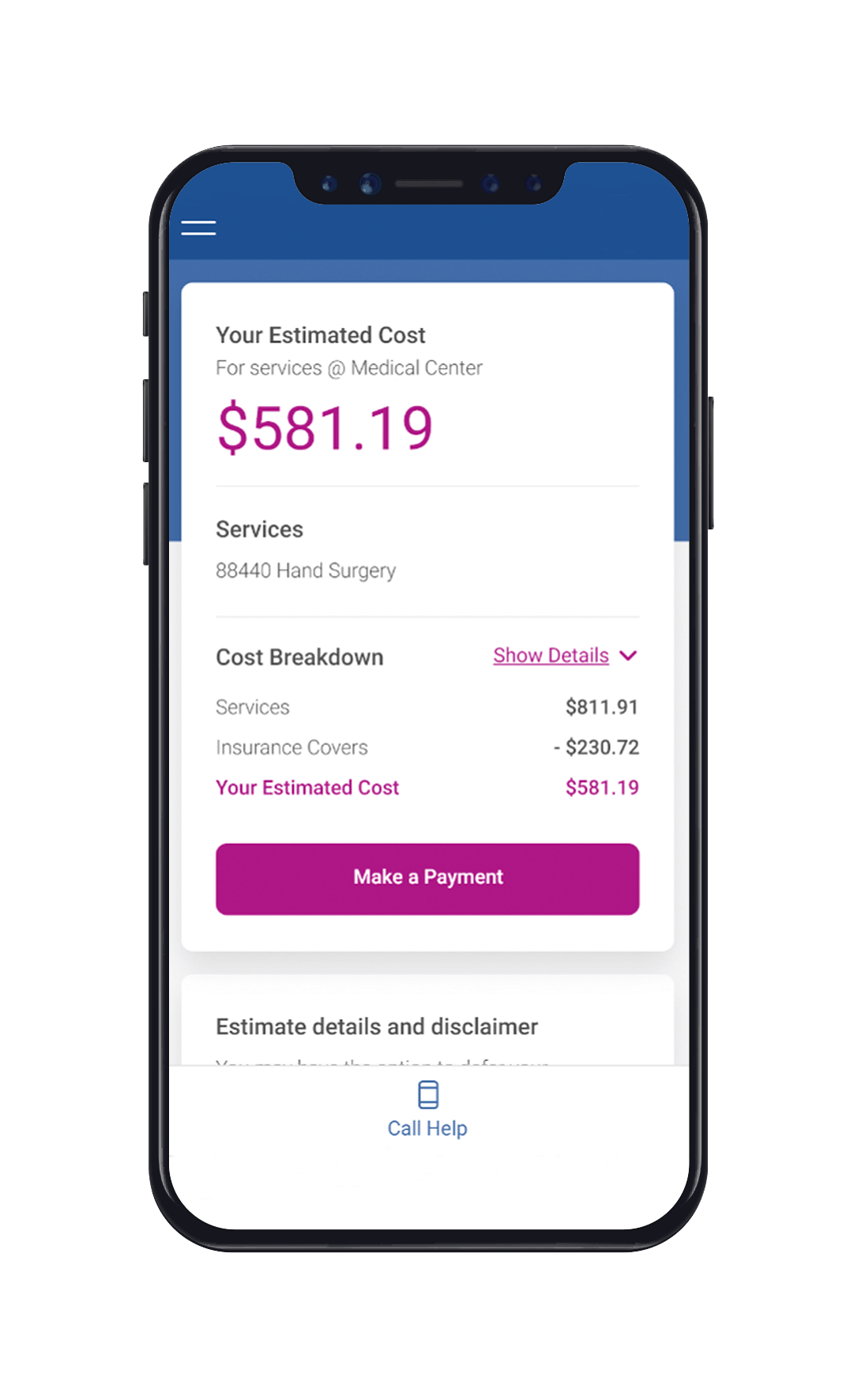 Learn more about how this solution is designed to deliver patients price transparency and payment options on their healthcare journey.