Offer your clients the most robust data to identify the highest-quality residents
As a resident screener, you want to provide your property owner/manager clients with the latest, most powerful data before a lease is signed. With Experian RentBureau's real-time positive and negative rental payment data, including on-time payments, nonsufficient funds (NSF), write-offs and rental collections, better leasing decisions are made by identifying risky residents and accepting more high-quality residents at the point of application.
In-depth Insight to Reduce Risk
The practice of accessing rental payment data to enhance the resident screening process is critical to identifying the highest-quality resident. Incorporating rental payment data in screening provides a more comprehensive understanding of an applicant's risk profile and, specifically, his or her likelihood to pay rent as agreed. Additionally, leveraging rental payment data in screening saves your clients time and money by removing the need for time-consuming and subjective manual verification of rental payment histories.
The Predictive Power of Rental Payment Data
Negative rental history — helps your clients significantly reduce overall losses and make a direct impact to NOI by avoiding renting to risky residents who are likely to repeatedly pay late, skip and/or default again
Positive rental history — enables your clients to increase occupancy rates without further increasing losses by confidently approving applicants including those who either don't have credit scores or have credit scores below acceptable thresholds
Default rates by rental payment history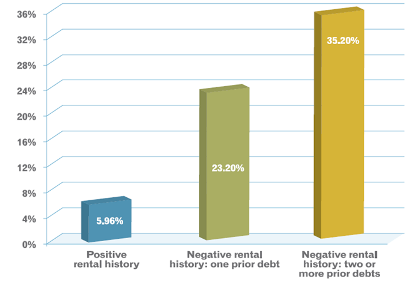 Renters with one prior debt have a default rate four times as high as applicants with positive rental history. For renters with two or more prior rental debts, the default rate is six times as high.
The Latest and Most Useful Data
Current and complete — updated every 24 hours from a national network of property management companies and electronic rent payment services
Accurate — automatically collected directly from property management software and certified before being entered into our database
Easy to access and understand — accessible via XML interface and reported in an easy-to-understand format
Relevant and reliable — industry-specific data available from the largest and most widely used credit bureau for the multifamily industry
Request More Information
If you are a resident screening service provider and would like to incorporate Experian RentBureau rental payment data within your product offerings, call us at or complete the form below to learn more.