Experian RentBureau – the leading provider of rental payment history data to the multifamily industry – offers two ways property owners/managers can benefit from its collective national repository of rental payment history data:
Access — include real-time rental payment history data as part of the screening process through your existing resident screener. This information gives unprecedented insight into an applicant's likelihood to pay rent, enabling on-site teams to make better leasing decisions and reduce manual verifications.
Share — contribute rental payment data to reduce skips and improve bad-debt recovery. Once reported, your rental history data is immediately available to other owners/managers through our resident screening partners. When this information is incorporated in another community's screening, you benefit.
The Process of Accessing and Sharing Rental Payment Data
Every 24 hours, Experian RentBureau receives updated rental payment history data from owners/managers and electronic rent payment services nationwide and makes that information available immediately to the entire multifamily industry through our resident screening partners. This quick turnaround impacts every point of decision-making — from identifying higher-quality residents and improving bad debt recovery to streamlining the collections process.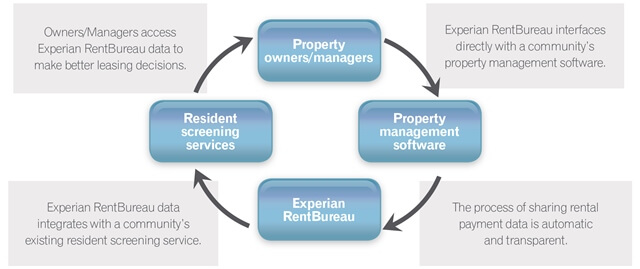 Sharing Your Data is Easy
The process is quick and seamless, and Experian RentBureau does not charge to report your rental payment data. After initial setup, data is securely transmitted direct from your property management software without any modification to existing software or any impact to operations. Data is compressed and encrypted (256-bit encryption) prior to transmission through a certificate-protected Secure Socket Layer (SSL) connection.
The Benefits of Accessing and Sharing Rental Payment Data
From accepting high-quality residents at the point of application to preventing residents from getting a new lease at another property without first satisfying their debt obligation to you, rental payment data affords many benefits. You also have the opportunity to set your community apart by enabling residents to build credit history through their on-time payments.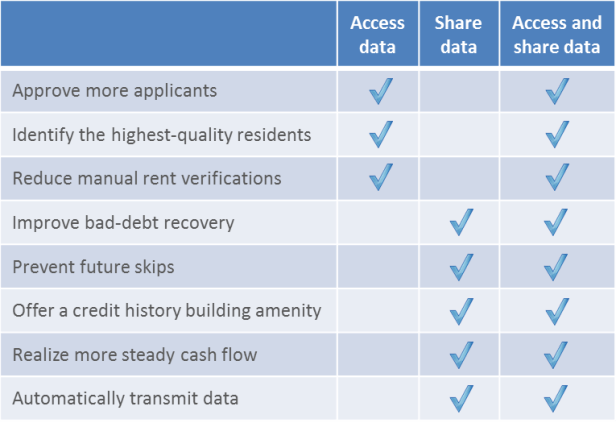 Request More Information
Give us a call or complete the form below.
If you would like to join the growing network of companies currently contributing their rental payment data to Experian RentBureau, please provide your information below.

Are You Sharing Your Rental Payment Data?
What Others Have to Say About the Benefits of Rental Payment Data
Hear what Equity Residential, ALCO Management and others have to say about accessing and sharing rental payment data.
Rental Payment Data Overview
Learn about the benefits of accessing and sharing rental payment data.
Rental History Analysis
Did you know serial skippers are 6 times more likely to default again? Learn how rental payment data can help.
Press Center
See what CNN, The Wall Street Journal, The New York Times, Multifamily Executive, UNITS and others have to say about rental payment data.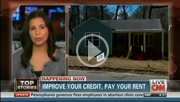 CNN's The Situation Room reports that Experian is now including rental payment history data on its credit reports. This change could impact millions of renters nationwide.
Upcoming Events – Come See Us
TBD