Experian Marketing Services' Mosaic USA is a household-based consumer lifestyle segmentation that empowers marketers with the insights needed to anticipate the behavior, attitudes and preferences of their most profitable customers and reach them in the most effective channels with the best messages.
Actionable insight for:
Traditional and digital channel selection
Strategic audience decisioning
Consistent consumer experience
Key benefits of Mosaic
Match products to complement consumers' behaviors, needs and lifestyles
Consumer database of 126 million households
Predictive insights, property characteristics and summarized credit and automotive data
Get deeper insight into consumers in your industry
Mosaic Verticals is an industry-specific version of the Mosaic portal with the same 800 rich lifestyle and interest attributes to describe each of the 71 Mosaic segments, but with an additional 200 to 500 vertical-specific attributes that make Mosaic even more relevant to your industry. Examples include retail and health.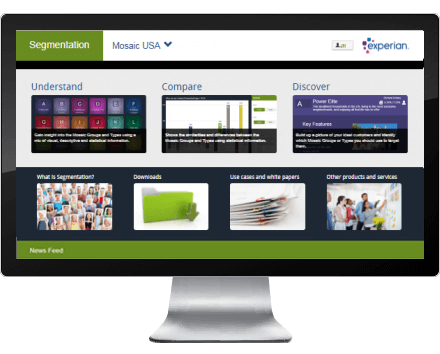 Discover your key Mosaic segments. Check out our new portal.