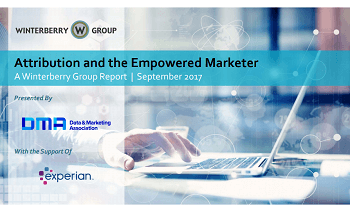 Did you know insufficient access to the right data is the number one hindrance cited by marketers looking to measure their campaign success today?
This shouldn't come as a surprise. As marketers adapt to the current and evolving marketing ecosystem; new channels, social media, vast quantities of data and new technologies, no recent development has presented more of a challenge than attribution.
The good news is marketers are waking up to this reality. They're learning that measurement should:
Deliver better, more engaging customer experiences
Maximize the yield of every dollar of marketing investment; and
Demonstrate the real value that the marketing organization delivers to its organization.
This report represents identifies the key issues facing marketers as they look to develop more advanced campaign measurement to inform their future strategies.
Download, Attribution and the Empowered Marketer and learn what's working for marketers today, where the industry is going and identify and understand their pain points so you can inform your marketing measurement moving forward.