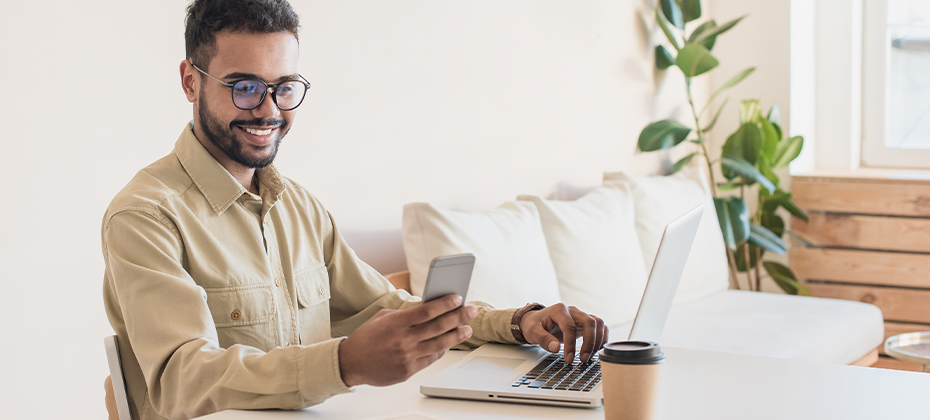 Clinical advances, consumer demand and payer pressure are driving growth in outpatient care, which continues to attract attention as a lower-risk, lower-cost revenue stream for healthcare providers. New technologies allow for less invasive procedures and quicker recovery times, so patients can avoid lengthy hospital stays – and the higher out-of-pocket costs that come with them. Value-based payment programs incentivize preventative care, so hospitals can rely less on risky and expensive inpatient services to drive their revenue cycle. Even those focusing on volume-based strategies see the benefits of investing in outpatient care, which allows faster output and fewer avoidable admissions.
This shift from inpatient to outpatient care is reflected in hospital revenue sources. A Deloitte study reveals that the gap between inpatient and outpatient revenue has been narrowing for two decades. Similarly, a recent Kaufman Hall analysis found that outpatient revenue increased by 18.5% over the previous year, compared to an 11.5% increase for inpatient revenue. Month-over-month variances are trickier to compare, given fluctuations in patient volumes and delayed outpatient and elective treatments due to COVID-19. That said, the pandemic also accelerated interest in capacity-generating remote care, leading to faster adoption of digital technologies that make outpatient care more accessible.
Increase outpatient revenue with a digital strategy and data analytics
Hospital leaders can leverage digital opportunities to further increase outpatient revenue. If patients are forced to navigate outdated manual processes to schedule appointments, complete registration and pay for care, they can become frustrated and delay care. Lack of clarity around final bill amounts and coverage status can cause worry and impede payment. For providers, this can lead to write-offs, wasted staff time dealing with rework and patient complaints, and outside collections agency expenses.
Automating the outpatient revenue cycle eliminates many of these pain points by creating better patient experiences, improving claims management and optimizing patient collections workflows. Revenue cycle management strategies should focus on providing simple, convenient and secure patient access and collections processes across the care continuum, reducing friction wherever possible.
Here are six data-driven strategies to increase outpatient revenue from the patient's first interaction with the provider to the final payment for services:
1. Increase patient choice with online scheduling and registration
Kicking off the patient journey with quick and convenient patient access processes can help increase outpatient appointment rates. Experian Health's State of Patient Access 2.0 survey found that nearly eight in ten consumers prefer to schedule their own appointments at any time, from any device. Online scheduling and registration tools give patients the option to complete patient access tasks at a time and place that suit them best, and creates a welcoming digital front door.
Automated patient access that takes account of scheduling rules can also help maintain a high flow of patients without causing bottlenecks, allowing same-day outpatient visits without increasing wait times. It also provides a chance to run real-time eligibility checks and verify patient information, to reduce friction around patient billing and avoid errors that monopolizes staff time later down the line.
2. Reduce missed outpatient appointments
Online scheduling doesn't just make it easier for patients to book outpatient care – it also helps reduce missed appointments, with several knock-on benefits. Last-minute cancellations and no-shows result in wasted time and lost revenue. Automated reminders mean patients are less likely to miss their appointment, while easy rescheduling options help reduce call center volumes and ease pressure on busy staff.
More importantly, ensuring that a delayed appointment doesn't result in delayed care means that patients are less likely to end up with complications, which lead to worse health outcomes and increased costs.
3. Clear patients financially for faster collections
A major challenge in the outpatient revenue cycle is being able to maximize patient collections without compromising the patient experience. Patients are responsible for a greater portion of the bill, so providing upfront estimates and clarity about out-of-pocket expenses helps them plan and pay their bills. With Patient Financial Clearance, providers can improve recovery rates by assessing patients' ability to pay and assigning them to an appropriate financial pathway. This helps patients get the assistance they need, and collections teams can focus collections efforts on the right accounts.
Automating healthcare collections allows for faster, more efficient, and more compassionate collections. This approach helped North Carolina health system Novant Health achieve an overall recovery rate of 6.5% and increase revenue and cost savings to a rolling average return on investment of 8.5:1.
4. Provide price transparency to help patients plan for outpatient expenses
Research has shown that 90% of the most costly outpatient services are shoppable, meaning that patients can choose their provider based on price, quality and other preferences. Hospitals are expected to help patients understand the costs of these services, so they can make informed decisions.
With high deductible health plans putting more financial responsibility on consumers, providers are under pressure to provide transparency around healthcare pricing. Experian Health's Patient Payment Estimates tool gives patients a clear breakdown of their financial responsibility before their appointment, so they're not caught off-guard when their bill comes through. When combined with the Patient Financial Advisor, patients can get information on charity support sent directly to their mobile devices, along with links to make a secure mobile payment.
Providers can further maximize the chance of reimbursement by running coverage checks across the entire revenue cycle. This can help find billable coverage that may have been forgotten and give patients greater certainty about what they'll owe.
5. Stay current on payer policy and procedure changes
A recent survey of Experian Health's clients* found that managing the volume and diversity of payer requirements was a major pain point for providers, with prior authorizations topping the list. Automated payer policy and procedure change notifications allow providers to increase reimbursement for outpatient services, by ensuring claims are submitted correctly the first time.
Payer Alerts give providers immediate access to payer modifications through a single online portal and daily email alerts, eliminating the need to check each payer's website one by one. Healthcare contract management solutions continuously audit payer contract performance to ensure that collections align with negotiated terms, and to avoid any mismatch between expected and actual reimbursements.
6. Streamline claims to increase outpatient revenue
Seven in ten healthcare providers saw an increase in denied claims in 2021. Denials impact profits twice – through the failed reimbursement of the initial amount, and then through staff time spent on rework. Automated and integrated healthcare claims management tools can reduce errors, prevent undercharges, and ensure a higher first-pass payment rate. Providers can use these solutions to check that claims for every outpatient encounter are coded correctly before the claim is submitted.
With the right data and digital tools, providers can prioritize high-impact accounts, reconcile remittances with payments received, and generate real-time insights and reports to spot and correct errors before they work their way into the system.
Healthcare providers need to be proactive and incorporate new digital tools that can increase cash flow and streamline their revenue cycle management processes. Find out more about how Experian Health's RCM healthcare solutions can help providers increase outpatient revenue through more efficient workflows and a compassionate patient experience.
*Survey of Experian Health clients, October 2021