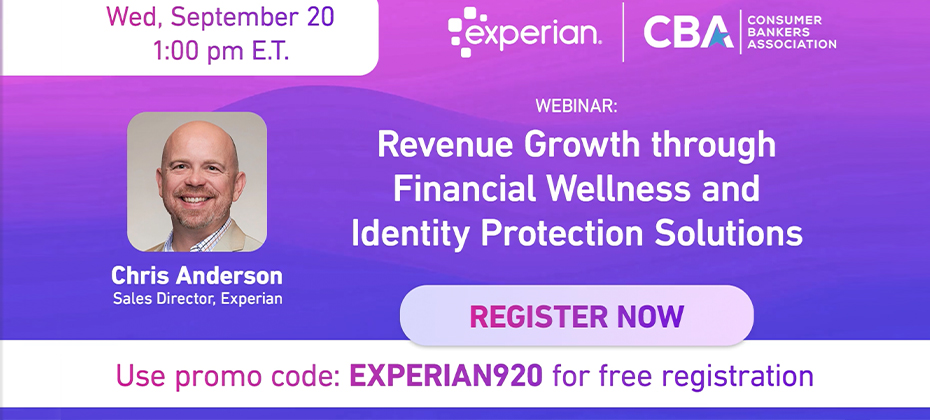 The importance of financial wellness and identity protection solutions cannot be overstated. With the increase in financial scams and the ever-changing landscape of the digital world, it is imperative to stay up-to-date with the latest trends and technologies that can help safeguard your consumers' financial future.
Experian will host an exclusive digital sales event in partnership with the Consumer Bankers Association (CBA) and Experian Partner Solutions on this topic. Join Experian's Director of Sales, Chris Anderson, on September 20 at 1:00 p.m. ET/10:00 a.m. PT to discover the power of credit education and identity protection while learning how to drive revenue, engagement, retention, and new business within your consumer base.
Three critical components to driving revenue by empowering consumers:
Critical credit education tools: Credit is an integral part of our lives, and yet many people do not fully understand how credit works or how to improve it. Webinar attendees will learn about credit education tools that can help their customers improve their credit scores and make informed financial decisions. These tools can also enable financial institutions to better serve their customers by understanding their needs and providing them with appropriate solutions, fostering greater loyalty.
Technologies for identity protection: Identity theft is a growing problem, with many individuals and businesses falling victim to fraud and other scams online. Experian Partner Solutions offers a suite of identity protection tools that can monitor and provide real-time accurate alerts, ensuring that your digital presence is secure. Attendees of the webinar will have the opportunity to learn more about these technologies and how they can take proactive steps to protect themselves and their businesses from cyberattacks.
Credit-building strategies and identity theft prevention: Building credit takes time and effort, but with the right strategies, it can be done efficiently and effectively. Our expert speaker, Chris Anderson, will share insights into credit-building strategies that can help individuals boost their credit scores as well as ways to prevent identity theft.
For more insights and best practices to promote financial wellness at your organization and increase revenue and retention, join our webinar.
Register today! Use promo code: EXPERIAN920 for free registration.