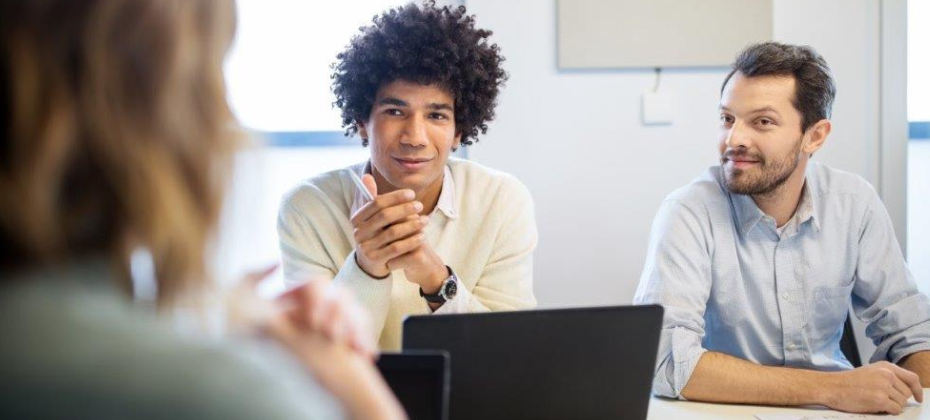 There's no magic solution to undoing the decades of policies and prejudices that have kept certain communities unable to fully access our financial and credit systems. But you can take steps to address previous wrongs, increase financial inclusion and help underserved communities. If you want to engage consumers and keep them engaged, you could start with the following four areas of focus.
1. Find ways to build trust
Historical practices and continued discriminatory behavior have created justifiable distrust of financial institutions among some consumers.
In February 2022, Experian surveyed more than 1,000 consumers to better understand the needs and barriers of underserved communities. The respondents came from varying incomes, ethnicity and age ranges. Fewer than half of all the consumers (47 percent) said they trusted their bank's personal finance advice and information, and that dropped to 41 percent among Black Americans.
In a follow-up webinar discussion of financial growth opportunities that benefitted underserved communities, we found that many financial institutions saw a connection between their financial inclusion efforts and building trust with customers and communities.
Here is a sample question and a breakdown of the primary responses:
What do you think is the greatest business advantage of executing financial inclusion in your financial institution or business?1
Building trust and retention with customers and communities (78%)
Increasing revenue by expanding to new markets (6%)
Enhancing our brand and commitment to DEI (14%)
Staying in alignment with regulator and compliance guidelines (2%)
Organizations may want to approach financial inclusion in different ways depending on their unique histories and communities. But setting quantifiable goals and creating a roadmap for your efforts is a good place to start.
2. Highlight data privacy and mobile access
If you want to win over new customers, you'll need to address their most pressing needs and desires. Consumers' top four considerations when signing up for a new account were consistent, but the specific results varied by race.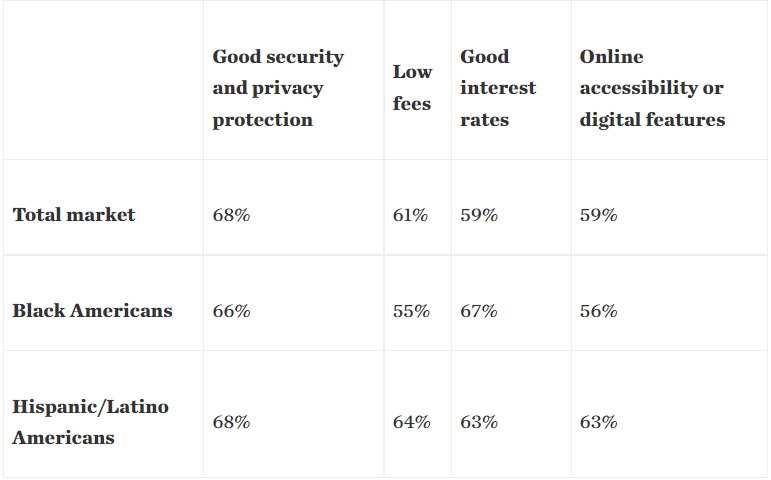 Keep this in mind as you consider messaging around the security and privacy measures. Also, consider how underserved communities might access your online services. Having an accessible and intuitive mobile app or mobile-friendly website is important and likely carries even more weight with these groups.
According to the Pew Research Center, as of 2021, around a quarter of Hispanic/Latino and 17% of Black Americans are smartphone-dependent — meaning they have a smartphone but don't have broadband access at home. Low-income and minority communities are also less likely to live near bank branches or ATMs.
3. Offer lower rates and fees
Low rates and fees are also a top priority across the board — everyone likes to save money. However, fewer Black and Hispanic households have $1,000 in savings or more compared to white households, which could make additional savings opportunities especially important.
There have been several recent examples of large banks and credit unions eliminating overdraft fees. And the Bank On National Account Standards can be a helpful framework if you offer demand deposit accounts.
Lowering interest rates on credit products can be more challenging, particularly when consumers don't have a thick (or any) credit file. But by integrating expanded FCRA-regulated data sources and new scoring models, such as Experian's Lift PremiumTM, creditors can score more applicants and potentially offer them more favorable terms.
4. Leverage credit education tools and messaging
For consumers who've had negative credit experiences, are new to credit, or are recent immigrants with little understanding of the U.S. credit system, building and using credit can feel daunting.
About 80% of women have little or no confidence in getting approved for credit or worry that applying could hurt them further.
Only 20% of consumers who make less than $35,000 a year say they're "extremely" or "very" confident they'll be approved for credit.
While most consumers haven't used credit education tools before, they're willing to try. More than 60 percent of Black and Hispanic respondents said they're likely to sign up for free credit education tools and resources from their banks.
Offering these tools could be an opportunity to strengthen trust and help consumers build credit, which can also make it easier for them to qualify for financial products and services in the future.
Moving forward with financial inclusion
Broadening access to credit can be an important part of financial inclusion, and financial institutions can grow by expanding outreach to underserved communities. However, the relationship must be built on trust, security, and offerings that meet these consumers' needs.
Through our Inclusion Forward™ initiative, Experian can support your financial inclusion goals — helping you empower underserved communities by helping them grow their financial futures.
Learn more about Experian financial inclusion solutions and financial inclusion tools.