Every portfolio has a set of delinquent customers. It's a frustrating reality, but true. A standard approach to limiting losses is to work all accounts with limited segmentation, but we can help you develop a more focused strategy. Our debt management and recovery tools enable you to profitably segment, prioritize and locate debtor accounts in a compliant, effective manner. In short, we'll arm you with predictive analytics and deep data so your business can collect more, with less.
Thought Leadership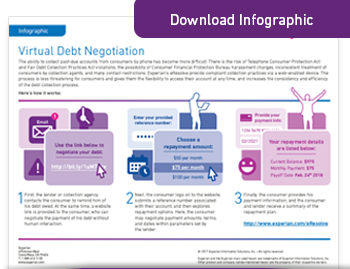 Download Virtual Debt Negotiation Infographic Now
---
Could a virtual negotiator enhance your collections efforts?
Read More

Top Collection Triggers to Implement at Tax Time
Read More

The Number One Tactic to Optimize Your Collections
Read More
Whitepaper: Collections After Compliance
Download Now


Get More Information
The form below is for requests from businesses only.
If you are a consumer looking for fast resolution to your consumer credit questions, please visit our Personal Services Contacts page.