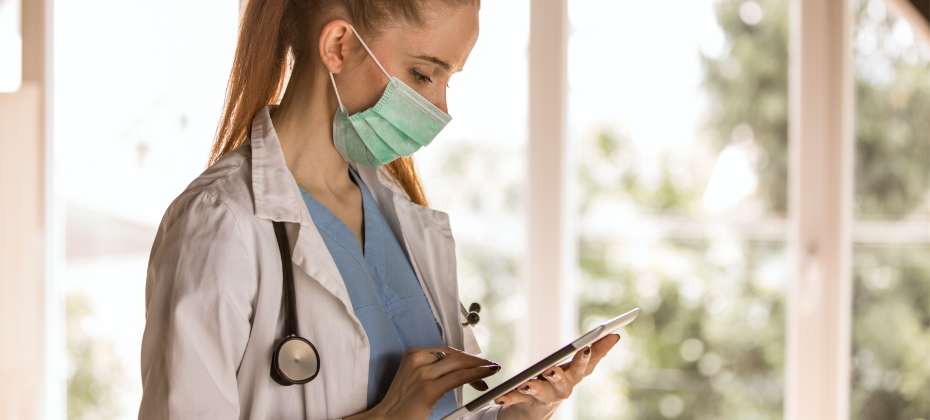 There is no question that providers' bottom line has been hit hard this year, and a new surge in COVID-19 is bound to threaten hospital finances once again.
As healthcare providers look to supercharge their payment velocity during these uncertain times, it's worth taking a step back to examine the revenue cycle management process as a whole: what it is, how it works, and the clear actions providers can take to improve the process overall.
Below is an overview of healthcare revenue cycle management and how specifically providers can improve their bottom line now and after the pandemic subsides.
What is revenue cycle management?
Any business, regardless of industry, needs to develop successful processes and strategies for remaining financially healthy. For hospitals and health systems, that process is revenue cycle management. To run a successful healthcare organization, providers must employ and manage accurate and efficient billing processes. Without it, these organizations will likely have to close their doors and will, as a result, no longer be able to provide quality care for their patient population.
How revenue cycle management works in healthcare
To put it simply, in order to generate revenue for their organization, providers need to collect payments for services rendered. The process of doing this, however, isn't always as straightforward and simple as it seems.
Think of healthcare revenue cycle management like a journey. It starts when a patient schedules an appointment and ends when all patient payments for medical service(s) received have been collected. As we move through the journey, providers have a lot to manage, starting first with front-end intake process, moving all the way through the back-office operations to ensure payment is ultimately secured.
Phases of the revenue cycle management life cycle
The revenue cycle management life cycle spans several phases:
Schedule visit and secure estimate. To kickstart the process, a patient will book an appointment with a provider or specialist and administrative staff will handle insurance eligibility verification and ultimately establish a patient account for that organization. This is also an opportunity for providers to offer price transparency and provide an estimate for services to be rendered.
Registration and check-in. An early and vital step for optimizing the entire revenue cycle management process, this is where providers capture details like medical history, insurance coverage and other patient demographics. Ensuring correct patient information on the front end reduces the errors that cause rework in the back office.
Ensure care is authorized by the payer. Still on the front end, this is where provider staff checks whether prior authorization is required for a particular procedure or service. Not securing authorization in advance of service can lead to costly denials, rework, operational inefficiencies, and a poor patient experience.
Receive treatment and discharge. Once the patient is discharged, the services provided will be translated into billable charges and a medical billing code will be assigned to the claim. It is crucial to the revenue cycle that these claims be accurately coded, as the re-work for incorrect codes and subsequent claim rejections can be costly and a drain for productivity.
Medical claims submitted. The claim must then be submitted to the payer. Submitting accurate and timely claims maximizes the revenue collected and prevents delays in reimbursement. Rejected claims directly affect an organization's revenue cycle, making it all the more important to get the claim right before it makes its way to the payer. Even if a claim is denied, is important it be resubmitted as quick as possible.
Patient payments and collections. Once insurance reviews the claim and provides their reimbursement, patients are presented with their out-of-pocket costs for services rendered. On-time payments made in full are preferable for a healthy revenue cycle, but that isn't always feasible for patients, especially now given the current environment with COVID-19. This is where quality collections practices can really help to optimize patient payments and reduce bad debt.
Challenges in revenue cycle management
Any process with this number of touch points is bound to come with challenges, but two major challenges seem to stand out: claims and collections.
Navigating healthcare claims is complex and costly. Providers and facilities often get stuck in a cycle of inaccurate claim submissions, denials, corrections and rebilling that delays reimbursement and negatively impacts financial performance.
A lot of denials can be traced back to errors within the claim submission: improper coding, issues with insurance eligibility, missing or inaccurate patient information, or duplicate claim submission. Errors like this on the front-end are a major cause of the headaches experienced by providers further down the line.
After claims are submitted, provider staff will monitor and keep track of claim status. Surprisingly, many still use a manual process not only for this, but for managing any claims that are ultimately denied. Without any kind of automation, this is a drain on productivity, time and resources and it becomes more difficult for providers to respond to denied, pending or returned claims in a timely manner for reimbursement.
Another prominent challenge in the revenue cycle is collections, notably collecting from patients before or at the point of service. Providers would prefer to collect from patients prior to them leaving the office, but it's not always possible, and for a few reasons.
Patients are increasingly unable to pay their medical bills, more are presenting as self-pay (maybe now more than ever during the pandemic), and some may not be aware of subsequent coverage or that they qualify for charity assistance, all which directly impact providers' abilities to collect. A lack of price transparency for services can make it even more difficult for patients to prepare financially.
Benefits of revenue cycle management
Despite its challenges, when done right, there are many benefits of revenue cycle management in healthcare.
Effective revenue cycle management not only improves the patient experience but improves staff satisfaction as well. Automating the process (billing, coding, claims management, etc.) reduces a lot of the associated administrative burden, which allows providers to focus on the delivery of quality care.
An optimized revenue cycle will also lower the rate of denials. As errors and redundancies are addressed and prevented on the front end, fewer claims will be denied.
Maybe one of the most obvious benefits of a healthy revenue cycle is maximized collections and revenue, and faster collection processes, especially when the process is automized. The entire collections process can be expedited, lowering administrative burden while also improving accuracy.
How to improve your revenue cycle management
We recommend providers take a holistic approach to improving revenue cycle management, focusing largely on automating the process and within the following four areas:
Automate access
Patient access is the starting point for the entire revenue cycle process. Ensuring correct patient information on the front end reduces the errors that cause rework in the back office. patient access.
With an automated, data-driven workflow, providers can reduce the errors that lead to claim denials while simultaneously improving access to care for patients through capabilities like online scheduling. Access is further improved by reducing the friction around patient billing by leveraging real-time eligibility verification to deliver accurate patient estimates at registration.
Increase collections
There is a definitely a delicate balance between ensuring that debts are collected and fostering a positive patient financial experience. It is imperative providers find a way to maximize patient collections while also increasing patient satisfaction. Patient access staff must be the patient's advocate while also improving the organization's ability to collect from the patient and payer.
By leveraging a data-driven approach, staff can verify patient identity and insurance coverage as well as provide an accurate estimate of payment responsibility ahead of service. Staff even can review data to assess ability to pay and evaluate various payment plan and/or financial assistance options.
The further upstream the revenue cycle can be managed the more effective the process will be to ensure the patients are informed prior to service, so they can make their portion of their payment responsibilities as early as possible to accelerate the cash collections for providers and to reduce the need to put significant effort into late stage collections.
Streamline claims
Providers can improve financial performance with automated, clean and data-driven medical claims management.
By integrating claims management software with customized edits into the workflow system, providers can thoroughly review every line of every encounter and verify that each claim is coded properly and contains the correct information before the claim is invoiced and submitted for reimbursement.
Encounters can be processed in real time with automatic alerts for incorrect codes or other potential issues before the claims submission. Responses include a detailed explanation of why a claim was flagged, so any necessary modifications can be made prior to submission.
Increase reimbursement
Healthcare organizations that don't stay current on payer policy and procedure changes risk payment delays and lost revenue. It can also be difficult for providers to verify the accuracy of payment received from third-party payers.
With automated access to the right data, providers can be reimbursed more accurately and quickly, while also strengthening their relationships with payers.
Providers can avoid payment delays and lost revenue with automated payer policy and procedure change notifications. Solutions that continuously audit payer contract performance can assure that collections align with negotiated terms.
The key for successful revenue cycle management
Technology, specifically data and automation, is key to the success of the healthcare revenue cycle. Automation ensures problems don't continue to effect productivity, and data can be matched precisely to predict, model and optimize financial results. Both can also be used to highlight a patient's financial situation, as well as their propensity to pay, allowing providers to optimize collection strategies from the start and get patients on the right programs.
Explore Experian Health's revenue cycle management solutions.