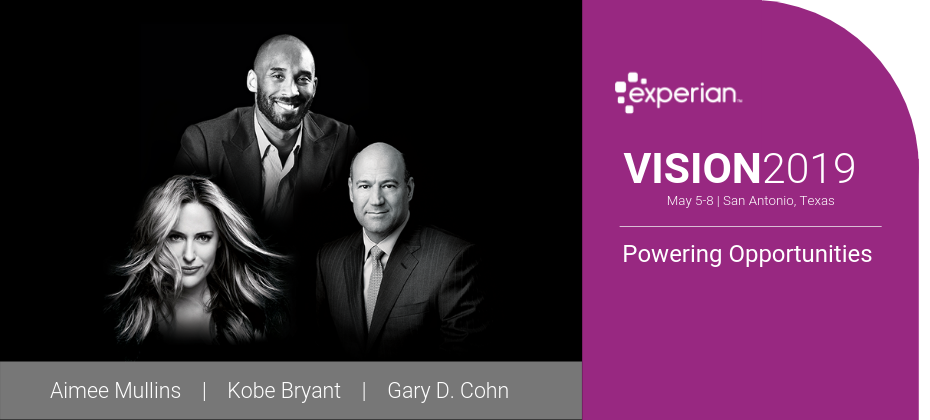 Experian's 38th annual Vision Conference kicks off on Sunday, May 5 in San Antonio, Texas. The sold-out thought leadership conference, is known for driving discussions on the industry's hard-hitting topics as well as introducing the latest and greatest in technology, innovation and data science.
"For 38 years, Experian's Vision Conference has connected business leaders to new ideas and solutions through cutting edge data and insights. Our goal is to power opportunities for you to target new markets, grow existing customer bases, improve response rates, reduce fraud and increase profits by using our data, analytics and technology. The intimate setting of the conference allows for unique networking opportunities with the industry's most sought-after thought leaders," said Klaudette Christensen, Experian's Chief Operations Officer.
A few spotlight sessions include:
Several sessions about machine learning and artificial intelligence, highlighting opportunities related to best practices, underwriting and fraud detection
A deep dive into the modern mortgage, leveraging insights on home equity and how to leverage data and analytics to redefine the process as it's known today
Sessions on credit delinquency, collections and the Great Recession
Marketing analytics and the latest releases from Experian's Ascend Platform
Sessions on advanced analytics and integrated decisioning as they relate to commercial and consumer insights
The event, which runs through Tuesday evening, continues its tradition of featuring several noteworthy keynote speakers. On Monday, Gary D. Cohn, American business leader, philanthropist and former Director of the U.S. National Economic Council, will kick off the event. On Tuesday, Aimée Mullins will take the stage discussing what is "possible" by drawing from her experiences as a record-breaking Olympic athlete, model and actress. The closing keynote will feature five-time NBA Champion and two-time Olympic Gold Medalist, Kobe Bryant.
The event will also include a Tech Showcase, featuring hands-on demos for attendees to experience.
Stay tuned for additional highlights and insights on our social media platforms throughout the course of the conference. Follow Experian Insights on Twitter and LinkedIn and check out #ExperianVision.