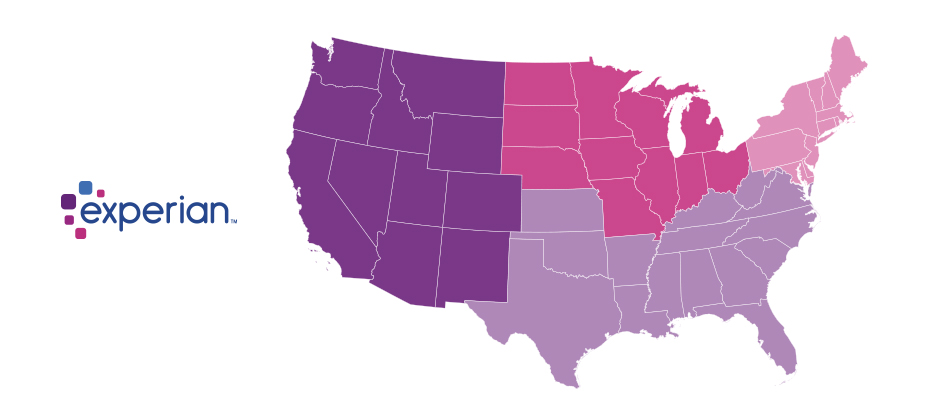 With 16.7 million reported victims of identity fraud in 2017 (that's 6.64 percent of the U.S. population), it was another record year for the number of fraud victims. And as online and mobile transaction growth continued to significantly outpace brick-and-mortar growth, criminal attacks also grew rapidly. This past year, we saw an increase of more than 30 percent in e-commerce fraud attacks compared with 2016.
As we've done over the past three years, Experian® analyzed millions of online transactions to identify fraud attack rates for both shipping and billing locations across the United States. We looked at several data points, including geography and IP address, to help businesses better understand how and where fraud is being perpetrated so they can better protect against it.
The 2017 e-commerce fraud attack rate analysis shows:
Delaware and Oregon continue to be the riskiest states for both billing and shipping fraud.
Delaware; Oregon; Washington, D.C.; Florida; and Georgia are the top five riskiest states for billing fraud.
Delaware, Oregon, Florida, New York and California are the top five riskiest states for shipping fraud, accounting for 50 percent of total fraud attacks.
South El Monte, Calif., is the riskiest city overall, with an increase in shipping fraud of approximately 230 percent.
Shipping fraud most often occurs near major airports and seaports due to reshippers and freight forwarders that receive domestic goods and often send them overseas.
When a transaction originates from an international IP address, shipping fraud is 6.7 times likelier than the average, while billing fraud becomes 7.1 times likelier.
Where is e-commerce fraud happening?
Typically, the highest-risk areas for fraud are in ZIP™ codes and cities near large ports of entry or airports. These are ideal locations to reship fraudulent merchandise, enabling criminals to move stolen goods more effectively.
Top 10 riskiest billing ZIP™ codes
 
Top 10 riskiest shipping ZIP™ codes
97252
Portland, OR
97079
Beaverton, OR
33198
Miami, FL
33122
Miami, FL
33166
Miami, FL
91733
South El Monte, CA
33122
Miami, FL
97251
Portland, OR
77060
Houston, TX
97250
Portland, OR
33195
Miami, FL
33166
Miami, FL
97250
Portland, OR
97252
Portland, OR
97251
Portland, OR
33198
Miami, FL
33191
Miami, FL
33195
Miami, FL
97253
Portland, OR
33192
Miami, FL
Source: Experian.com
Source: Experian.com
What's more, many of the riskiest ZIP™ codes and cities experience a high volume of transactions originating from international IP addresses. In fact, the top 10 riskiest ZIP codes overall tend to experience fraudulent activity from numerous countries overseas, including China, Venezuela, Taiwan and Hong Kong, and Argentina. These fraudsters tend to implement complex fraud schemes that can cost businesses millions of dollars in fraud losses. Additionally, the analysis shows that traffic coming from a proxy server — which could originate from domestic and international IP addresses — is 74 times riskier than the average transaction.
The problem
The increase in e-commerce fraud attacks shouldn't come as a huge surprise. The uptick in data breaches, merchants' continued adoption of EMV-enabled terminals to protect against counterfeit card fraud and the abundance of consumer data on the dark web means that information is even more accessible to criminals. This enables them to open fraudulent accounts, take over legitimate accounts and submit fraudulent transactions. Another reason for the increase is automation. In the past, criminals needed a strong understanding of fraud methods and technology, but they can now bring down an entire organization by simply downloading a file and automating the submission of thousands of applications or transactions simultaneously.
Since fraudsters need to make these transactions appear as normal as possible, they often leverage the cardholder's actual billing details with slight differences, such as e-mail address or shipping location. Unfortunately, the mass availability of compromised data and the abundance of fraudsters makes it increasingly challenging to identify and separate legitimate customers from attackers across the country. Because of the widespread prevalence of fraud and data compromises, we don't see billing fraud concentrated in just one region of the country. In fact, the top five states for billing fraud make up only about 18 percent of overall fraud attacks.
Top 5 riskiest billing fraud states
 
Top 5 riskiest shipping fraud states
State
Fraud attack rate
State
Fraud attack rate
Delaware
93.4
Delaware
195.9
Oregon
86.1
Oregon
170.1
Washington, D.C.
46.5
Florida
45.1
Florida
39.2
New York
37.3
Georgia
31.5
California
32.6
Source: Experian.com
Source: Experian.com
Prevention and protection need to be the priority
As businesses get a better understanding of how and where fraud is perpetrated, they can implement proactive strategies to detect and prevent attacks, as well as protect payment information. While no one single strategy can address the entire scope of fraud, there are advanced data sets and technology — such as device intelligence, behavioral and physical biometrics, document verification and entity resolution — that can help businesses make better fraud decisions.
Fortunately, consumers can also play a major role in safeguarding their information. In addition to regularly checking their credit reports and bank/credit card statements for fraudulent activity, consumers can limit the data they share on social networking sites, where attackers often begin when perpetrating identity fraud.
While we continue to help both organizations and consumers limit their exposure to e-commerce fraud, we anticipate that criminals will attempt more sophisticated fraud schemes. But businesses can stay ahead of the curve. This comes down to having a keen understanding of how fraud is being perpetrated, as well as leveraging data, technology and multiple layered strategies to better recognize legitimate customers and make more precise fraud decisions.
View our e-commerce fraud heat map and download the top 100 riskiest ZIP codes in the United States.
Experian is a nonexclusive full-service provider licensee of the United States Postal Service®. The following trademark is owned by the United States Postal Service®: ZIP. The price for Experian's services is not established, controlled or approved by the United States Postal Service.