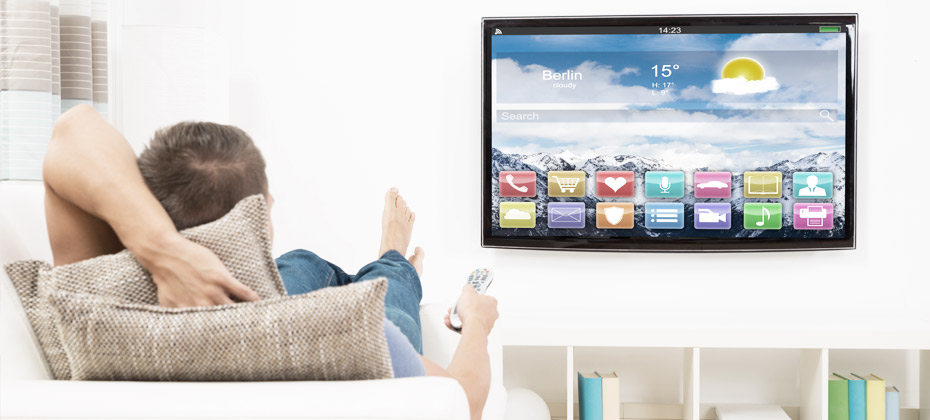 Direct mail is not dead, but it's 2017. Financial services companies need to acknowledge there might be other ways to deliver credit offers and capture consumer eyeballs. There are multiple screens competing for our attention, including one of the originals – TV. Advertising and TV have been married forever, but addressable TV allows marketers to target on a much more sophisticated level. Welcome to credit marketing in the digital age.
To help financial services companies understand the addressable TV channel, Experian marketing expert Brienna Pinnow answered the following questions in a short interview.
What is addressable TV?
Addressable TV is an amazing 1-to-1 direct marketing capability. To put it simply, addressable TV is the ability for an advertiser to deliver a TV ad to a specific household. From a consumer perspective, that means even if you and your next door neighbor are watching the latest episode of The Voice, you may see an ad for a mini-van while your neighbor sees an ad for upcoming one-day sale from their favorite retailer. With addressable TV, brands can define their target audience based on 1st, 2nd or 3rd party data (like Experian's). With the help of satellite and cable companies, they can deliver a personalized, measurable experience. This is an exciting departure from the way that TV advertising has been planned and targeted for nearly 70 years. Instead of focusing on the program, marketers can now focus on the person. Addressable TV makes reaching a precise audience – the same way you would with a direct mail piece or an email – a marketing reality.
 How long have marketers been leveraging addressable TV?
Experian has been an pivotal player in the development of the addressable TV space. Since the first addressable TV trials back in 2004, nearly 13 years ago, Experian has provided the audience targeting data and privacy-compliant matching capabilities that make addressable TV possible. The past 3 years, however, have demonstrated unprecedented, hockey-stick growth in addressable TV. In 2016 alone, the volume of addressable campaigns doubled from the previous year accounting for nearly $300 million spend.  That trajectory remains the same in 2017 and beyond. So why are we seeing this growth now? Here are a few reasons addressable TV is continuing to grow…
Scale: Millions of households can now be targeted using addressable technology, and the footprint continues to grow with smart TVs and additional cable operators.
Data: As organizations put data at the heart of their business, addressable TV enables them to infuse their most important customer information into the targeting.
Education: Agencies, data providers, and TV providers have invested time educating brands on the process and power of addressable TV. And now, advertisers are becoming more experienced at making this a consistent part of their marketing plan.
Accountability: You'll be hard pressed to find a marketer that doesn't have to demonstrate ROI on their marketing campaigns. The measurement capabilities that addressable TV provides adds a layer of accountability and insight that was not previously possible.
Technology: Experian has developed an audience management platform, the Audience Engine, which makes addressable TV possible in a matter of clicks. In the past year alone, our platform has distributed over 1,800 audiences for addressable advertising campaigns.
What types of companies have been utilizing addressable TV? Have you seen many financial services companies test this channel?
The early adopters of addressable TV were primarily automotive advertisers. Compared to other verticals, auto advertisers still spend the largest proportion of their budgets across TV. For that reason, they know it's a necessity to see if their dollars are actually driving sales for their big-ticket items. Addressable TV solves that problem for auto advertisers. In a DIRECTV campaign leveraging Experian's automotive data for audience targeting and post-campaign sales reporting, one major auto OEM saw a 26.2%  lift in sales for the advertised model compared to the control group. In the past few years, Experian has worked closely with advertisers across verticals – from retail to travel to finance – to launch addressable campaigns. Financial services clients particularly find Experian's financial related segments, such as income or net worth, to be accurate and powerful in creating qualified target audiences that improve campaign performance.
I've read that millennials are abandoning cable and TV providers in favor of services like Hulu and Netflix. Does this mean the market for addressable TV will shrink in the coming years?
There is a segment of consumers who are abandoning traditional cable services. However, this doesn't mean they are abandoning content. In fact, content consumption is at an all-time high with offerings from Roku, Hulu, Netflix, Sling TV, CBS, and beyond. All this shift in behavior means is that the definition of TV is becoming more fluid. "TV" doesn't have to be a big screen sitting in your living room; it can be a laptop on a red-eye flight. And from a marketing perspective, the concept of addressable, 1-to-1 targeting is already moving into some of these products and services. The footprint of addressable TV will only continue to rise as consumers stay connected to the content they love.
How can companies measure the success of utilizing addressable TV as a channel?
Not only does addressable TV provide laser-targeted ad delivery, but it also opens up measurement capabilities that were never possible for TV advertisers in the past. Traditionally, TV audience measurement has focused simply on eyeballs and not revenue impact, with little insight into how TV advertising converts into sales. The primary source for audience measurement in the TV world has been program ratings and expensive brand studies. With addressable TV, that story is changing. With companies that collect second-by-second viewership data linked to households, marketers now have the ability to tie this data back to their online and offline sales. Experian is pivotal in making closed-loop TV reporting possible. As a data and matching safe-haven, we link together the viewing information from the target audience with the sales data provided by the advertiser. The end result is a privacy compliant report that clearly demonstrates the impact of the campaign on the target audience. Did the targeted audience visit a bank location? Email customer service? Sign up for a new account? Spend a certain amount? These are all questions our TV attribution reporting answers for clients.
If a company wants to begin marketing in addressable TV, what is required in terms of set-up?
Addressable TV may sound new, exciting or even complex. But it doesn't have to be. Getting started is as simple as defining the target audience. Decide whether you would like to leverage your own CRM data, a custom model, third-party data or a combination of these data sources. If you're still not sure where to start, ask yourself a very simple question, "Who am I sending a direct mail piece or email to in the next month?" There's your audience. Better yet, you will be amplifying your message, reaching the customer with a consistent message and meeting them wherever they are. After you've determined who you want to target, a matching partner like Experian can work with you to show you the reach of your audience across TV providers. You'll finalize your budget, creative and media plan while Experian distributes your audience to the selected media destinations. Before you know it, your campaign will be live, and reaching your target audience whether they're watching Shark Tank or Sharknado. When the campaign wraps, you'll be on your way to measuring results like never before.
Are there any additional trends you see emerging in the addressable TV space?
The future of addressable TV is related to both the targeting and measurement capabilities. More advertisers are working with Experian, for example, to launch coordinated campaigns. That doesn't just mean launching a digital campaign and TV campaign at the same time. It really means targeting the same exact people for the digital and TV campaign. We like to consider this a "surround sound" approach where the customer or prospect experiences a consistent message across channels. As for measurement, Experian is working closely with advertisers to explore the power of mobile data. Recently, Experian partnered with Ninth Decimal and DIRECTV to incorporate mobile location data into the post-campaign measurement process for Toyota.  The results proved a 19% lift in dealership visits for those exposed to the campaign. This is an exciting development because this approach can translate well for any other advertiser who wants to measure metrics like location visitation.
If you'd like to learn more, check out our Addressable TV whitepaper.