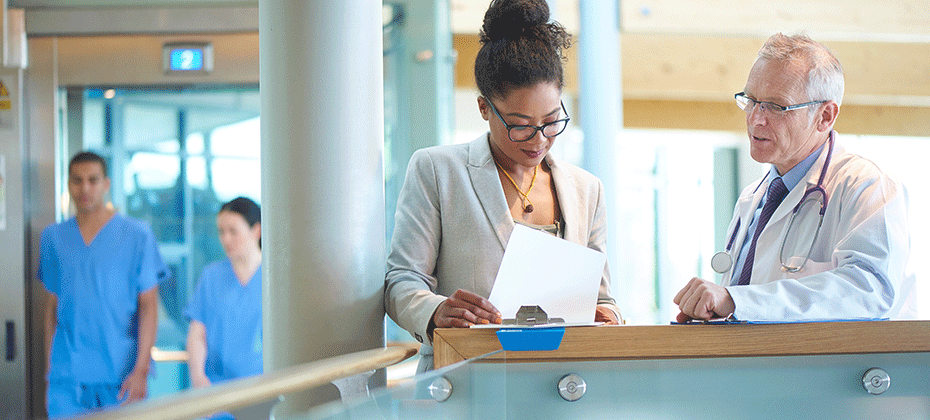 Having the right health insurance eligibility verification software can make or break the healthcare revenue cycle. In fact, there's a direct correlation between the efficacy of an organizations' eligibility verification system and the amount of revenue the organization generates. If there are eligibility verification errors during the process, it can be more difficult to file claims and receive payments.
Here are 4 key issues to watch out for and how they can impact revenue cycles.
1. Wrong or incomplete patient data
Healthcare providers are responsible for verifying patient coverage. As part of the process, staff checks the patient's identity and contact information to confirm that it matches their electronic health records. Other important verification steps include confirming patient eligibility for proposed services, checking for exclusions and double-checking that the patient's coverage is not only active but that any annual or lifetime limits haven't been exceeded.
But when a patient provides incorrect or incomplete information during the early stages of eligibility verification, it can bottleneck the entire verification process. Patients may have moved, switched employers or even switched their insurance coverage. When providers don't have access to the most up-to-date patient data, it can result in eligibility verification errors and create extra work for staff. Incomplete or wrong patient information not only makes the process more time-consuming but can also stall the claims process, resulting in delayed reimbursements or issues getting paid.
2. Incorrect insurance information
Verifying a patient's insurance coverage is one of the earliest parts of the revenue cycle. And it can be complex, especially with patients frequently changing insurance providers and taking on more payment responsibility. While a patient insurance ID card is helpful, it doesn't prove eligibility. To verify eligibility, access staff will typically need to check payer websites or call payers directly. They also choose to use clearinghouses to run batch checks. But these options can be laborious and time-consuming.
With the end of the COVID-19 public health emergency (PHE), it's also expected that up to 15 million Americans could find themselves without healthcare insurance, making the verification process even more tedious. The US Department of Health and Human Services (HHS) estimates that 8.2 million Medicaid enrollees will no longer be eligible for coverage. And another 6.8 million eligible individuals may lose coverage due to "administrative churn," which occurs when patients fail to provide annual confirmation of Medicaid eligibility.
These wide-scale changes to coverage could increase the risk of insurance information errors and longer verification checks, creating more stress and work for staff, claim denials, uncompensated care and millions in lost revenue.
3. Human errors lead to eligibility verification errors
As the volume of patients continues to grow, providers that rely on manual verification processes are potentially at risk for human error. Inaccurate data entry increases the costs associated with medical billing areas and hinders interoperability as more patient data is created, collected and shared. And when incorrect data is entered when billing for services, it can result in disputes with insurance companies, medical billing errors and in extreme cases, a lawsuit and the need for omissions insurance.
Performing employment verification checks by hand is also time-consuming and places an extra burden on staff, especially if there are existing staff shortages. Manual eligibility verification can hinder operational efficiency so much that the CAQH reports it adds more than 20 minutes per transaction, at a cost of nearly $10 billion per year to medical providers. Manual submissions can also result in mistakes when inputting claims, and when claim submissions aren't clean, reimbursements can take longer.
4. Unclear communication
Provider and patient communication is a fundamental part of verifying coverage, ensuring receipt of payments and creating strong patient/provider relationships. If communication is unclear or rocky, it not only can undermine the trust between a patient and provider, but it can directly result in delayed claim processing, denials and make it harder to get paid.
When patients and providers aren't clearly communicating about coverage, co-pays, cost estimates and deductibles, it can make for a stressful patient experience. With 3 in 10 patients expressing concerns about being able to afford a $500 bill, it's critical to inform patients about their financial obligations upfront so they can plan accordingly.
How automation can eliminate eligibility verification errors
According to an Experian Health survey, one in three healthcare executives say that denied claims happen about 10%-15% of the time, resulting in billions of dollars in lost revenue. Using an automated medical insurance verification system, such as Experian Health's Insurance Eligibility Verification solution, can help eliminate the vulnerabilities of manual patient eligibility verification and pay big dividends across the revenue cycle.
Kate Ankumah, Product Manager at Experian Health, says, "If providers don't have a full picture of the patient's payable benefits, deductibles, co-pay thresholds out-of-pocket maximums, and other policy details, they run the risk of non-reimbursement. For that reason, these checks should be carried out before a patient's appointment or procedure, to prevent awkward billing issues and delayed payments. This gives providers peace of mind that they'll be reimbursed for the services they provide and accelerates patient registration."
Not only does automation help relieve the manual burden placed on staff, but it also improves operational efficiency, ensures cleaner claim submissions, speeds up reimbursement, reduces medical billing errors and creates a better patient experience overall. Here's how:
Integration with office software systems
To keep things running as smoothly as possible, providers should consider automation eligibility tools that integrate seamlessly with their existing systems and interfaces. This can help fully leverage data analytics and streamline operations. Integrating automated solutions with health records can also speed up verification and registration. For example, existing Experian Health clients can access Eligibility Verification through eCare NEXT® which provides a single interface to manage several patient access functions.
Real-time connections with major insurance carriers
Using insurance verification software can help keep patient insurance information up-to-date. For example, Experian Health's solution connects with over 900 payers instantly, allowing providers to access real-time patient eligibility and benefits data. Plus, it has an optimized search functionality that boosts the likelihood of finding a patient match. It also features an optional Medicare beneficiary identifier (MBI) lookup service that automatically finds and validates MBI numbers, necessary for validating Medicare coverage that many providers report having to look up manually.
The ability to calculate a patient's estimated payments
Inconsistencies between estimated and actual costs are common patient complaints. By providing estimates upfront, providers can reduce this major source of patient stress. Automating pre-service eligibility and estimates provides patients with a clear view of their financial obligations so they can plan accordingly. Price transparency also empowers patients and can help them feel more in control, improve engagement and increase the likelihood that providers can collect payments faster and more efficiently.
Prevent eligibility verification errors to get paid faster
Insurance verification is an often underestimated, yet crucial component of the patient experience. Automating this process with advanced data analytics can help minimize denied claims and long-term financial losses while strengthening trust between patients and providers. In short, optimizing for insurance verification early on has wide-reaching benefits throughout a provider's revenue cycle. Learn more about how Experian Health can help healthcare organizations reduce eligibility verification errors and protect their bottom lines.