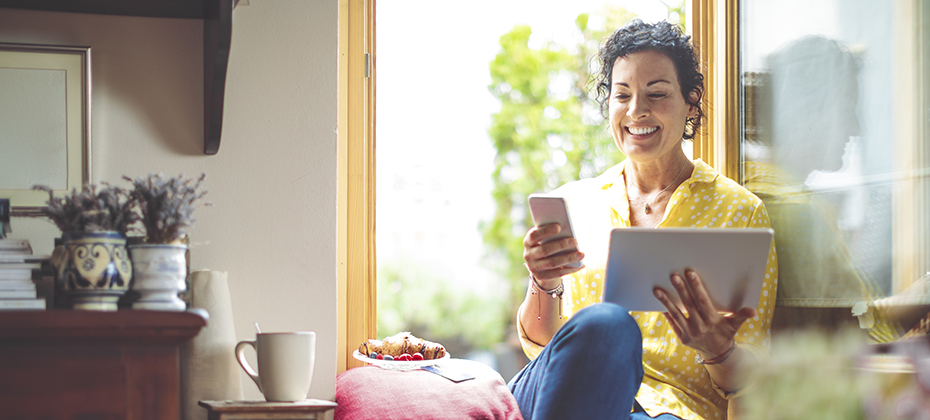 Verifying your identity online has become a basic necessity for everyday life. Consumers today might even expect to upload a picture of their driver's license or answer security questions before creating a new account. But once they've made contact, consumers also expect companies to quickly and accurately identify them across multiple visits.1
While 82 percent of organizations have a consumer recognition strategy, moving from strategy to action and then getting the desired result isn't easy.2That's particularly true when you're working to create seamless experiences for customers while fighting increasingly sophisticated fraudsters.
Why is online identity verification challenging?
Identity verification in the physical world might be as simple as checking a government-issued ID card — and perhaps an additional form of identification (or two) when the stakes are higher.
Verification becomes more complicated as you move into the digital realm, especially when you need to automate decisions. There are many specific challenges to overcome, but some of the main ones fall into four categories.
Finding the right friction: In an ideal world, every legitimate user will flow through your verification checks with ease. In reality, you may need to introduce some roadblocks to comply with know your customer (KYC) rules and prevent fraud. Finding the friction-right balance can be tricky.
Accessing and using data: Using expanded data sources, such as behavior and device info, can improve outcomes without adding friction. But simply having more data isn't the goal. You need to be able to organize, process and use the data in a compliant manner to quickly and accurately verify identities.
Fighting fraud: You're up against formidable foes who consistently test your systems for weaknesses and share the results with other fraudsters. You have to be able to spot first-party fraud, identity thieves and synthetic identities.
Securing the data: Accessing and storing customer data is vital for a successful identity verification system, but it's your responsibility to securely protect customers' data. It also may be a legal requirement, and you need to be mindful of all the applicable regulations.
These aren't fixed challenges that you can overcome in a single hurdle. Consumer preferences, fraud tactics and regulations are continually evolving, and your identity verification platform needs to keep up.
Potential benefits throughout the customer lifecycle
Companies that want to create, manage and continuously identify consumers are starting to take an enterprise-wide approach that relies on creating a single-customer view.
The idea is to have a single identity that you can expand as you learn more about a person's preferences and behavior. Otherwise, business units can wind up with fragmented views that lead to jumbled messaging, errors and missed opportunities.
While it can be difficult to implement well, the single-view approach can also be powerful in action:
Targeting and onboarding: Marketing, acquisition and onboarding aren't necessarily handled by the same teams, but a smooth process can create a lasting good impression. There are also recent developments that can provide pre-fill capabilities with their identification verification solutions, which can create a nearly friction-free onboarding process.3
Prevent fraud: The single-view approach also lets you leverage cross-device and real-time data to detect and prevent fraud, and determine the right-size verification method. Using identity graphs to verify identities in real-time can also help you detect fraud, including account takeovers and first-party fraud.
Customer experience: Consistently identifying customers can improve their experience — particularly when different departments can easily access and update the same identification material. In turn, this can lead to brand loyalty and the potential to upsell and cross-sell customers.
The need for accurate verification is growing as people spend more time living and shopping online. Only a third of consumers are confident businesses can consistently recognize them online, which also means there's an opportunity to surprise and delight the skeptics.4
READ MORE: White paper: Making identities personal
What do consumers want?
Most people want to be recognized as they move throughout their digital lives. But data breaches and identity theft continuously make headlines, and people aren't ignorant of the dangers of sharing their personal information.
Consumers continually rank security and privacy above personalization or convenience as the most important factors in their online experiences. Some are willing to help — 57 percent of consumers say they will share their data if doing so increases security and prevents fraud. But even more (almost 75 percent) expect that the businesses will protect them online.5
Finding the right balance of privacy, security and due diligence is important for earning customers' trust. However, the best approach may depend on who your customers are and how they interact with your products and services.
WATCH: Webinar: Identity Evolved — Building consumer trust and engagement
Finding a great online identity verification partner
Knowing how important identity verification can be for the success of your business, you need to be sure that the digital identity solutions providers you partner with can meet your current and future needs. A good fit can:
Give you access to multidimensional data: You can use online and offline data to support your digital identity verification systems. Some vendors can also help you use internal data, deterministic data and outputs from probabilistic models to improve your results.
Scale to meet future challenges: Many businesses are exploring how to use machine learning and artificial intelligence for identity resolution and verification. These can be especially powerful when combined with robust data sources and may become more important as additional data sources come online.
Protect your business: Identity verification solutions need to help you comply with the regulatory requirements and detect fraud with low false-positive rates to protect your business.
First and foremost, you want to work with a partner who knows that identity is personal. Your customers are more than data points, and putting their needs and wants first will ultimately help you earn their trust and business.
Learn more about Experian's customer-centric identity verification solutions.
1Experian (2022). 2022 Global Identity and Fraud Report
2Experian (2021). 2021 Global Identity and Fraud Report
3Experian (2022). 2022 Global Identity and Fraud Report
4Ibid.5. Experian (2022). Global Insights Report: April 2022