Rays of hope are beginning to shine in the economy that suggest the U.S. may have moved beyond the most acute phase of the economic crisis. The housing sector, in particular, looks poised to regain momentum and perhaps lead the path towards stabilization in the second half of 2020.
A "V-Shaped" rebound in mortgage applications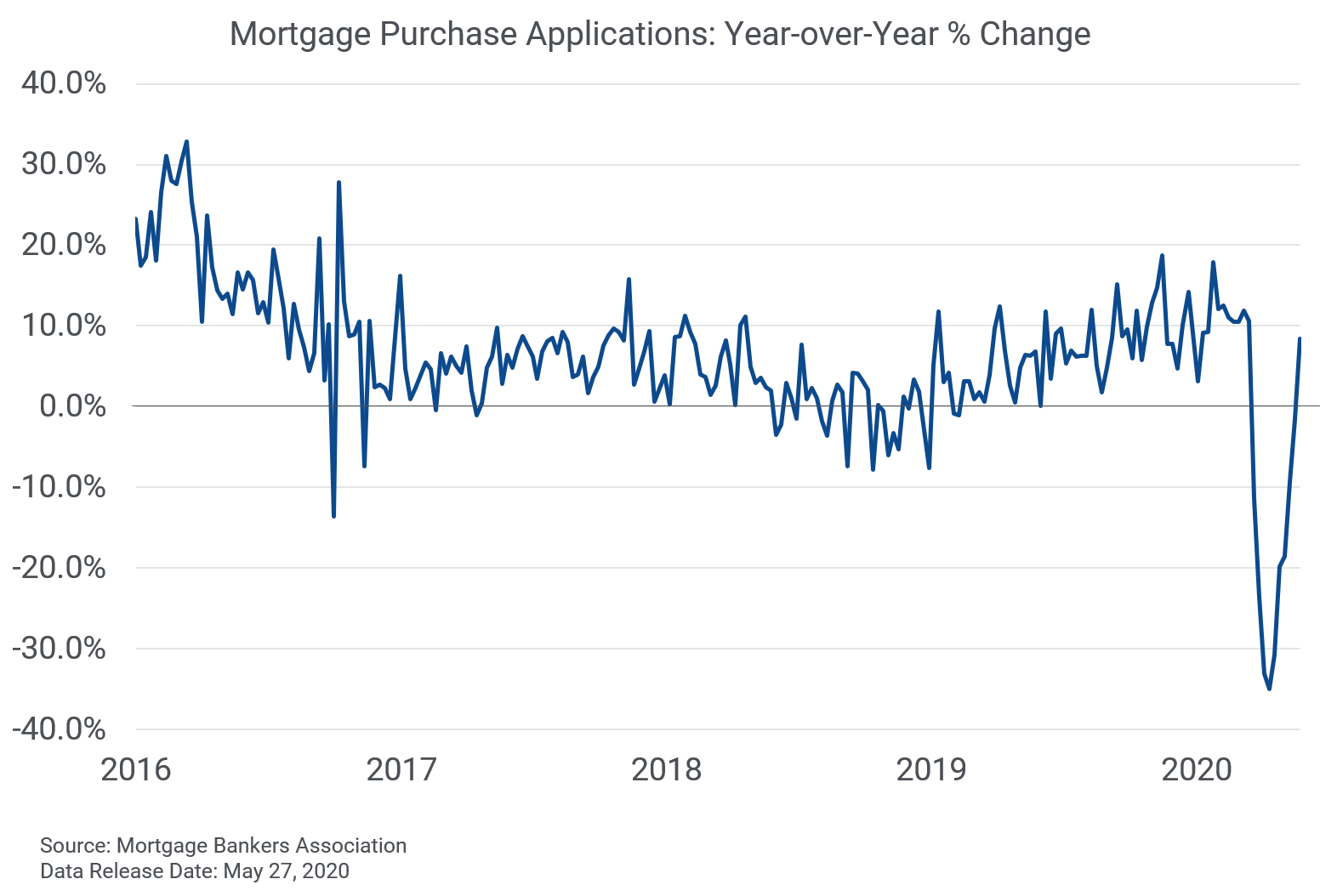 Despite record levels of unemployment and widespread economic uncertainty, homebuyers have returned to the market with conviction. After shelter-in-place restrictions curtailed open-house visits and crimped buyer demand in early April, applications to purchase a home have risen for six consecutive weeks, according to the Mortgage Bankers Association. The latest data for the week of May 22nd, indicate that purchase applications were 9% higher than during the same period in 2019. If this trend continues, it will show that significant pent-up demand exists in the housing market that may be able to offset some of the lost spring buying season.
April new home sales far exceed expectations
After declining by 13.7% in March, new home sales rose a modest 0.6% in April. While this was only a slight gain, it was considerably above economists' projections of a fall of 20% and may mark the turning point in the downtrend.
Since the recording of new home sales data occurs when the purchase contract is signed or a deposit is accepted – and is typically for a house that hasn't been built yet or is currently under construction – it provides a gauge of how buyers feel about their future economic prospects. Building a home also requires hiring new construction workers, buying building supplies, and supporting a host of ancillary industries, thus making it an indicator of further economic activity.
Some of the increase in demand for new homes may have been driven by coronavirus quirks. The number of existing homes on the market is at record lows and many people may have been reluctant to put their home up for sale and have buyers tour as health concerns remain. Buyers, as well, may have preferred to steer clear of occupied homes or were unable to make in-person visits due to shelter-in-place restrictions. This lack of options for home buyers, coupled with record-low mortgage rates, likely drove sales of new homes higher.
However, for the same reasons why new home sales rose, pending sales for existing homes fell sharply. In April, the National Association of Realtors reported that sales declined by 21.8%, which is the largest drop in ten years.
Home prices continue to gain ground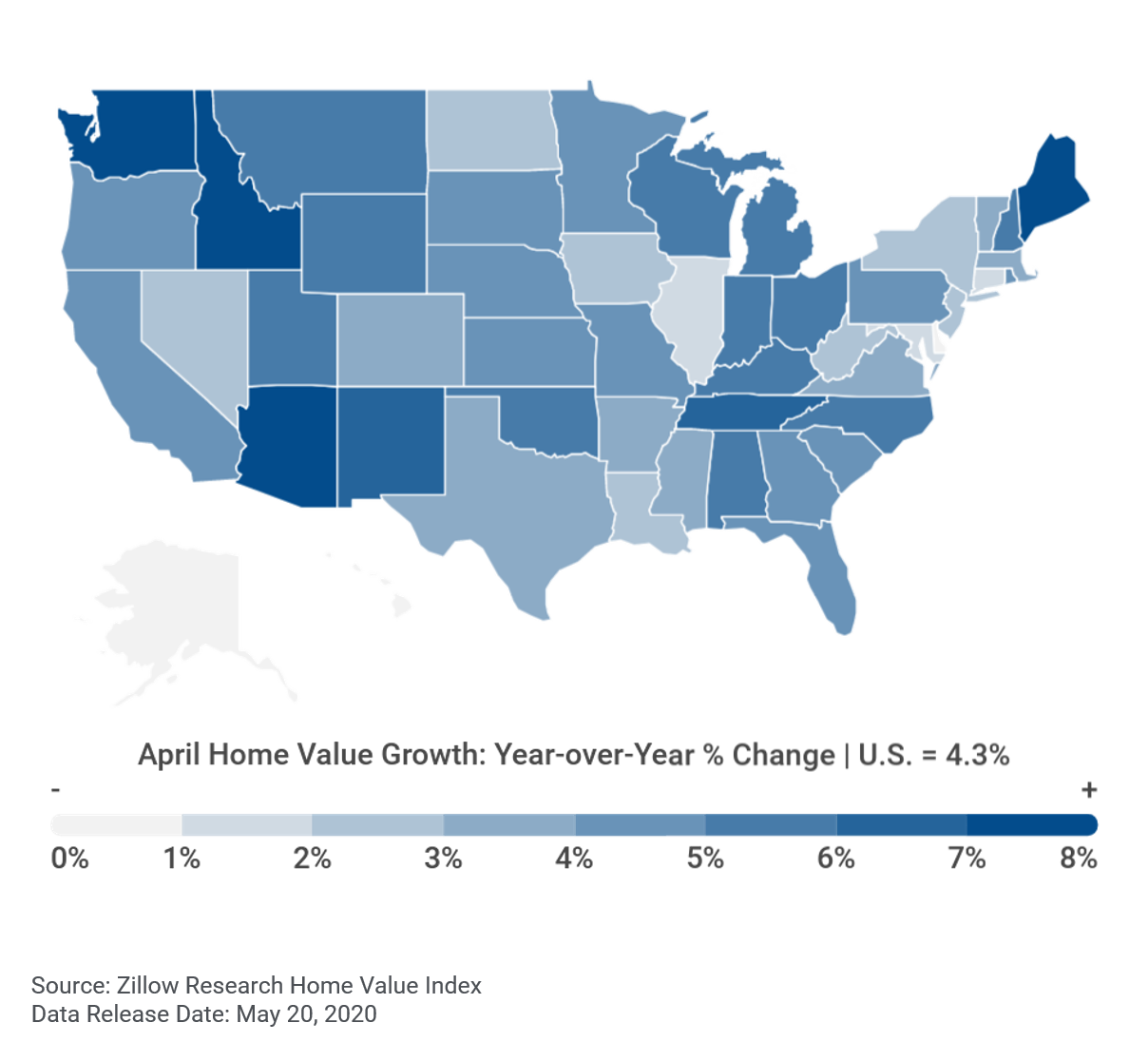 Even with shelter-in-place restrictions dampening buyer demand in early April, home values have continued to rise. This is because the supply of homes on the market also contracted, resulting in a simultaneous drop of demand and supply.  According to Zillow Research, the total inventory of homes for sale is down roughly 20% from this time last year. With fewer competing homes on the market, sellers have been reluctant to slash prices and are betting that the lack of options and low mortgage rates will keep buyers on the hook.
In April, U.S. home values rose 4.3% from the year before. The states with the strongest growth were Idaho (9.8%), Arizona (8.5%), Maine (7.6%), and Washington (7.4%). It will be interesting to see if this pattern of growth changes as newly implemented work from home policies may shift where people prefer to live and work.
Why it matters
The housing market has an outsized influence on the overall direction of the U.S. economy. Housing is not only is a big contributor to economic growth, but many owners have a large portion of their wealth tied up in their home. If the housing market can find its footing in the second half of 2020, then it could set the stage for an eventual economic recovery.