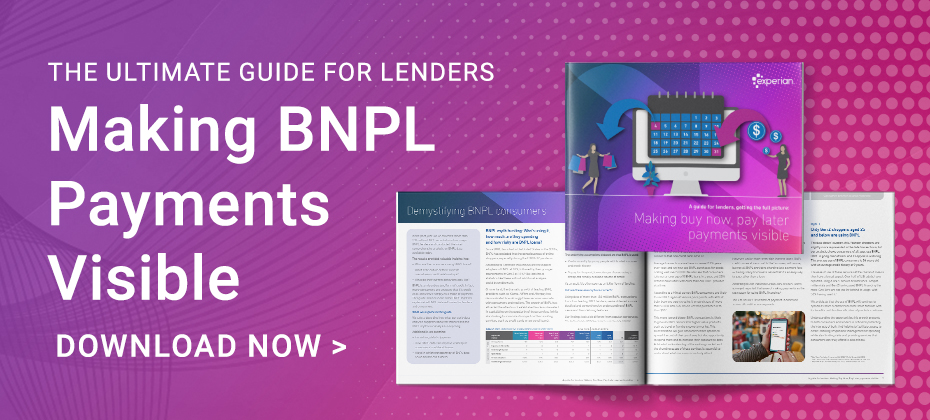 BNPL is a misunderstood form of credit. In fact, many consumers are unaware that it is credit at all and view it simply as a mode of payment. This guide debunks common BNPL myths to explain what BNPL data will mean for lenders and consumers.
In the past year, Experian collected more than 130 million buy now, pay later (BNPL) records from four major BNPL fintech lenders and conducted the most comprehensive analysis of BNPL data available today. The results provided valuable insights on:
Who are the consumers using BNPL loans?
What is the nature of their current mainstream credit relationships?
What do their current BNPL behaviors look like?
BNPL myth-busting: Who's using it, how much are they spending and how risky are BNPL loans?
Since BNPL launched in the United States in the 2010s, BNPL has exploded into the consciousness of online shoppers, especially during the COVID-19 pandemic.  According to Forrester, Millennials are the biggest adopters of BNPL at 18%, followed by their younger counterparts in Gen Z at 11%.1 But looking at statistics like these without additional analysis could be problematic.  The dramatic growth of leading BNPL fintechs such as Klarna, Affirm and Afterpay has demonstrated how strongly these services resonate with consumers and retailers.
The growth of BNPL has attracted the attention of established lenders interested in capitalizing on the popularity of these services (while also looking to minimize its impact on their existing services, such as credit cards or personal loans). Meanwhile, the Consumer Financial Protection Bureau (CFPB) has urged caution about potential risks, calling for more consistent consumer protections market-wide and transparency into consumer debt accumulation and overextension across lenders.
The underlying assumptions debated are that BNPL is used:
Predominantly by young people with limited incomes and credit history
To pay for frequent, low-value purchases using a cheap and readily available source of credit
As a result, it is often seen as a riskier form of lending. But are these assumptions correct? Using data from more than 130 million BNPL transactions from four leading BNPL fintech lenders, we've obtained a more detailed and comprehensive understanding of BNPL users and their defining features. Our findings look somewhat different to the popular stereotypes.
Myth 1: BNPL is used only for low-value purchases
According to our analysis, most BNPL purchases, 95 percent are for items costing $300 or less.2 Some of it is low-value, but not all. In fact, we found that the average purchase using BNPL was similar to that of a credit card, at $132.Average transaction sizes have increased 10 percent year-over-year, and we now see BNPL purchases for goods costing well over $1,000. We also see that consumers take out an average of 5 BNPL loans in a year and 23 percent of them have loans with more than one BNPL provider at a time.
Myth 2: BNPL is simply an easier payment method
Consumers see BNPL as a simple, quick and convenient way to pay. But, as shoppers receive goods for which payment is deferred, it's also a form of credit. However, unlike short-term high-interest loans, BNPL credit comes at zero cost to the borrower, with some, but not all BNPL fintech providers charging late payment fees – fueling many borrowers' sense that it's an easy way to pay, rather than a loan.
Myth 3: Only Gen Z shoppers aged 25 and below are using BNPL
Younger shoppers are slightly more represented in the data transactions, but our analysis shows consumers of all ages use BNPL. BNPL is going mainstream, and its appeal is widening. The average age of BNPL consumers is 36 years old, with an average credit history of 9 years.2 The ease of use of these services at the checkout means they have a broad appeal. Over half of U.S. adults have reported using a BNPL service at least once. Despite Millennials and Gen Z having used BNPL financing the most, Gen Xers are not too far behind in usage, with 52% having used it.2
We anticipate that in the use of BNPL will continue to grow as more customers become more familiar with the benefits, and the diversification of products continues. Understanding the opportunities this growth presents to both consumers and lenders is critical to protecting their interests. And helping to facilitate access to credit, enabling responsible spending, while also limiting risks and providing services that consumers can afford is also critical.
We will take a deep dive into what our early data analysis suggests about the market and the BNPL myths our analysis is exposing. Additionally, we will examine:
Why BNPL data matters to providers and lenders
How BNPL data can improve visibility of consumers' creditworthiness
Ways in which transparency of BNPL data could benefit consumers

1The Buy Now, Pay Later (BNPL) Opportunity," Forrester Report, April 29, 2022.
2Experian data and analytics derived from 130M+ BNPL transactions