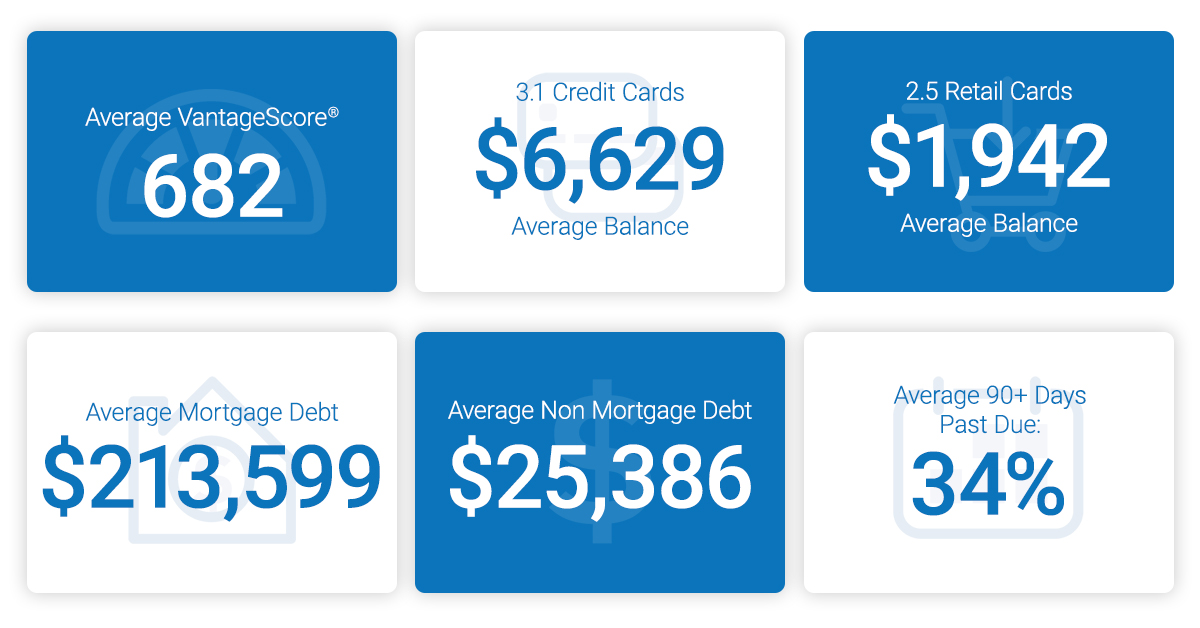 As consumers prepare for the next decade, we look at how we're rounding out this year. The results? The average American credit score is 682, an eight-year high.
Experian released the 10th annual state of credit report, which provides a comprehensive look at the credit performance of consumers across America by highlighting consumer credit scores and borrowing behaviors.
And while the data is spliced to show men vs. women, as well as provides commentary at the state and generational level, the overarching trend is up. Even with the next anticipated economic correction often top of mind for financial institutions, businesses and consumers alike, 2019 was a year marked by more access, more spending and decreasing delinquencies. Things are looking up.
"We are seeing a promising trend in terms of how Americans are managing their credit as we head into a new decade with average credit scores increasing two points since 2018 to 682 – the highest we've seen since 2011," said Shannon Lois, Senior Vice President and Head of EAS, Analytics, Consulting & Operations for Experian Decision Analytics. "Average credit card balances and debt are up year over year, yet utilization rates remain consistent at 30 percent, indicating consumers are using credit as a financial tool and managing their debts responsibly."
Highlights of Experian's State of Credit report:

| | | | | |
| --- | --- | --- | --- | --- |
| 3-year comparison | 2017 | 2018 | 2019 |   |
| Average number of credit cards | 3.06 | 3.04 | 3.07 | |
| Average credit card balances | $6,354 | $6,506 | $6,629 | |
| Average number of retail credit cards | 2.48 | 2.59 | 2.51 | |
| Average retail credit card balances | $1,841 | $1,901 | $1,942 | |
| Average VantageScore[1, 2] | 675 | 680 | 682 | |
| Average revolving utilization | 30% | 30% | 30% | |
| Average nonmortgage debt[3] | $24,706 | $25,104 | $25,386 | |
| Average mortgage debt | $201,811 | $208,180 | $231,599 | |
| Average 30 days past due delinquency rates | 4.0% | 3.9% | 3.9% | |
| Average 60 days past due delinquency rates | 1.9% | 1.9% | 1.9% | |
| Average 90+ days past due delinquency rates | 7.3% | 6.7% | 6.8% | |
In the scope of the credit score battle of the sexes, women have a four-point lead over men with an average credit score of 686 compared to 682. Their lead is a continued trend since 2017 where they've bested their male counterparts. According to the report, while men carry more non-mortgage and mortgage debt than women, women have more credit cards and retail cards (albeit they carry lower balances).
Generationally, Generations X, Y and Z tend to carry more debt, including mortgage, non-mortgage, credit card and retail card, than older generations with higher delinquency and utilization rates.
Segmented by state and gender, Minnesota had the highest credit scores for both men and women, while Mississippi was the state with the lowest average credit score for females and Louisiana was the lowest average credit score state for males.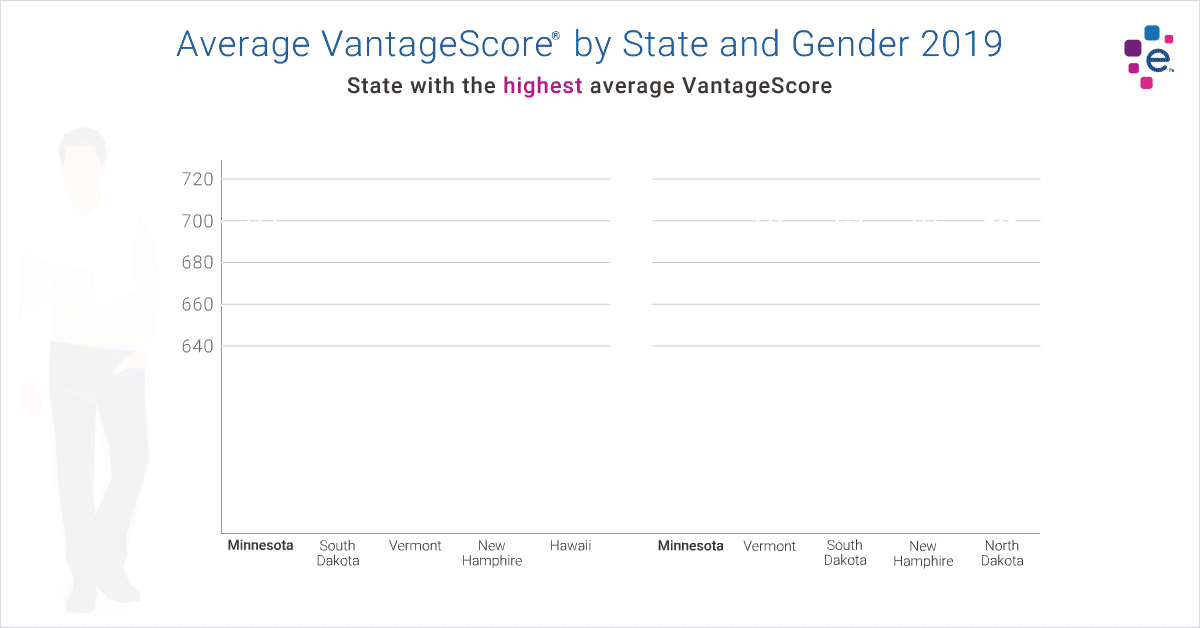 As we round out the decade and head full-force into 2020, we can reflect on the changes in the past year alone that are helping consumers improve their financial health. Just to name a few:
Experian launched Experian BoostTM in March, allowing millions of consumers to add positive payment history directly to their credit file for an opportunity to instantly increase their credit score. Since then, there has been over 13 million points boosted across America.
Experian LiftTM was launched in November, designed to help credit invisible and thin-file consumers gain access to fair and affordable credit.
Long-standing commitments to consumer education, including the Ask Experian Blog and volunteer work by Experian's Education Ambassadors, continue to offer assistance to the community and help consumers better understand their financial actions.
From what we can tell, this is just the beginning.
"Understanding the factors that influence their overall credit profile can help consumers improve and maintain their financial health," said Rod Griffin, Experian's director of consumer education and awareness. "Credit can be used as a financial tool. Through this report, we hope to provide insights that will help consumers make more informed decisions about credit use as we prepare to head into a new decade."
1 VantageScore is a registered trademark of VantageScore Solutions, LLC.
2 VantageScore range is 300 to 850.
3 Average debt for this study includes all credit cards, auto loans and personal loans/student loans.