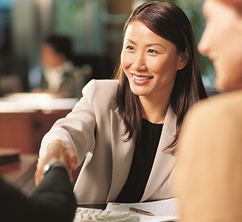 Opening a new consumer checking account in the 21st century should be simple and easy to understand as a customer right?  Unfortunately, not all banks have 21st century systems or processes reflecting the fact that negotiable order of withdrawal (NOW) accounts, or checking accounts, were introduced decades ago within financial institutions and often required the consumer to be in person to open the account.  A lot has changed and consumers demand simpler and transparent account opening processes with product choices that match their needs at a price that they're willing to pay.  Financial institutions that leverage modernized technology capabilities and relevant decision information have the best chance to deliver consumer friendly experiences that meet consumer expectations.  It is obvious to consumers when we in the financial services industry get it right and when we don't.
The process to open a checking account should be easily understood by consumers and provide them with appropriate product choices that aren't "one size fits all".  Banks with more advanced core-banking systems incorporating relevant and compliant decision data and transparent consumer friendly approval processes have a huge opportunity to differentiate themselves positively from competitors.  The reality is that banking deposit management organizations throughout the United States continue to evolve check screening strategies, technology and processes.  This is done in an effort to keep up with evolving regulatory expectations from the consumer advocacy regulatory bodies such as the Consumer Financial Protection Bureau (CFPB) and designed to improve transparency of checking account screening for new accounts for an increased number of consumers.
The CFPB advocates that financial institutions adopt new checking account decision processes and procedures that maintain sound management practices related to mitigating fraud and risk expense while improving consumer transparency and increasing access to basic consumer financial instruments.  Bank shareholders demand that these accounts be extended to consumers profitably.  The CFPB recognizes that checking accounts are a basic financial product used by almost all consumers, but has expressed concerns that the checking account screening processes may prevent access to some consumers and may be too opaque with respect to the reasons why the consumer may be denied an account.  The gap between the expectations of the CFPB, shareholders and bank deposit management organization's current products and procedures are not as wide as they may seem.  The solution to closing the gap includes deploying a more holistic approach to checking account screening processes utilizing 21st century technology and decision capabilities.  Core banking technology and checking products developed decades ago leave banks struggling to enact much needed improvements for consumers.
The CFPB recognizes that many financial institutions rely on reports used for checking account screening that are provided by specialty consumer reporting agencies (CRAs) to decision approval for new customers.  CRAs specialize in checking account screening and provide financial institutions with consumer information that is helpful in determining if a consumer should be approved or not.  Information such as the consumer's check writing and account history such as closed accounts or bounced checks are important factors in determining eligibility for the new account.  Financial institutions are also allowed to screen consumers to assess if they may be a credit risk when deciding whether to open a consumer checking account because many consumers opt-in for overdraft functionality attached to the checking account.
Richard Cordray, the CFPB Director, clarified the regulatory agency's position as to how consumers are treated in checking account screening processes within his prepared remarks at a forum on this topic in October 2014.  "The Consumer Bureau has three areas of concern.  First, we are concerned about the information accuracy of these reports. Second, we are concerned about people's ability to access these reports and dispute any incorrect information they may find. Third, we are concerned about the ways in which these reports are being used."
The CFPB suggests four items they believe will improve financial institution's checking account screening policies and practices:
Increase the accuracy of data used from CRA's
Identify how institutions can incorporate risk screening tools while not excluding   potential accountholders unnecessarily
Ensure consumers are aware and notified of information used to decision the account opening process
Ensure consumers are informed of what account options exist and how they access products that align with their individual needs
Implementing these steps shouldn't be too difficult to accomplish for deposit management organizations as long as they are fully leveraging software such as Experian's PowerCurve customized for deposit account origination, relevant decision information such as Experian's Precise ID Platform and Vantage Score 3.0 combined with consumer product offerings developed within the bank and offered in an environment that is real-time where possible and considers the consumer's needs.  Enhancing checking account screening procedures by taking into account consumer's life-stage, affordability considerations, unique risk profile and financial needs will satisfy expectations of the consumers, regulators and the financial institution shareholders.
Financial institutions that use technology and data wisely can reduce expenses for their organizations by efficiently managing fraud, risk and operating costs within the checking account screening process while also delighting consumers.  Regulatory agencies are often delighted when consumers are happy.  Shareholders are delighted when regulators and consumers are happy.  Reengineering checking account opening processes for the modern age results in a win-win-win for consumers, regulators and financial institutions.
Discover how an Experian Global Consultant can help you with your banking deposit management needs.