Give your customers the frictionless experience they expect, while spotting risky behavior and suspicious device usage before bad transactions occur
What is account takeover fraud (ATO)?
Account takeover fraud is when a fraudster gains access to an account that does not belong to them, changes information such as log in credentials or personal information, and then makes unauthorized transactions in that account. This has gone a step further in recent years, where the fraudster also gains control of separate accounts, such as mobile or email accounts, where one-time passwords or password change instructions can be sent. According to Javelin research, 3 times as many consumers were affected by ATO in 2016 than in 2017, leading to losses growing to $5.1 billion, a 120 percent increase from the previous year.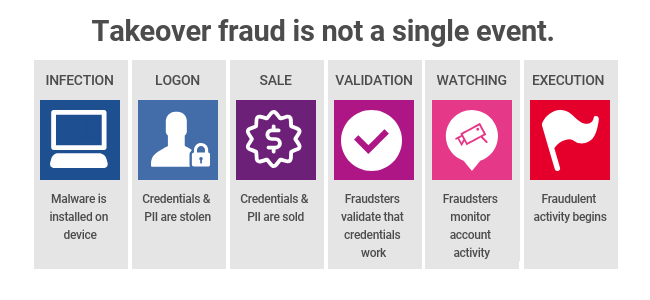 How can your business prevent account takeover fraud?
Customer experience considerations are always top-of-mind when speaking about portfolio or account management. When it comes to detecting fraud in your customer accounts, it's important to minimize outreach and false positives and instead present the opportunity for your customers to self-cure before disabling an account, which causes customer friction and frustration. Aite research shows that 50 percent of ATO attempts occur in online channels, and about 20 percent occur in mobile channels. Are you investing in technology to arm your digital channels?
Alleviate the risk of account takeover fraud and confidently engage customers using holistic, risk-based identity and device authentication, as well as targeted, knowledge-based authentication that allows good customers to move throughout the process and frustrate fraudsters. Reduce manual processes for your staff through an end-to-end fraud management solution that removes the risk of information silos and enables seamless processes. When investigation is necessary, help staff to decision quickly and accurately with the best data possible.
Account takeover fraud risks
Credential stuffing

Email account takeover

Replay attacks

Call center fraud

Monitor and identify credential stuffing attacks fast before account compromise.

Recognize email account takeover before escalation to cross account takeover.

Detect harmful network attacks that lead to account takeover attacks.

Enable your call center staff to proactively detect account takeover risk.
The best way to manage fraud is to stop it before it happens.
Learn about the five top strategies for managing your existing customer interactions and account portfolios in this tip sheet.
Download the tip sheet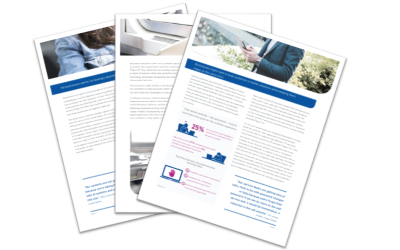 How we can help
Quickly identify if an account has been compromised and take decisive action.
Drive successful transactions with identity monitoring and flagging unusual activities.
Stop fraudulent account access and reduce your fraud losses.
Confidently detect fraud rings, staging, and compromised devices.
Optimize your resources by focusing on high-risk accounts that need closer monitoring.
Improve your customer relationships by performing fewer intrusive security checks without sacrificing protection.