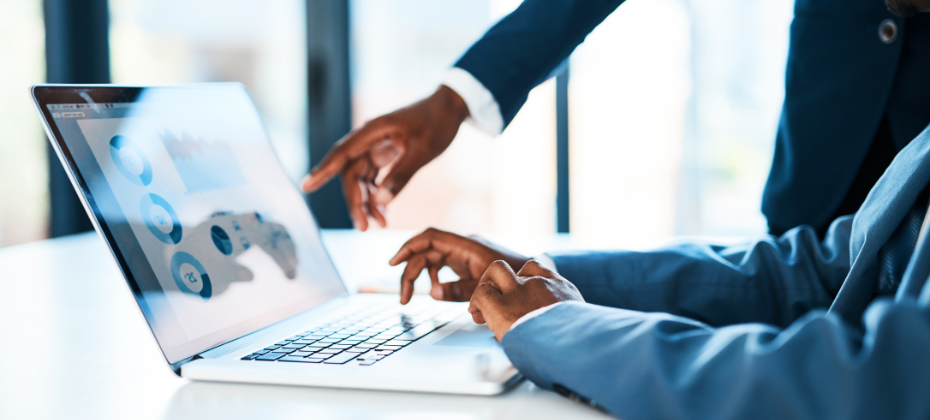 A data-driven customer experience certainly has a nice ring, but can your organization deliver on the promise? What we're really getting at is whether you can provide convenience and personalization throughout the customer journey.
Using data to personalize the customer journey
About half of consumers say personalization is the most important aspect of their online experience. Forward-thinking lenders know this and are working to implement digital transformations, with 87 percent of business leaders stating that digital acceleration has made them more reliant on quality data and insights.
For many organizations, lack of data isn't the issue — it's collecting, cleaning and organizing this data. This is especially difficult if your departments are siloed or if you're looking to incorporate external data. What's more, you would need the capabilities to analyze and execute the data if you want to gain meaningful insights and results.
LEARN: Infographic: Automated Loan Underwriting Journey
Taking a closer look at two important parts of the customer journey, here's how the right data can help you deliver an exceptional user experience.
Prescreening
To grow your business, you want to identify creditworthy consumers who are likely to respond to your credit offers. Conversely, it's important to avoid engaging consumers who aren't seeking credit or may not meet your credit criteria.
Some of the external data points you can incorporate into a digital prescreening strategy are:
Core demographics: Identify your best customers based on core demographics, such as location, marital status, family size, education and household income.
Lifestyle and financial preferences: Understand how consumers spend their time and money.
Home and auto loan use: Gain insight into whether someone rents or owns a home, or if they'll likely buy a new or used vehicle in the upcoming months.
Optimized credit marketing strategies can also use standard (and custom) attributes and scores, enabling you to segment your list and create more personalized offers. And by combining credit and marketing data, you can gain a more complete picture of consumers to better understand their preferred channels and meet them where they are.
CASE STUDY: Clear Mountain Bank used Digital Prescreen with Micronotes to extend pre-approved offers to consumers who met their predetermined criteria. The refinance marketing campaign generated over $1 million in incremental loans in just two months and saved customers an average of $1,615.
Originations
Once your precise targeting strategy drives qualified consumers to your application, your data-driven experience can offer a low-friction and highly automated originations process.
Alternative credit data: Using traditional and alternative credit data* (or expanded FCRA-regulated data), including consumer-permissioned data, allows you to expand your lending universe, offer more favorable terms to a wider pool of applicants and automate approvals without taking on additional risk.
Behavioral and device data: Leveraging behavioral and device data, along with database verifications, enables you to passively authenticate applicants and minimize friction.
Linked and digital applications: Offering a fully digital and intuitive experience will appeal to many consumers. In fact, 81 percent of consumers think more highly of brands after a positive digital experience that included multiple touchpoints. And if you automate verifications and prefill applications, you can further create a seamless customer experience.
READ: White paper: Getting AI-driven decisioning right in financial services
Personalization depends on persistent identification
The vast majority (91 percent) of businesses think that improving their digital customer journey is very important. And rightly so: By personalizing digital interactions, financial institutions can identify the right prospects, develop better-targeted marketing campaigns and stay competitive in a crowded market.
DOWNLOAD: A 5-Step Checklist for Identifying Credit-Active Prospect
To do this, you need an identity management platform that enables you to create a single view of your customer based on data streams from multiple sources and platforms. From marketing to account management, you can use this persistent identity to inform your decisions. This way, you can ensure you're delivering relevant interactions and offers to consumers no matter where they are.
WATCH: Webinar: Omnichannel Marketing – Think Outside the Mailbox
Personalization offers a win-win
Although they want personalization, only 33 percent of consumers have high confidence in a business' ability to recognize them repeatedly.4 To meet consumer expectations and remain competitive, you must deliver digital experiences that are relevant, seamless, and cohesive.
Experian Consumer View helps you make a good first impression with consumer insights based on credit bureau and modeled data. Enrich your internal data, and use segmentation solutions to further refine your target population and create offers that resonate and appeal. You can then quickly deliver customized and highly targeted campaigns across 190 media destinations.
From there, the Experian PowerCurve® Originations Essentials, an automated decisioning engine, can incorporate multiple external and internal data sources to optimize your strategy.
*Disclaimer: When we refer to "Alternative Credit Data," this refers to the use of alternative data and its appropriate use in consumer credit lending decisions, as regulated by the Fair Credit Reporting Act. Hence, the term "Expanded FCRA Data" may also apply in this instance and both can be used interchangeably.