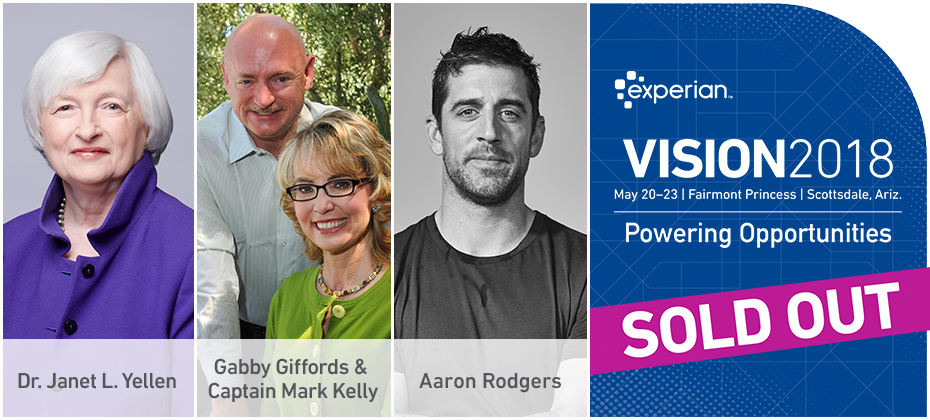 Experian's annual Vision Conference kicks off on Sunday to a sold-out crowd in Scottsdale, Ariz., bringing together some of the industry's top thought leaders in financial services, technology, data science and information security.
The conference, now in its 37th year, will run through Tuesday evening and showcase 55-plus breakout sessions and several all-star keynotes.
"We take great pride in offering our guests the cutting-edge data and insights they need to keep advancing and evolving their own businesses," said Reshma Peck, Experian's senior vice president of marketing. "But what makes Vision really special is the networking and collaboration we witness throughout the conference – leaders connect and leave inspired – ready to make strides in a world that is evolving at breakneck speed."
A few session spotlights include:
A look at data visualization tools and the ability to access anonymized credit data on 220 million U.S. credit consumers
A deep dive into machine learning and artificial intelligence, showcasing how advancements in technology are improving credit risk scores and fraud detection
Multiple breakouts on trends attached to Milliennials, Gen Z, the economy, automotive finance, small business performance and fraud
How alternative credit data is providing deeper insights to uncover opportunities with both thin-file and thick-file credit consumers
Digital credit advancements in mobile, voice and targeting.
Beyond the traditional breakouts, featured speakers will punctuate each day. On Monday, Dr. Janet Yellen, former chair of the Federal Reserve, will deliver one of her first speeches since retiring her influential role in February 2018. On Tuesday, Gabby Giffords and Captain Mark Kelly will take the stage to talk about the importance of community, service and perseverance. Finally, NFL Quarterback Aaron Rodgers will share leadership lessons and sports highlights on Tuesday afternoon.
An exclusive Tech Showcase will additionally run throughout the conference, delivering first-hand demos for participants to experience the latest in technology tools associated with fraud, voice and data analytics and access.
Stats, insights and event highlights will be shared on multiple social media platforms throughout the three-day conference. Follow along with #ExperianVision.