Experian has been named to Banking CIO Outlook's Top 10 Security Solution Providers, highlighted in the October 2016 issue of the magazine.
"Fraud patterns are evolving faster than ever, and each new change pushes us to be better. That's why we developed CrossCore, the industry's first open platform designed to catch fraud faster, improve compliance and enhance the customer experience," said Steve Platt, global executive vice president, Fraud and Identity, Experian. "Our goal is to provide the very best fraud solutions to our clients, so it's a tremendous honor for Experian and CrossCore to be recognized."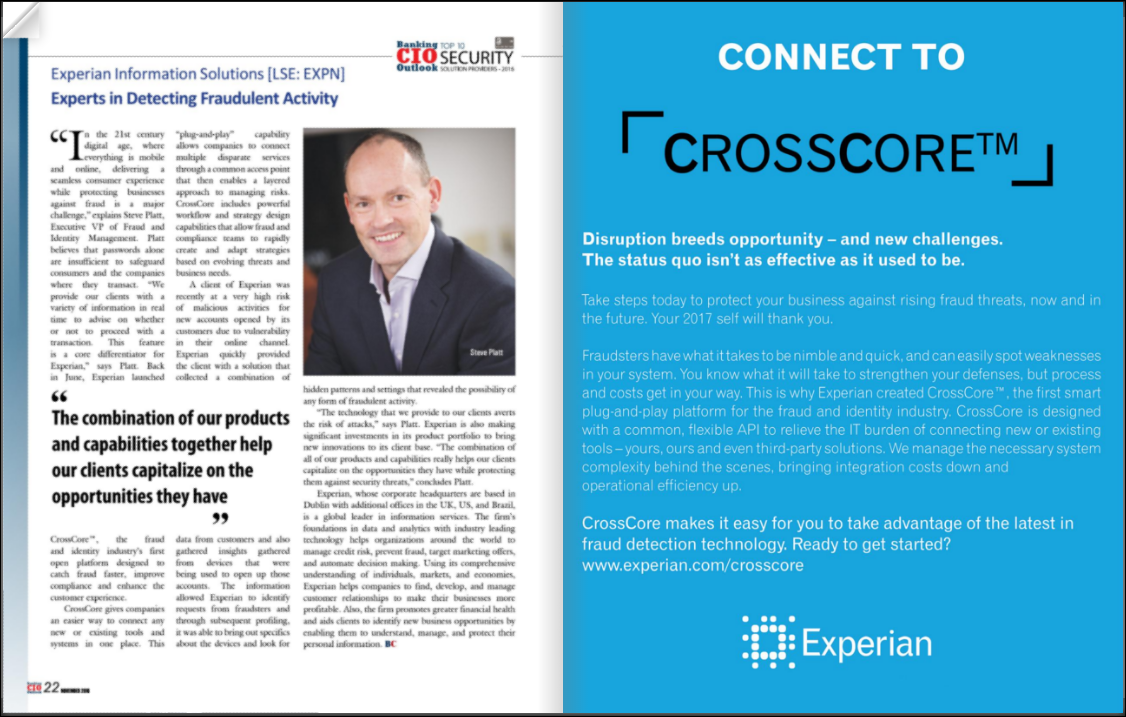 Experian's CrossCore gives companies an easy way to connect new and existing fraud and identity systems into one central service. This plug-and-play capability allows companies to blend disparate services through a common access point that then enables a layered approach to managing risks. CrossCore includes powerful workflow and strategy design capabilities that allow fraud and compliance teams to rapidly create and adapt strategies based on evolving threats and business needs.
"We are proud to feature Experian in our magazine as one of the Top 10 Security Solution Providers of 2016," said James Robertson, managing editor of Banking CIO Outlook. "Experian Fraud and Identity makes its clients feel safe, valued and confident by protecting them every step of the way."
Banking CIO Outlook provides banking professionals with the latest industry trends and news. Each month the magazine identifies experts to help readers address the challenges faced by the banking industry. The October issue highlighted Experian as a top security solution provider, presenting Experian's unique value proposition in fraud.