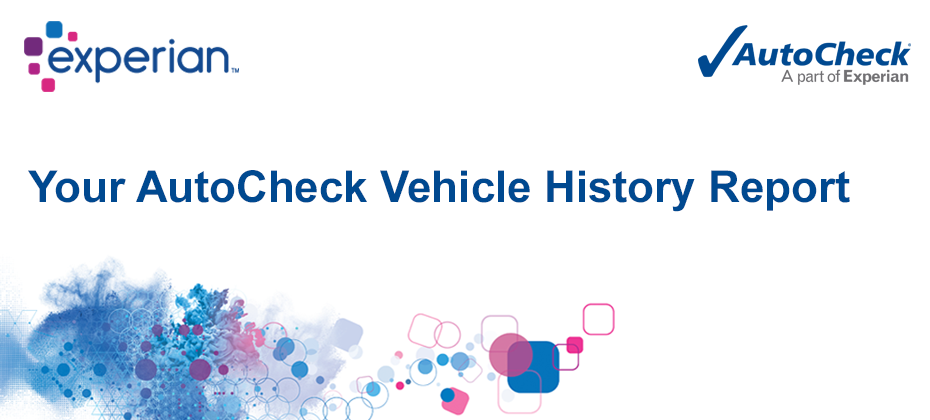 Today, we're excited to announce that AutoCheck® has received a facelift!
AutoCheck has always been the industrial strength Vehicle History Report that automotive professionals trust to help manage risk and confidently buy and sell the right vehicles. We've made this great tool even greater by adding more data and accident insights than ever before and improving the user experience by making it easier to read across all mobile devices.
Among the data and insights updated within AutoCheck:
Updated display of how buyback protection details are presented
Vehicle ownership history presentation
Vehicle use history details
Updated accident and damage check sections
Updated display of how title brand information is displayed
Updated odometer check
Open safety recall information, inspection, service and repair history checks
Based on extensive research, we've added many visual changes which make it easier for dealers and cars shoppers to understand and use the full report.
One noticeable change is the addition of the Experian logo and color scheme. Experian continues to invest significantly in building a widely recognized and trusted brand. Reinforcing that AutoCheck is backed by Experian's rich data and industry expertise will resonate with consumers as they look for a trusted source to confidently move along their vehicle shopping journey.
The AutoCheck Score® has a new visualization, designed after an automotive-themed gauge to illustrate if the vehicle's AutoCheck Score is below, within or above the score range for similar vehicles. Making the score easier to use and understand will help consumers better compare their vehicle to other similar vehicles currently in the market.
We've also made the report easier to use and access for both consumers and dealers. AutoCheck is now optimized for tablet and mobile users, providing even more shopping convenience for users. As always, dealers can access the new report via AutoCheck Fast Link℠ for their online vehicle listings and through multiple integrations within their DMS or inventory management solution. The report will still be available directly from AutoCheck.com for consumers and AutoCheck.com/members for dealers. In addition, the report is available through most dealer platforms and all premier consumer automotive portals.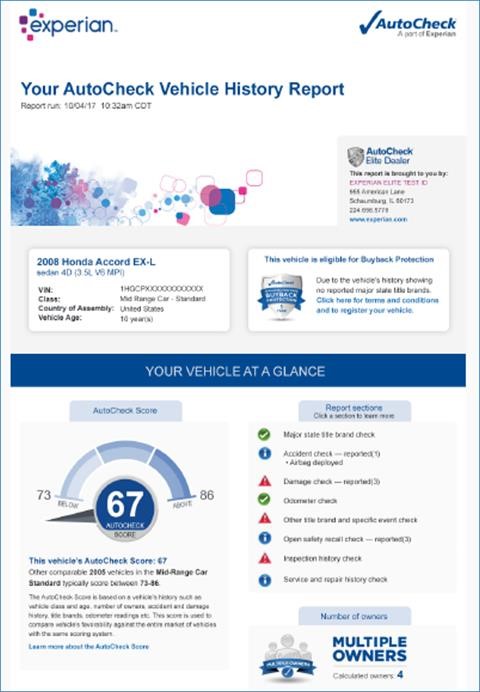 Check out the full report redesign changes, updates and some additional highlights below.
Updated AutoCheck® Buyback Protection Information
As always, AutoCheck will buy back your vehicle if your AutoCheck report fails to list certain title brands available to Experian at the time the report was issued.
Items impacting Buyback protection are now grouped together, so users can clearly see what data impacts Buyback qualification.  Items that do not impact Buyback are captured in other areas of the report.
Buyback Protection badging for eligible clients displays on the first page as well as in the specific State Title Brand section if the vehicle is, or is not, Buyback protected.
NEW: Owner History
AutoCheck now displays information for the current, last and previous vehicle ownership.
The report will now highlight the year and state the vehicle was purchased from as well as the ownership date ranges and length of ownership.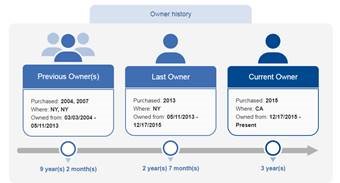 NEW: Vehicle Usage
AutoCheck now clearly highlights the historical usage activity level for the vehicle, whether it was used as Personal, Fleet, Rental, Lease, Taxi, Livery, Police, Government, Drivers Ed and/or Commercial.

NEW: Damage Check Section
We have added a new Damage Check section to more clearly illustrate the historical activity for the vehicle.  The Damage Check section will highlight damage records from auctions, salvage, or independent sources such as recycling and crash tests.
We will continue to offer the Accident Check section, which highlights accident dates and location from government sources and independent agencies.

The Damage Check section will highlight damage records from auctions, salvage auctions or independent sources such as recycling and crash tests.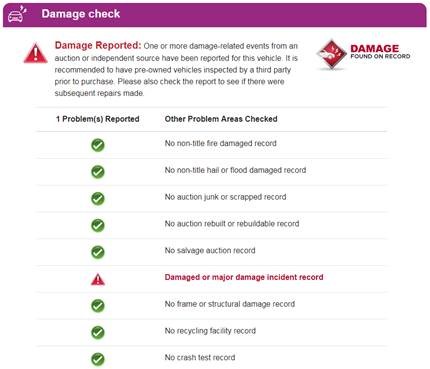 Other Title Brand and Specific Event check:
Other title brands that are not included in Buyback protection qualification will be listed here.
In addition, event activity such as theft and insurance loss is also included in this section.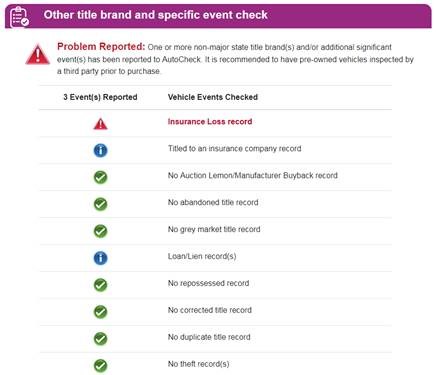 UPDATED: Odometer Check
We have combined information to provide one place for all odometer related history checks.  State title odometer check reflects all odometer related brands from the state such as Exceeds Mechanical Limits (EML), Not Actual Mileage (NAM) and Broken Odometer (BRK).
Auction odometer check are the odometer brands either reported to auctions or upon inspection in auction announcements.
The odometer calculation check is Experian's proprietary odometer sequence calculation to determine if there are any potential discrepancies.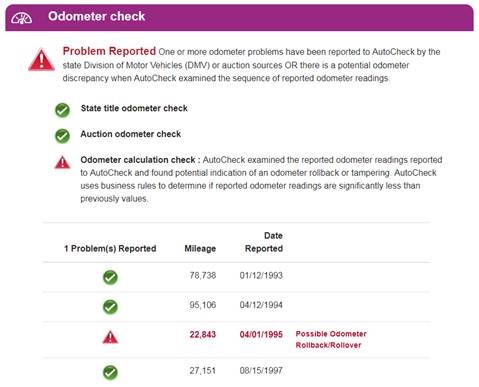 NEW: 'Check' sections:
To highlight specific data for easier reference and understanding, we have added an open safety recall check, Inspection history check, and service and repair history check section.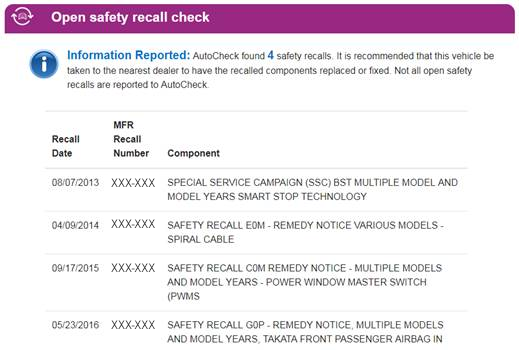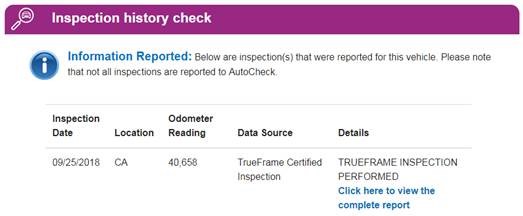 What do all these changes mean for dealers and their customers? They have an easier-to-use AutoCheck VHR with more comprehensive information than ever. For dealers, it will help with their buying decisions at auction or on trade-ins. For consumers, it provides even more peace of mind when making a used vehicle purchase decision. Ultimately, it improves the shopping process for everyone involved and can help dealers develop even stronger relationships with their customers.
Want to learn even more about AutoCheck? Visit our site for more details: https://www.experian.com/lp/automotive/autocheck-dealer-lp