Through all the rather "invented conflict" of MCX vs Apple Pay by the tech media these last few weeks – very little diligence was done on why merchants have come to reject NFC (near field communication) as the standard of choice. Maybe I can provide some color here – both as to why traditionally merchants have viewed this channel with suspicion leading up to CurrenC choosing QR, and why I believe its time for merchants to give up hating on a radio.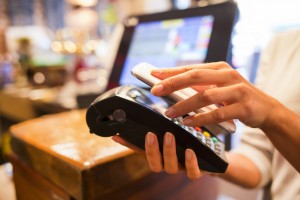 Why do merchants hate NFC?
Traditionally, any contactless usage in stores stems from international travelers, fragmented mobile NFC rollouts and a cornucopia of failed products using a variety of form factors – all of which effectively was a contactless chip card with some plastic around it. Any merchant supported tended to be in the QSR space – biggest of which was McDonalds – and they saw little to no volume to justify the upgrade costs.
Magstripe, on the other hand, was a form factor that was more accessible. It was cheap to manufacture, provisioning was a snap, distribution depended primarily on USPS. Retailers used the form factor themselves for Gift cards, Pre-paid and Private Label. In contrast – complexity varies in contactless for all three – production, provisioning and distribution. If it's a contactless card – all three can still follow pretty much the norm – as they require no customization or changes post-production. Mobile NFC was an entirely different beast. Depending on the litany of stakeholders in the value chain – from Hardware – OEM and Chipset support – NFC Controller to the Secure Element, the OS Support for the NFC stack, the Services – Trusted Service Managers of each flavor (SE vs SP), the Carriers (in case of OTA provisioning) and the list goes on. The NFC Ecosystem truly deters new entrants by its complexity and costs.
Next – there was much ambiguity to what NFC/contactless could come to represent at the point of sale. Merchants delineated an open standard that could ferry over any type of credential – both credit and debit. Even though merchants prefer debit, the true price of a debit transaction varies depending on which set of rails carry the transaction – PIN Debit vs Signature Debit. And the lack of any PIN Debit networks around the contactless paradigm made the merchants fears real – that all debit transactions through NFC will be carried over the more costly signature debit route (favoring V/MA) and that a shift from magstripe to contactless would mean the end to another cost advantage the merchants had to steer transactions towards cheaper rails. The 13 or so PIN debit networks are missing from Apple Pay – and it's an absence that weighed heavily in the merchants decision to be suspicious of it.
Maybe even more important for the merchant – since it has little to do with payment – loyalty was a component that was inadequately addressed via NFC. NFC was effective as a secure communications channel – but was wholly inadequate when it came to transferring loyalty credentials, coupons and other things that justify why merchants would invest in a new technology in the first place. The contactless standards to move non-payment information, centered around ISO 18092 – and had fragmented acceptance in the retail space, and still struggled from a rather constricted pipe. NFC was simply useful as a payments standard and when it came to loyalty – the "invented a decade ago" standard is wholly inadequate to do anything meaningful at the point of sale.
If the merchant must wrestle with new ways to do loyalty – then should they go back in time to enable payments, or should they jerry rig payments to be wrapped in to loyalty? What looks better to a merchant? Sending a loyalty token along with the payment credential (via ISO 18092) OR Encapsulating a payment token (as a QR Code) inside the Starbucks Loyalty App? I would guess – the latter. Even more so because in the scenario of accepting a loyalty token alongside an NFC payment – you are trusting the payment enabler (Apple, Google, Networks, Banks) with your loyalty token. Why would you? The reverse makes sense for a merchant.
Finally – traditional NFC payments – (before Host Card Emulation in Android) – apart from being needlessly complex – mandated that all communication between the NFC capable device and the point-of-sale terminal be limited to the Secure Element that hosts the credential and the payment applets. Which means if you did not pay your way in to the Secure Element (mostly only due to if you are an issuer) then you have no play.
What's a merchant to do?
So if you are a merchant – you are starting off with a disadvantage – as those terminologies and relationships are alien to you. Merchants did not own the credential – unless it was prepaid or private label – and even then, the economics wouldn't make sense to put those in a Secure Element. Further, Merchants had no control in the issuer's choice of credential in the Secure Element – which tended to be mostly credit.
It was then no surprise that merchants largely avoided this channel – and then gradually started to look at it with suspicion around the same time banks and networks began to pre-ordain NFC as the next stage in payment acceptance evolution. Retailers who by then had been legally embroiled in a number of skirmishes on the interchange front – saw this move as the next land grab. If merchants could not cost effectively compete in this new channel – then credit was most likely to become the most prevalent payment option within. This suspicion was further reinforced with the launch of GoogleWallet, ISIS and now Apple Pay. Each of these wrapped existing rails, maintained status quo and allowed issuers and networks to bridge the gap from plastic to a new modality (smartphones) while changing little else.
This is no mere paranoia. The merchants fear that issuers and networks will ultimately use the security and convenience proffered through this channel as an excuse to raise rates again. Or squeeze out the cheaper alternatives – as they did with defaulting to Signature Debit over PIN debit for contactless. As consumers learn a new behavior (tap and pay) they fear that magstripe will eclipse and a high cost alternative will then take root.
How is it fair that to access their customer's funds – our money – one has to go through toll gates that are incentivized to charge higher prices? The fact that there are little to no alternatives between using Cash or using a bank issued instrument to pay for things – should worry us as consumers. As long as merchants are complacent about the costs in place for them to access our money – there won't be much of an incentive for banks to find quicker and cheaper ways to move money – in and out of the system as a whole. I digress.
So the costs and complexities that I pointed to before, that existed in the NFC payments ecosystem – served to not only keep retailers out, but also impacted issuers ability to scale NFC payments. These costs materialized in to higher interchange cards for the issuer when these initiatives took flight – partly because the issuer was losing money already, and had then little interest to enable debit as a payments choice. GoogleWallet itself had to resort to a bit of "negative margin strategy" to allow debit cards to be used within. ISIS had little to no clout, nor any interest to push issuers to pick debit. All of which must have been quite vexing for an observant merchant.
Furthermore, just as digital and mobile offers newer ways to interact with consumers – they also portend a new reality – that new ecosystems are taking shape across that landscape. And these ecosystems are hardly open – Facebook, Twitter, Google, Apple – and they have their own toll gates as well.
Finally – A retail payment friend told me recently that merchants view the plethora of software, systems and services that encapsulate cross-channel commerce as a form of "Retailer OS". And if Payment acceptance devices are end-points in to that closed ecosystem of systems and software – they are rightfully hesitant in handing over those keys to the networks and banks. The last thing they want to do is let someone else control those toll-gates. And it makes sense and ironically – it has parallel in the iOS ecosystem. Apple's MFi program is an example of an ecosystem owner choosing to secure those end-points – especially when those are manufactured by a third party. This is why Apple exacts a toll and mandates that third party iOS accessory manufacturers must include an Apple IC to securely connect and communicate with an iOS device. If Apple can mandate that, then why is it that a retailer should have no say over the end-points through which payments occur in it's own retail ecosystem?
Too late to write about how the retailer view of NFC must evolve – in the face of an open standard, aided by Host Card Emulation – but that's gotta be another post. Another time. See you all in Vegas.
Make sure to join the Experian #MobilePayChat on Twitter this Tuesday at 12:15 p.m. PT during Money2020 conference: http://ex.pn/Money2020.
If you are attending the event please stop by our booth #218.
This post originally appeared here.