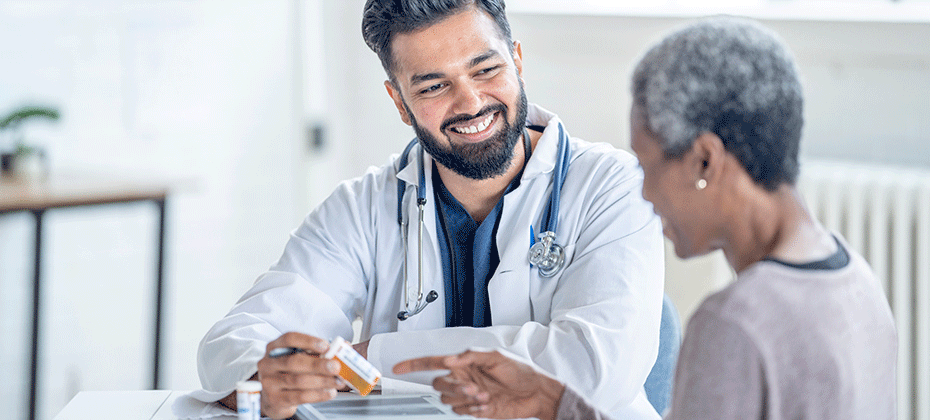 Artificial intelligence (AI) is cropping up everywhere. But it's about to make an even bigger splash by revolutionizing how providers handle HCM (healthcare claims management). In healthcare, the claims process is a real source of frustration. Thirty-five percent of healthcare providers say they lose more than $50 million annually in denied claims. That's a lot of money lost for healthcare providers after care is delivered to their patients. As industry costs rise, healthcare claims management becomes an unsustainable financial drain for providers, who have no choice but to push these costs back to the patients they're trying to serve. Using AI for claims management has numerous benefits – and with denied claims on the rise, healthcare providers will need to incorporate this technology or risk leaving millions on the table.

AI Advantage™, Experian Health's innovative predictive analytics software, uses AI in claims processing to help providers expedite reimbursement and improve cash flow. This software takes the unsolvable Gordian Knot that is U.S. claims reimbursement and untangles it for faster reimbursement, better cash flow, and less wasted time.
Understanding AI in Healthcare Claims Management
The odds are stacked against providers before the patient ever visits their practice. One patient claim can go through 20 or more checkpoints before the payer approves reimbursement. Denied claims are much less likely to be paid, and 89% of hospitals say denial rates are rising.
An Experian Health survey said the three most common reasons for medical claim denials include:
Missing or incomplete prior authorizations
Failure to verify provider eligibility
Inaccurate medical coding
Without question, healthcare claims denial management must include better training for staff to file claims without error. Providers need accurate patient data upfront, with standardized verification processes at each step in the process.

However, healthcare providers can reduce or completely avoid many common reasons for medical claim denials by using AI in claims processing. AI claims management software provides "teachable moments" for staff by sharing claims management errors at the front-end of processing before submission and possible rejection by the payer.
Tom Bonner, Principal Product Manager at Experian Health, says, "Healthcare providers everywhere ask themselves: How can we reduce claims denials? But we have the technology to go even further. By using AI in claims processing, providers can avoid claims denials altogether by proactively spotting and correcting the human errors that slow down reimbursement before the claim is submitted to the payer."
Top Benefit of Using AI in Claims Processing – Providers Avoid Claims Denials
AI and automation are the one-two punch providers need to improve healthcare claims processing. Using AI healthcare claims management software helps organizations avoid claim denials far upstream — before it occurs.
AI Advantage – Predictive Denials is a preventative tool that proactively stops bad claims before they turn into costly denials. This AI-driven healthcare claims management software works in two key ways:
By proactively identifying undocumented payer adjudication rules potentially resulting in denials.
By identifying claims with a high likelihood of denial based on an organization's historical payment data.
Schneck Medical Center improved their claims management processing by using AI Advantage – Predictive Denials to first identify error-prone claims. When the automated system spots the probability of a denial, it triggers an alert that routes the claim to an investigative biller. The AI carefully scrubs the claim, checking coding errors, authorization status, insurance eligibility, and more. Once the agent resolves these errors, they can successfully submit the claim to the payer.
Using AI in claims processing leads to improved accuracy and fewer rejections for better revenue cycle management. After leveraging these tools for six months, Schneck Medical Center reduced denials by 4.6% on average per month.
Benefit #2 – Healthcare Claims Management Software Speeds Denials Mitigation
But what if a claim makes it through to the payer and they deny it? Denial management is a tedious, time-consuming process that impedes cash flow. AI Advantage – Denial Triage uses advanced algorithms to segment denials based on their potential value, allowing billers to focus first on high-value claims to maximize the revenue cycle and quickly reduce the denials queue. AI in reimbursement processing increases the speed of healthcare claims management to help staff identify and target the claims that need attention as quickly as possible without wasting time on low-value denials.
By using automation and AI, healthcare providers gain better insights into their claims and denial data, resulting in improved financial performance and greater efficiency.
Benefit #3 – AI Software Automates Reimbursement for Faster Payment
Experian Health offers a streamlined series of standardized, automated tools to help with claims management. From registration, quality assurance, and eligibility on the front-end to claims processing and denials management on the back-end, Experian Health has full lifecycle solutions to prevent and mitigate reimbursement denials.
The Experian Health intelligent ecosystem is a comprehensive solution to the untenable healthcare claims denials management process. These tools include:

These platforms easily integrate with existing practice management and electronic health record software. They work well together or ala carte to increase the accuracy of claims documentation to eliminate denials.
A successful strategy for reducing claims denials starts with AI and automation software. Healthcare organizations can reduce the time spent processing rejections and improve A/R by flagging at-risk claims. Ultimately, healthcare claims management software solves the complexities inherent in these processes. Higher patient satisfaction and greater provider revenues are possible. Talk to Experian Health today to see AI in claims processing at work.