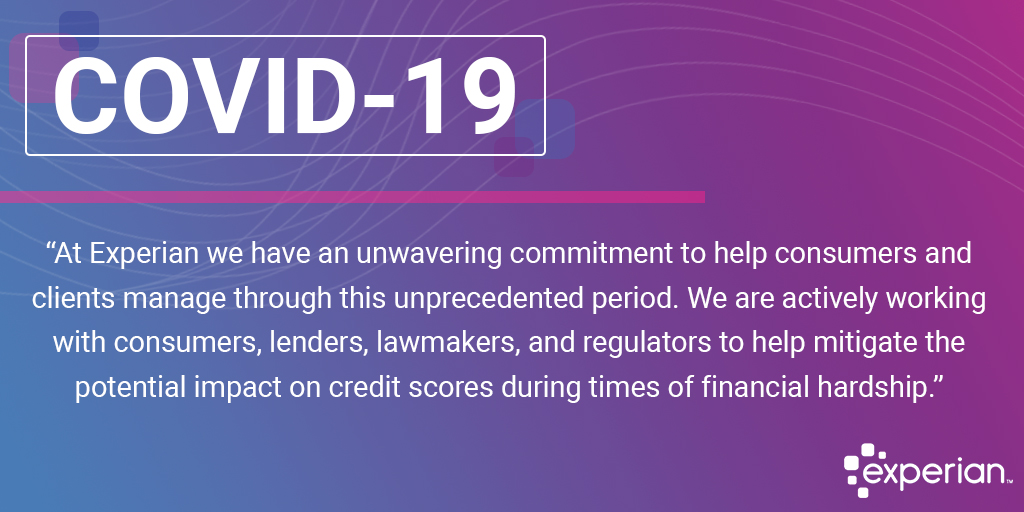 Originally posted by Experian Global News blog
At Experian, we have an unwavering commitment to helping consumers and clients manage through this unprecedented period. We are actively working with consumers, lenders, lawmakers and regulators to help mitigate the potential impact on credit scores during times of financial hardship.
In response to the urgent and rapid changes associated with COVID-19, we are accelerating and enhancing our financial education programming to help consumers maintain good credit and gain access to the financial services they need. This is in addition to processes and tools the industry has in place to help lenders accommodate situations where consumers are affected by circumstances beyond their control. These processes will be extended to those experiencing financial hardship as a result of COVID-19.
As the Consumer's Credit Bureau, our commitment at Experian is to inform, guide and protect our consumers and customers during uncertain times. With expected delays in bill payments, unprecedented layoffs, hiring freezes and related hardships, we are here to help consumers in understanding how the credit reporting system and personal finance overall will move forward in this landscape.
One way we're doing this is inviting everyone to join our special eight-week series of #CreditChat conversations surrounding COVID-19 on Wednesdays at 3 p.m. ET on Twitter.
Our weekly #CreditChat program started in 2012 to help the community learn about credit and important personal finance topics (e.g. saving money, paying down debt, improving credit scores). The next several #CreditChats will be dedicated to discussing ways to manage finances and credit during the pandemic. Topics of these #CreditChats will include methods and strategies for bill repayment, paying down debt, emergency financial assistance and preparing for retirement during COVID-19.
"As the consumer's credit bureau, we are committed to working with consumers, lenders and the financial community during and following the impacts of COVID-19," says Craig Boundy, Chief Executive Officer of Experian North America.
"As part of our nation's new reality, we are planning for options to help mitigate the potential impact on credit scores due to financial hardships seen nationwide. Our #CreditChat series and supporting resources serve as one of several informational touchpoints with consumers moving forward."
Being fully committed to helping consumers and lenders during this unprecedented period, we've created a dedicated blog page, "COVID-19 and Your Credit Report," with ongoing and updated information on how COVID-19 may impact consumers' creditworthiness and – ultimately – what people should do to preserve it. The blog will be updated with relevant news as we announce new solutions and tactics. Additionally, our "Ask Experian" blog invites consumers to explore immediate and evolving resources on our COVID-19 Updates page.
In addition to this guidance, and with consumer confidence in the economy expected to decline, we will be listening closely to the expert voices in our Consumer Council, a group of leaders from organizations committed to helping consumers on their financial journey.
We established a Consumer Council in 2009 to strengthen our relationships and to initiate a dialogue among Experian and consumer advocacy groups, industry experts, academics and other key stakeholders. This is in addition to ongoing collaboration with our regulators.
Additionally, our Experian Education Ambassador program enables hundreds of employee volunteers to serve as ambassadors sharing helpful information with consumers, community groups and others.
The goal is to help the communities we serve across North America, providing the knowledge consumers need to better manage their credit, protect themselves from fraud and identity theft and lead more successful, financially healthy lives.
COVID-19 has impacted all industries and individuals from all walks of life. We want our community to know we are right there with you. Learn more about our weekly #CreditChat and upcoming schedule here.