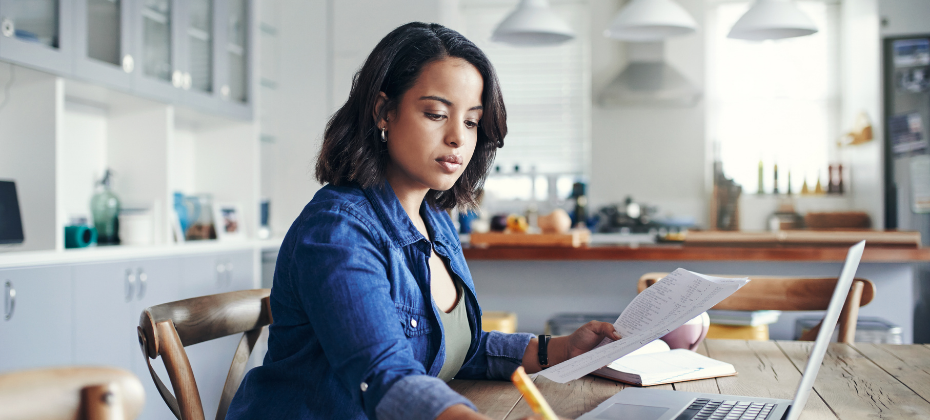 Millions of consumers are excluded from the credit economy, whether it's because they have limited credit history, dated information within their credit file, or are a part of a historically disadvantaged group. Without credit, it can be difficult for consumers to access the tools and services they need to achieve their financial goals. This February, Experian surveyed over 1,000 consumers across census demographics, including income, ethnicity, and age, to understand the perceptions, needs, and barriers underserved communities face along their credit journey. Our research found that:
75% of consumers with an average household income of less than $50,000 have less than $1,000 in savings.
1 in 5 consumers with an average household income of less than $35,000 say they're confident in getting approved for credit.
80% of respondents who are not or slightly confident in getting approved for credit were women.
When asked why they believed they would not get approved for credit, participants shared common responses, such as having poor payment history, a low credit score, and insufficient income. Given these findings, what can lenders provide to help underserved consumers strengthen their financial profiles and gain access to the credit they need and deserve?
The power of credit education
While only 20% of respondents were familiar with credit education tools, the majority expressed interest in these offerings.
With Experian, lenders can develop and implement credit education programs, tools, and solutions to help consumers understand their credit and the impact certain choices can have on their credit scores. From interactive tools like Score Simulator and Score Planner to real-time alerts from Credit Monitoring, consumers can actively assess their financial health, take steps to improve their creditworthiness, and ultimately become better candidates for credit offers. In turn, consumers can feel more confident and empowered to achieve their financial goals.
Credit education tools not only help consumers increase their credit literacy, confidence, and chances of approval, but they also create opportunities for lenders to build lasting customer relationships.  Consumers recognize that healthy credit plays an important role in their financial lives, and by helping them navigate the credit landscape, lenders can increase engagement, build loyalty, and enhance their brand's reputation as an organization that cares about their customers.
Empowering consumers with credit education is also a way for lenders to unlock new revenue streams. By learning to borrow, save, and spend responsibly, consumers can improve their creditworthiness and be in a better position to accept extended credit offerings, driving more cross-sell and upsell opportunities for lenders.
More ways experian can help
Experian is deeply committed to helping marginalized and low-income communities access the financial resources they need. In addition to our credit education tools, here are a few of our other offerings:
Our expanded data helps lenders make better lending decisions by providing greater visibility and transparency around a consumer's inquiry and payment behaviors. With a holistic view of their current and prospective customers, lenders can more accurately identify creditworthy applicants, uncover new growth opportunities, and expand access to credit for underserved consumers.
Experian GoTM is a free, first-of-its-kind program to help credit invisibles and those with limited credit histories begin building credit on their own terms. After authenticating their identities and obtaining an Experian credit report, users will receive ongoing education about how credit works and recommendations to further build their credit history.
To learn more about building profitable customer relationships with credit education, check out our credit education solutions and watch our Three Ways to Uncover Financial Growth Opportunities that Benefit Underserved Communities webinar.