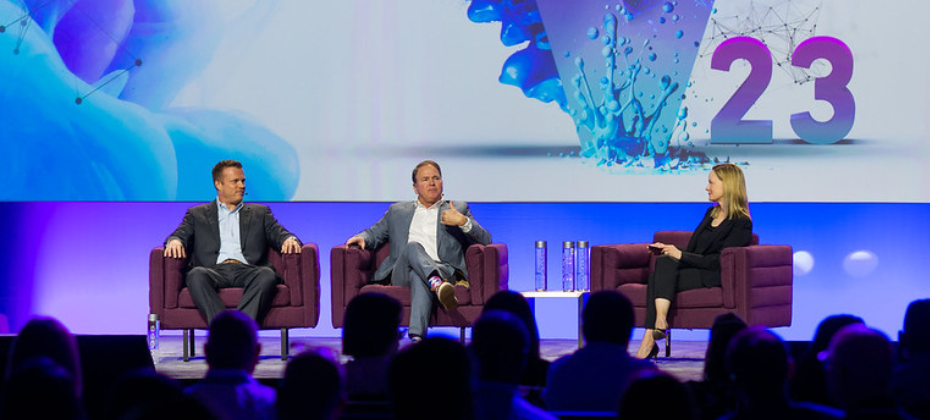 Innovation and inspiration took center stage at Day 2 of Vision.
Jennifer Schulz, CEO of Experian, North America opened the day with a look ahead at some of the solutions that are powering opportunities today and tomorrow. Sitting down with Robert Boxberger, President, Decision Analytics, and Scott Brown, President, Consumer Information Services, the group discussed key priorities for business innovation and the need to challenge the status quo.
AI came up for discussion – as was no surprise – and while AI isn't new, the newest versions are transformative. Whether it's building a model a mile up (mid-flight), or continuously asking if solutions are "first, best or only," innovation is part of Experian's DNA as evidenced by two demos that took place on the main stage.
Demo: Fraud Sandbox
Fraud moves fast. A demo of the Fraud Sandbox showed the audience the importance of looking at consumer insights to pull back fraud signals. By leveraging the right fraud platform, you can turn insight into action. Working only with internal data is limiting, making it hard to detect fraud clusters and organizations open themselves up to millions of dollars in fraud; with external data it's easier to spot multiple uses of same information in multiple applications.
Demo: Ascend Ops
Ascend Ops connects data across different parts of the business and automates the process of model deployment so you can spend less time deploying and more time testing in market.
Keynote: Alexis Ohanian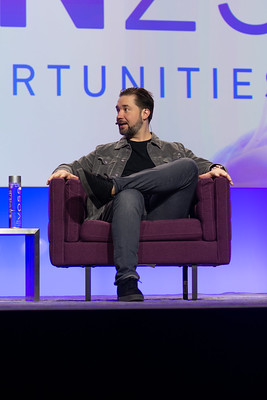 Alexis Ohanian credits his success to a series of very fortunate events. The son and grandson of immigrants, Ohanian saw hustle, self-reliance and grit in his parents that he hopes his own children have. The innovator talked about how important timing is for entrepreneurs, discussing early ideas, starting Reddit and what he looks for in backing startups via his venture capitalist firm Seven Seven Six – named after 776 BCE, the year of the first Olympics.
Ohanian also talked about the need to lean into AI – that it can make lean teams more efficient when you can automate to accomplish more, faster. It also enables humans to do work that is creative, strategic and empathetic, with a better quality of life. And to round it out, the self-proclaimed "business dad" talked about how having a bigger why – in the form of children – makes him better at his job.
Keynote: Michael Strahan
Michael Strahan shared a number of gridiron glory stories, the mental muscle it takes to get into the zone on game day, and the rolodex of injuries he had over the years – and how it taught him to look at people as individuals; an education in sociology. From his father he learned to talk about "when" rather than "if" and he's developed a "keep going" mentality when it comes to everything he does. From clothing lines and skincare to management and production, Strahan says he's committed to continuing to say yes and not be afraid of trying anything.
Session highlights – day 2
Identity and fraud trends
Current considerations that are top of mind for organizations include the speed of change, regulatory landscape, technology and the number of people online. Fraudsters are evolving faster than ever and are returning to the basics – think DDA fraud, check fraud and check washing. It is imperative to balance security with convenience and seamlessness as consumer expectations aren't waning; therefore, it's the business' responsibility to meet and exceed customer expectations and to ultimately protect customers.
Consumer credit trends and innovation
Retailers and tech titans are pushing further into financial services. What separates them from the industry? People rave about brands more so than they do banks. The session delineated that digital transformation is not the digitization of what institutions were already doing. It requires a new way of thinking.
Consumer privacy
In 2023, 26 states have introduced comprehensive privacy legislation. It's top of mind for consumers and top of mind for the government. Experian approaches privacy with strategies focused on security, accuracy, fairness, transparency and inclusion.
Operational efficiency
A panel of financial institutions experts discussed how they use analytics for operational efficiency. They talked about how they prioritize, the importance of the regulatory wrapper, and what differentiated their methods to reach success and make an impact.
Fraud
Organizations must consider the risks and rewards of their actions. It is critical to use analytics to stay agile and leverage owned and external data to make smart, fast and safe decisions. The action items for today's organizations? Model, test, scale, repeat – scale your model based on your growth goals and expectations, and truly know your customer at every point of the interaction.
That's a wrap on Vision 2023. We can't wait to build on this momentum and see the conversations we have in store next year!