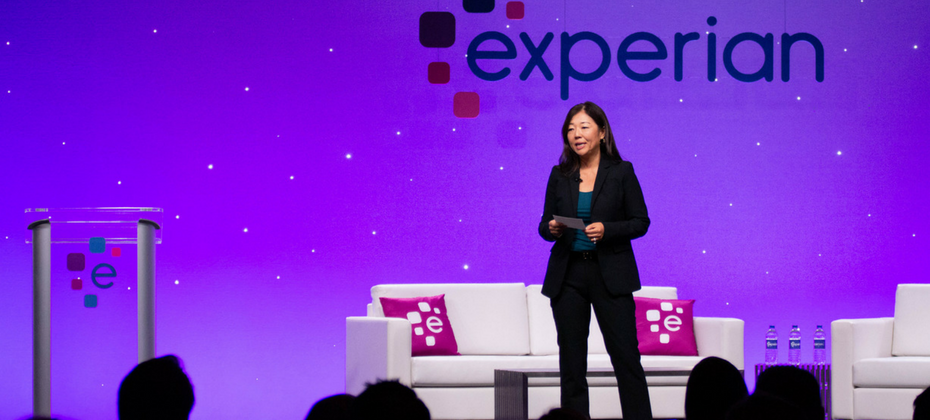 The second full day of Experian Vision 2018 kicked off with an inspirational message from keynote speakers Capt. Mark Kelly and Former Congresswomen Gabby Giffords, rolled into a series of diverse breakout sessions, and concluded with Super Bowl-winning quarterback Aaron Rodgers sharing tales of sports, leadership and winning.
Need a recap of some of the headlines from the day? Here you go …
Retail Apocalypse? Not so fast alarmists. Yes, there are media headlines around mergers, closings and consumers adopting new ways to shop, but let me give you three reasons as to why the retail sky is not falling.
There were more store openings last year than closings, and that trend is expected to continue this year with an estimated 5,500 openings by December.
There continues to be a positive sales trajectory.
E-commerce sales are increasing. Big department stores have seen pains, but if brands are focused on connection, relevance and convenience, there is hope. Consumers continue to spend.
Subprime auto bubble? Nope. Malinda Zabritski, Sr. Director of Experian Automotive Sales, says the media likes to fixate on the subprime, but subprime financing has been on the decline, reaching record lows. Deep subprime is at .65%. Additionally, delinquency rates have also tapered. The real message? Consumers are relying on auto lenders for financing, largely due to consumer preferences to lease. The market is healthy, and while it has slowed slightly, the market is still at 7% year-over-year growth.
Consumer-permissioned data is not just a value-add for thin-file consumers. Take for instance the inclusion of demand deposit accounts (DDAs). David Shellenberger, Sr. Director of Scoring and Predictive Analytics for FICO, says people who have had long relationships with their checking accounts tend to be more stable and generally sport higher credit scores. Consumers with thick, mature files can also benefit with DDA data. Consumer-permissioned data is not just about turning a "no" to a "yes." It can also take a consumer from near-prime to prime, or from prime to super-prime.
Would you want to make a credit decision with less information or more? This was the question Paul DeSaulniers, Experian Sr. Director of Product, posed to the audience as he kicked off the session on alternative data. With an estimated 100 million U.S. consumers falling below "thick-file" credit status, there is a definite need to learn more about these individuals. By leveraging alternative credit data – like short-term lending product use, rental data, public records and consumer-permissioned data – a more holistic view of these consumers is available.
A few more facts:
While alternative finance users tend to be more subprime, 20% are prime or better.
A recent data pull revealed 20% of approved credit card users also had alternative finance data on them as well.
About 2/3 of households headed by young adults are rentals.
Imagine a world where the mortgage journey takes only seven to 10 days. With data and technology, we are closer than you think. Future products are underway that could master the underwriting phase in just one day, leaving the remaining days dedicated for signing disclosures, documents and wiring funds. Processes need to be firmed up, but a vision has been set. The average 30- to 45-day mortgage journey could soon be a distant memory.
97% of online banking applications that are started are abandoned. Why? Filling out lengthy forms, especially on a mobile device, is not fun. New technology, such as Experian's Instant Form Fill, is allowing consumers to provide a name, zip and last four numbers of their social security number for an instant form fill of the rest of the application. Additionally, voice assistants are expected to increasingly facilitate research on purchases big and small. A recent study revealed nearly half of consumers perceive voice assistants to be useful.
Businesses have more fraud losses than ever before. Not surprising. What is scary? An estimated 54% of businesses said they are not confident in their ability to detect fraud. Another session reported that approximately 20% of credit charge-offs are synthetic IDs, a growing pain point for all businesses. Consumers, on the other hand, say they "want visible signs of security" and "no friction." Tough to balance, but those are today's expectations.
More Vision 2018 insights can be accessed on #ExperianVision twitter feed. Vision 2019 will be in San Antonio, Texas next May 5-8.