Experian's most recent State of Credit report analyzed the average credit scores for more than 100 metropolitan statistical areas (MSAs). The residents of Mankato, Minn., topped the list with the highest average credit score of 706, which is 40 points higher than the national average credit score of 666. Three other Minnesota cities followed Mankato, resulting in Minnesota making up 40 percent of the top 10 list.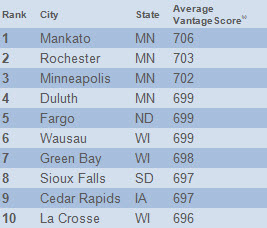 Lenders can play a role in educating consumers about credit scores and reduce loss rates by offering personalized credit education services.
View the 2014 State of Credit report
View our on-demand Webinar: It's a new reality… and time for a new risk score
VantageScore® is a registered trademark of VantageScore Solutions, LLC.