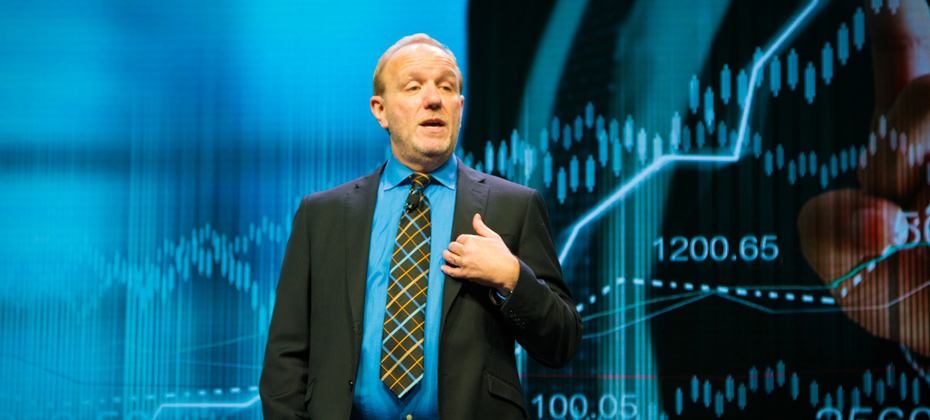 James W. Paulsen, Chief Investment Strategist for Wells Capital Management, kicked off the second day of Experian's Vision 2016, sharing his perspective on the state of the economy and what the future holds for consumers and businesses alike.
Paulsen joked this has been "the most successful, disappointing recovery we've ever had."
While media and lenders project fear for a coming recession, Paulsen stated it is important to note we are in the 8th year of recovery in the U.S., the third longest in U.S. history, with all signs pointing to this recovery extending for years to come.
Based on his indicators – leverage, restored household strength, housing, capital spending and better global growth – there is still capacity to grow.
He places recession risk at 20 to 25 percent – and only quotes those numbers due the length of the recovery thus far.
"What is the fascination with crisis policies when there is no crisis," asks Paulsen. "I think we have a good chance of being in the longest recovery in U.S. history."
Other noteworthy topics of the day:
Fraud prevention
Fraud prevention continues to be a hot topic at this year's conference. Whether it's looking at current fraud challenges, such as call-center fraud, or looking to future-proof an organization's fraud prevention techniques, the need for flexible and innovative strategies is clear. With fraudsters being quick, and regularly ahead of the technology fighting them, the need to easily implement new tools is fundamental for you to protect your businesses and customers.
More on Regulatory
The Military Lending Act has been enhanced over the past year to strengthen protections for military consumers, and lenders must be ready to meet updated regulations by fall 2016. With 1.46 million active personnel in the U.S., all lenders are working to update processes and documentation associated with how they serve this audience.
Alternative Data
What is it? How can it be used? And most importantly, can this data predict a consumer's credit worthiness? Experian is an advocate for getting more entities to report different types of credit data including utility payments, mobile phone data, rental payments and cable payments. Additionally, alternative data can be sourced from prepaid data, liquid assets, full file public records, DDA data, bill payment, check cashing, education data, payroll data and subscription data. Collectively, lenders desire to assess someone's stability, ability to pay and willingness to repay. If alternative data can answer those questions, it should be considered in order to score more of the U.S. population.
Financial Health
The Center for Financial Services Innovation revealed insights into the state of American's financial health. According to a study they conducted, 57 percent of Americans are not financially healthy, which equates to about 138 million people. As they continue to place more metrics around defining financial health, the center has landed on four components: how people plan, spend, save and borrow. And if you think income is a primary factor, think again. One-third of Americans making more than $60k a year are not healthy, while one-third making less than $60k a year are healthy.
—
Final Vision 2016 breakouts, as well as a keynote from entertainer Jay Leno, will be delivered on Wednesday.