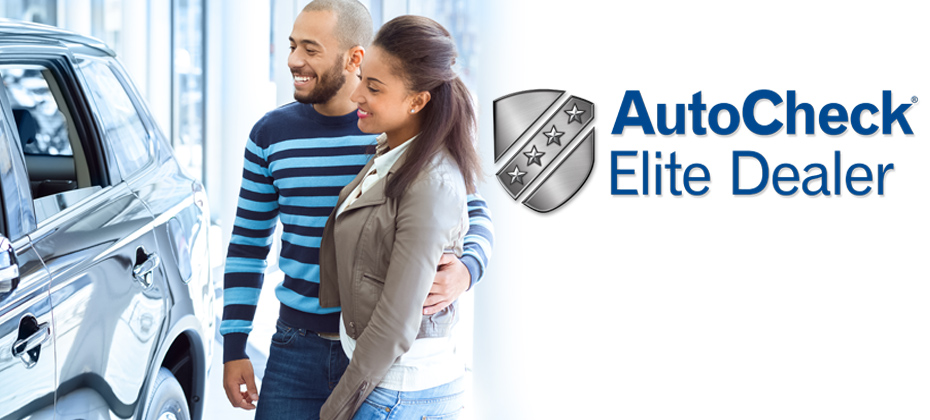 The AutoCheck® Elite program enables auto dealerships to better understand the vehicles in their market. And, right now, making strategic decisions about stocking the right inventory and marketing to the right consumers has never been more important.
The AutoCheck Elite program offers you the same great AutoCheck benefits but additionally includes:
Unlimited AutoCheck vehicle history reports
In-depth market reporting
AutoCheck Elite branded showroom materials
Dedicated client service phone support
Customized vehicle history reports, with
– Your customers' vehicle service history integrated into reports
– Your dealership name and contact information displayed on reports
In-depth market reporting
By becoming an AutoCheck Elite dealer, you will gain a better understanding of the competition, vehicle sales and the buyers in your market. Our Elite report package allows you to: first, gauge your performance against the competition by identifying each unit registered in your market; second, discover what vehicles are popular among your consumers by make and model; and finally, identify the key characteristics of customers in your area.
Powerful tools to help you sell more vehicles
We want to improve your marketing efforts with helpful tools that assist you at the point of sale. AutoCheck Elite dealers receive our exclusive "Best Practice" training, including tips on how to best use AutoCheck in advertising efforts and when helping you to understand, compare and select the right vehicles for your store. Elite dealers can also receive enhanced showroom materials to reinforce the value of AutoCheck to your customers.
Customized vehicle history reports
Be top-of-mind to car buyers: As an AutoCheck Elite dealer, your dealership name will be in front of more customers with customized AutoCheck reports featuring your name and contact information. AutoCheck reports will also incorporate details of all vehicle service performed by your dealership, including your dealership name.
Dedicated phone support
We are committed to offering you exceptional customer support; additionally, we have gone a step further with a dedicated AutoCheck Elite client support phoneline so you can quickly receive the attention you require.
The AutoCheck Elite program enable clients to better understand the market, the vehicles and the people who buy them. Contact us to gain the benefits of becoming an AutoCheck Elite client.