Have you ever wanted to ask a customer to sign an AutoCheck vehicle history report to indicate they have received and reviewed the report and they are aware of the status of the vehicle they are purchasing?  You could keep a signed copy of the AutoCheck report in the physical deal jacket for the vehicle sale or scan it into your online document system for future reference.
Now You Can!
We have recently made an enhancement to allow you this exact flexibility. When activated, the Customer Signature section will display on the AutoCheck report after the Glossary and before the Terms and Conditions section.  You have the option to activate the customer signature line can by rooftop, for each individual, authorized Fast Link integration point.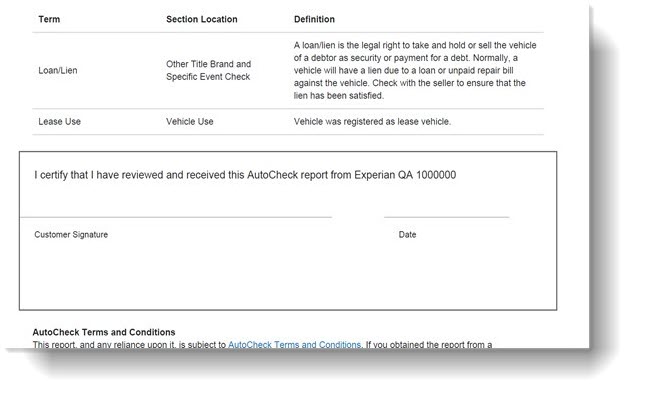 This additional feature provides your dealership with the following benefits:
Consumer transparency regarding vehicle history.
Dealership brand reputation protection as the consumer physically signs off on the VHR for the pre-owned vehicle they are purchasing.
Dealership flexibility to include, or not include, the customer signature by individual, subscribing AutoCheck rooftop.
Dealership flexibility to include, or not include, the signature line by integration point.  For example, perhaps you would like the customer signature line to display and print on reports accessed from a consumer portal shopping site, but not on reports accessed from your internal, inventory management system.
Already an AutoCheck Member?  Contact us or call us at 1.888.409.2204 to activate this feature today!
Not an AutoCheck subscriber?  Contact us to gain the benefits of becoming an AutoCheck client.