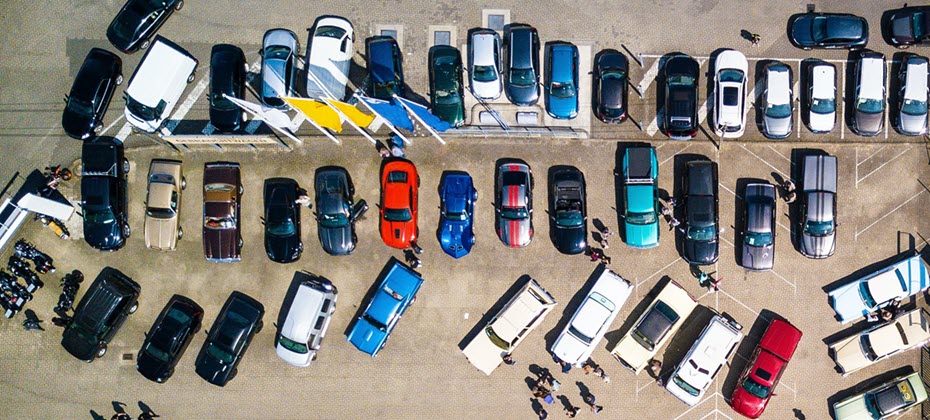 Whether a consumer has a brand-new or used vehicle, it's inevitably going to need regular maintenance and require repairs. Fortunately for aftermarket professionals, the aftermarket "sweet spot" is continuously growing—a trend that should be watched closely. Vehicles in the sweet spot are typically between six- to 12-model-years-old and have aged out of general OEM manufacturer warranties for any repairs.
Knowing the model year and type of vehicles that are in operation will be important for aftermarket professionals to determine what parts may be needed, and anticipate potential consumer needs.
According to Experian's Automotive Market Trends Report: Q1 2022, 35.8% of vehicles in operation (VIO) now fall within the aftermarket sweet spot, a 6.5% year-over-year increase. It is important to note that the aftermarket sweet spot max volume record of 104 million is expected to be broken over the next 12-18 months, considering the sweet spot volume was 100.3 million through Q1 2022 and the last time it exceeded that number was nine years ago. The increase will create more opportunities for aftermarket professionals as more vehicles will potentially need maintenance.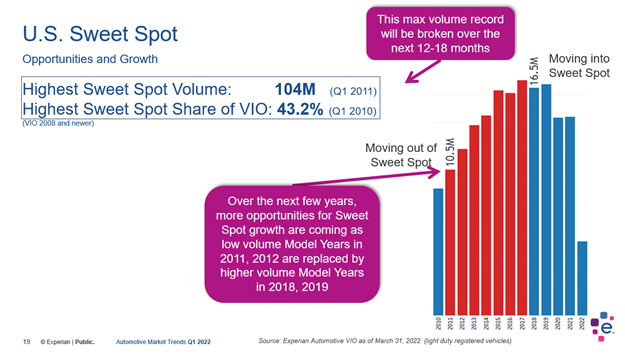 Aftermarket "sweet spot" will continue to grow
Right now, the aftermarket sweet spot consists of model years between 2011 and 2017. There were 10.5 million 2011 model year vehicles on the road through Q1 2022, this low volume will transition into the post-sweet spot next year. At the same time, there will be 16.5 million 2018 model year vehicles entering the sweet spot.
Furthermore, an estimated 16.7 million vehicles in operation with a 2019 model year and almost 14.3 million vehicles in operation with a 2020 model year will be transitioning into the sweet spot in the next two years. When these model year vehicles enter the sweet spot, the current 12 million vehicles with a 2012 model year and an estimated 13.7 million 2013 model year vehicles will transition into the post-sweet spot, resulting in a notable increase.
Watching this data closely will allow aftermarket professionals to continue assisting with maintenance and repairs for these vehicles that are currently on the road, as well as prepare for what's to come to the aftermarket industry in approaching years.
To learn more about other vehicle registration trends, watch the full Automotive Market Trends Report: Q1 2022 presentation on demand.