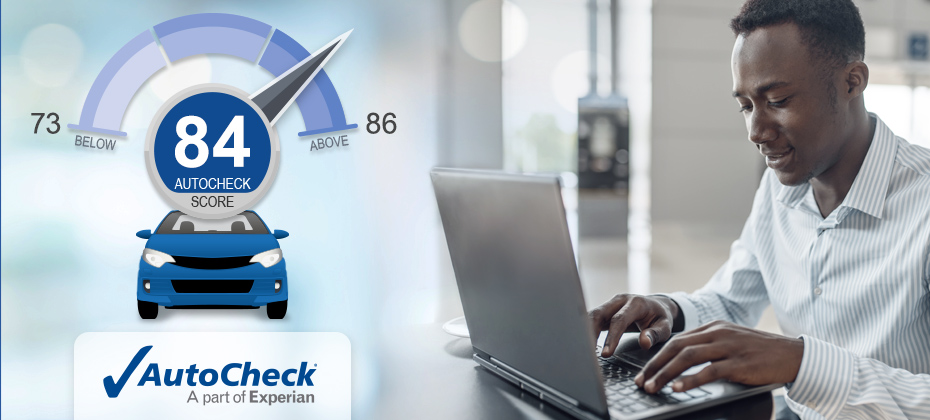 As competition for used vehicles remains fierce, dealers must make quick decisions on whether to acquire a potential vehicle—or someone else will. Whether you need to evaluate a trade-in or want to make a flat-out offer on a vehicle, quickly accessing the vehicle's history is only the first step. What if you could determine the likelihood that a vehicle will be on the road in five years and compare it to other similar vehicles? Would this help in your decision-making?
Use the AutoCheck Score to evaluate vehicles for your lot
The patented AutoCheck ScoreSM was developed to help dealers determine the likelihood that a vehicle will be on the road in five years. The AutoCheck Score summarizes vehicle history data into an easy-to-understand "score" and provides an equivalent score range. Understanding the likelihood that a unit will still be on the road in five years gives dealers more perspective on a vehicle's desirability and can help you accurately price it.
Use the AutoCheck Score to more accurately merchandise vehicles
The AutoCheck Score range will give you similarly aged and classed vehicles for comparison that you can use to help merchandise the vehicle for market and help manage consumer conversations regarding the vehicle's price.
How does the AutoCheck Score work?

The AutoCheck Score analyzes various characteristics, including age, segment, mileage, number of owners, vehicle use, vehicle events, accidents, theft, and title brands. Essentially, this score summarizes the AutoCheck Vehicle History Report fields and delivers a "score range" that allows you to compare the actual vehicle (score) to other similarly aged and classed vehicles.
The score is based on a scale of 1 to 100, but reading the score in conjunction with the score range is essential since looking at the score without knowing the range will reveal only half the story. Check out the example below.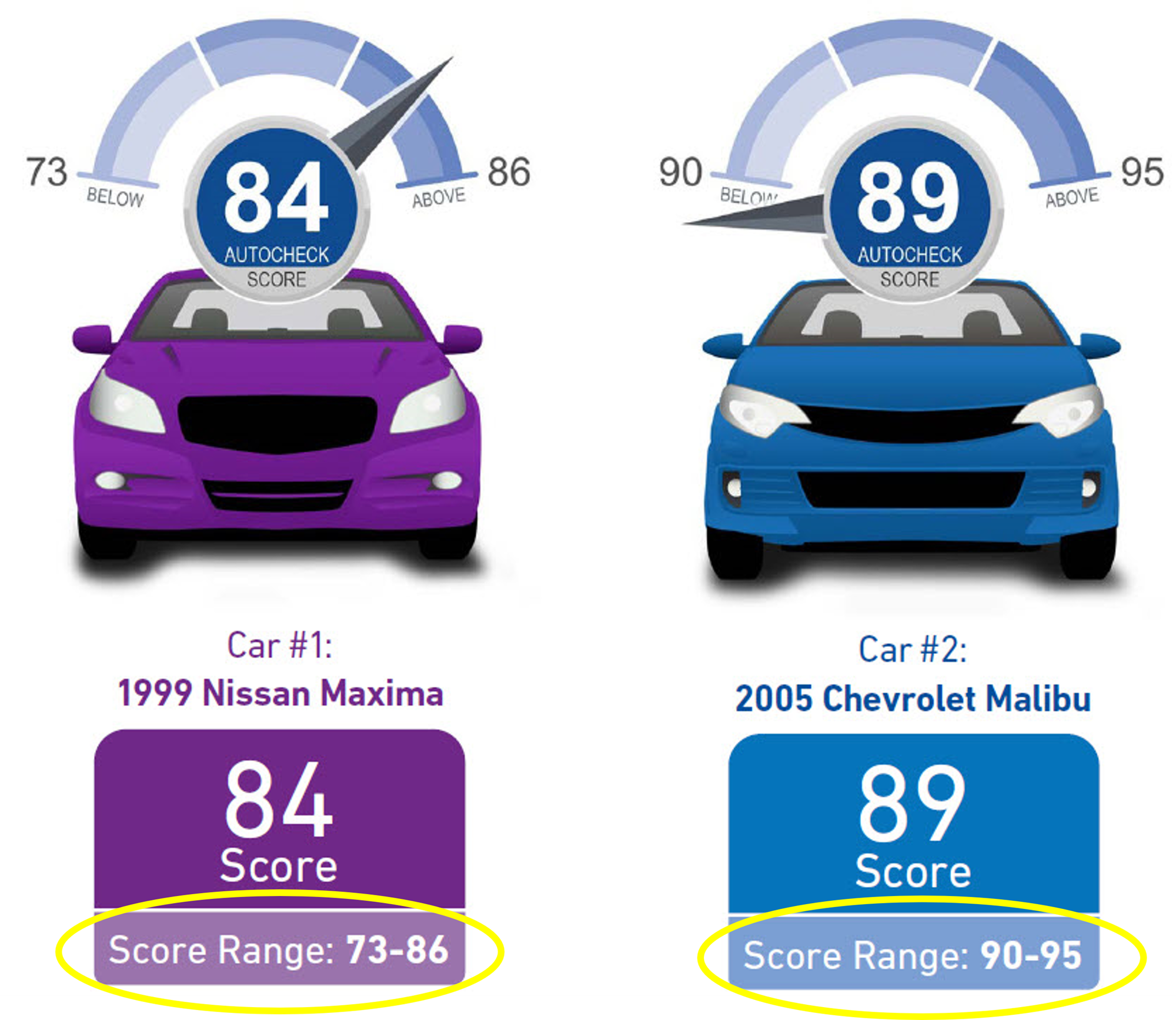 Car #1 has a lower score than Car #2. However, look at the score ranges (73-86). For Car #1, other comparable vehicles should fall into a range from 73 to 86, and this car scored an 84. That means the vehicle is within the AutoCheck Score range compared to other similar cars of the same age and class.
Car #2 has a score of 89. Because this is higher than Car #1's score, you might assume this car has a more favorable vehicle history, but that's not entirely accurate. Comparable vehicles should score in a range from 90 to 95, and this car falls short. That means the car's history is slightly less favorable compared to similar vehicles of the same age and class. In today's competitive environment though, dealers may decide to take in both trades, and the AutoCheck Score can also help make decisions on how to price the vehicles for market.
Become an AutoCheck member today
As an AutoCheck subscriber, you'll have access to the AutoCheck Score. Between the large graphic display and the simple number comparison, the AutoCheck Score can help you make decisions on vehicle acquisition much quicker and easier!