U.S. hospitals have been stuck with more than $745 billion in uncompensated care costs for the past 2 decades, and the number continues to grow.  Other factors like patients relocating, changing employers, and coverage renewals make recovering debt even harder. The recent end in COVID-19 funding has also made it more important than ever for healthcare providers to find missing insurance coverage. Finding insurance coverage can be complicated and time-consuming, especially in an already complex reimbursement landscape. However, it doesn't have to be. That's where Coverage Discovery comes in.
Coverage Discovery is the only comprehensive coverage identification solution across the full revenue cycle continuum. It covers the entire patient process and uses multiple proprietary data repositories, advanced search heuristics, and machine learning matching algorithms to search government and commercial payers to find previously unknown insurance coverage. This includes identifying accounts that may be submitted for immediate payment as primary, secondary or tertiary coverages. This automated coverage identification solution can search for unidentified coverage pre-service, at the point of care, and post-service. It also scans for insurance coverage continuously – to maximize reimbursements and minimize accounts sent to collections and to charity. 
In 2022, Coverage Discovery tracked down previously unknown billable coverage in more than 28.1% of self-pay accounts and found more than $64.6 billion in corresponding charges.
Learn more about this solution: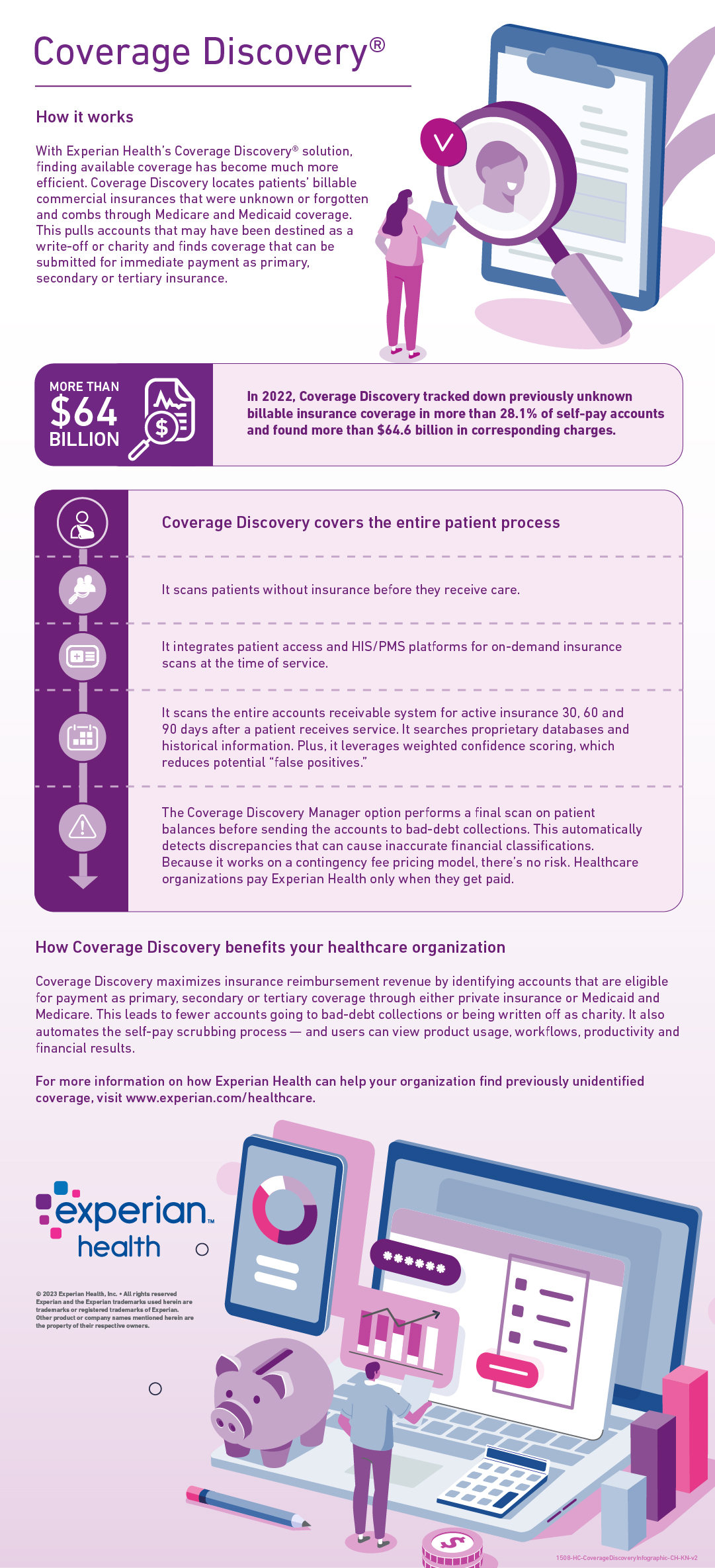 It's time to reduce bad debt and improve cash flow. Identifying hidden insurance coverage is the first step to managing insurance denials and your organization's healthcare financial performance. A solution like Coverage Discovery can help healthcare organizations save time, money and alleviate staffing shortages. To learn more about how Coverage Discovery can benefit your healthcare organization, contact us.