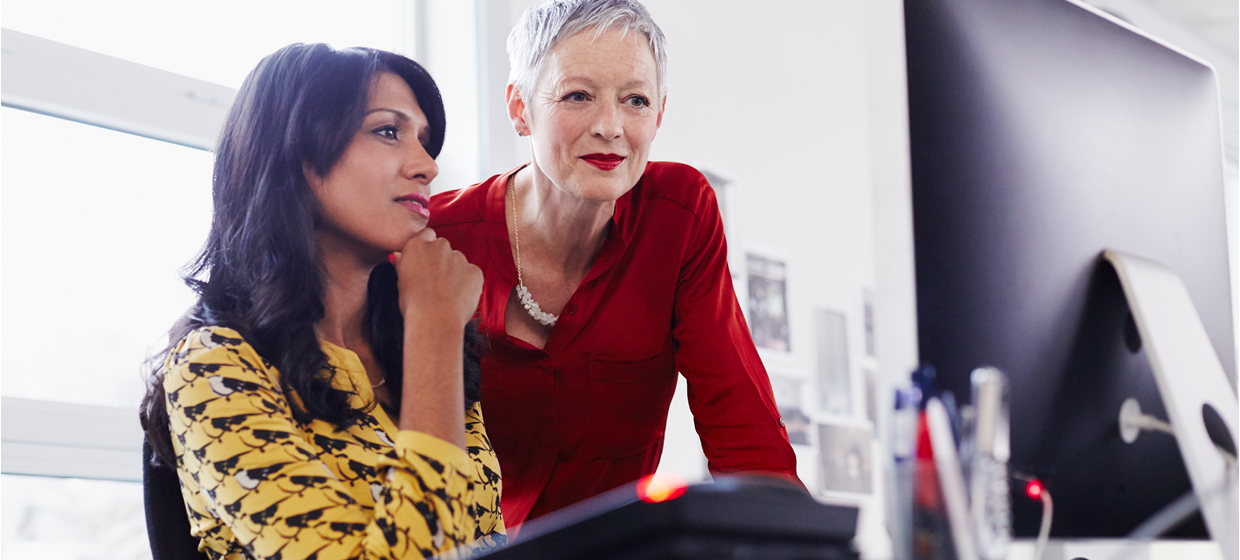 An efficient revenue cycle management (RCM) system is a win-win for patients and providers. Friction-free solutions that cover everything from booking appointments to paying bills create a more satisfying patient experience and allow patients to focus on their health. Providers can lower administrative costs and generate more revenue from data-driven billing and collections operations. To ensure the patient's financial journey goes ahead without a hitch and avoid revenue leakage, the RCM system can't skip a single step. Experian Health's 10-step healthcare revenue cycle flowchart sets out the necessary ingredients for success.
See the healthcare revenue cycle flowchart below: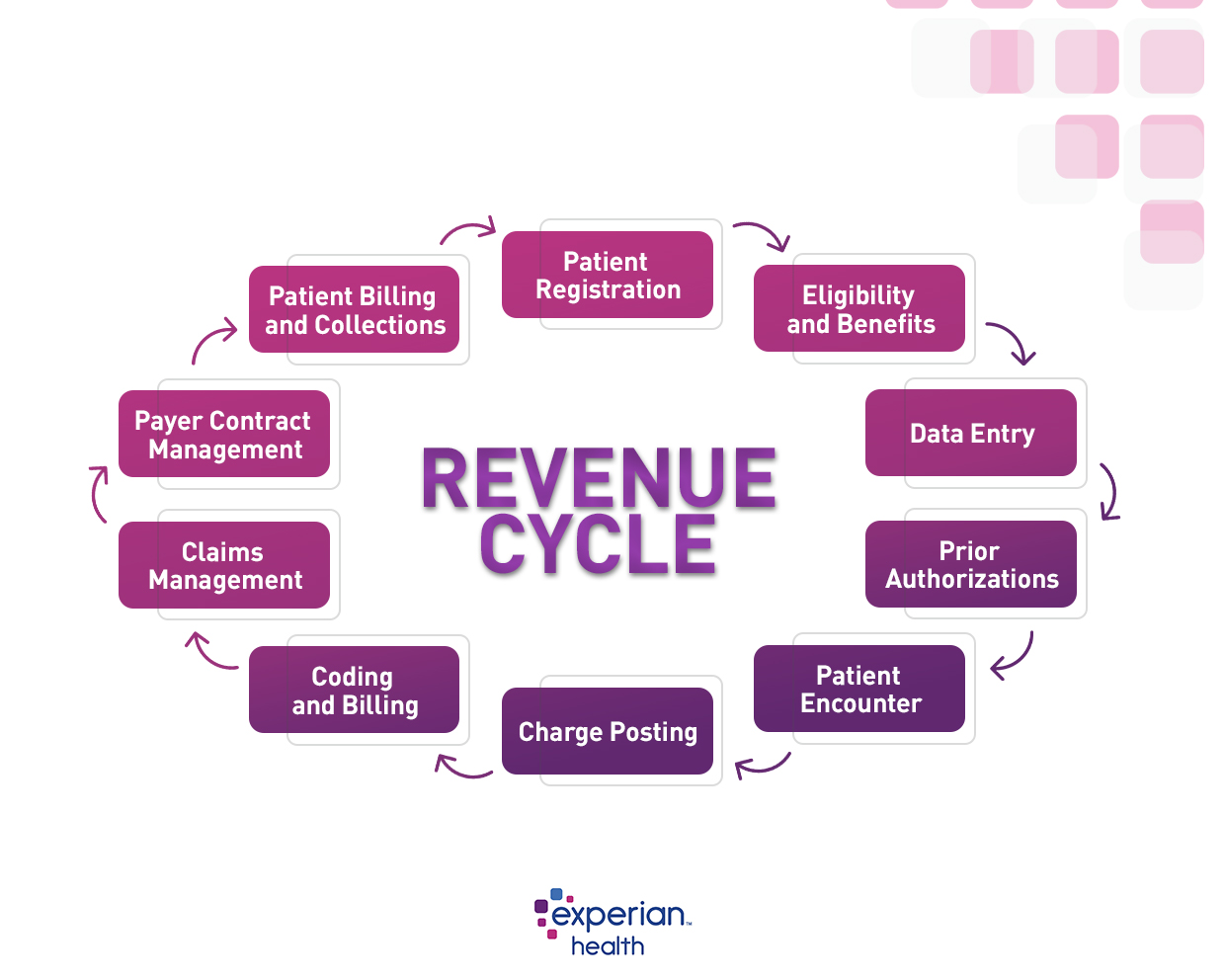 Step 1: Patient registration
The healthcare revenue cycle flowchart begins with the patient's first interaction with the healthcare organization. First impressions count. Patients want to be able to book appointments and complete registration quickly and easily, and providers that offer patient portals are seen as more attractive.
Opening up the digital front door with online self-scheduling and self-service registration also helps providers increase operational efficiency and minimize manual errors that could lead to claim denials. Reliable patient intake software can verify patient identities, reduce manual processes and deliver a flexible patient experience – laying the groundwork for the entire RCM process.
Step 2: Eligibility and benefits
Next, providers need to check whether the patient's insurance plan covers their expenses. To increase the likelihood of reimbursement, providers should give patients clarity about their coverage status and be vigilant about locating any missing or forgotten coverage. Coverage Discovery allows providers to check for undisclosed coverage at every patient touchpoint. By quickly uncovering previously unidentified coverage, bills will be cleared sooner with fewer write-offs to bad debt.
This part of the RCM process is also a good time to help patients plan for their financial obligations. Patient Payment Estimates gives patients accurate estimates and links to financial assistance and easy payment methods, straight to their mobile device. With the right data and digital tools, providers can deliver a transparent, compassionate and convenient patient payment experience that encourages payment earlier in the revenue cycle and supports a healthy cash flow.
Step 3: Data entry
With RCM processes relying on data like never before, maintaining accuracy is paramount. Providers must be able to verify and protect patient identities to ensure the right information is linked with the right patient. Accurate data entry decreases the costs associated with medical billing errors, and improves interoperability as more patient data is created, collected and shared.
A digital patient identification solution can build a single, accurate view of each patient, using a unique patient identifier to hold the information together like a golden thread. Automated patient enrollment using PreciseID® allows existing data to be auto-filled, while tools such as Universal Identity Manager maintains data in an interoperable format, to further protect against errors.
Step 4: Prior authorizations
Before treatment begins, providers must determine if prior authorizations are needed. If so, they must submit a request to the payer. Without prior authorizations, providers may see their claims denied, which increases costs, causes time-consuming rework, and creates a stressful experience for patients.
With online prior authorizations, providers are guided through a workflow that automates inquiries, status checks and submissions. It auto-fills payer data using real-time information about each payer's prior authorization requirements, stored in Experian Health's pre-authorization knowledgebase. Prompts for manual involvement ensure the process is as efficient as possible, to expedite treatment and secure timely payments.
Step 5: Patient encounter
At the time of treatment, information about the services a patient receives will be added to their patient record. This sets the stage for accurate coding and billing. To ensure no essential information is omitted, providers must keep up to date with regulatory changes. For example, the Appropriate Use Criteria program introduces new requirements for providers ordering diagnostic imaging services. Providers should examine their workflows in advance to avoid any costly compliance errors.
The patient encounter is also an opportunity to double down on creating positive patient experiences, and to anticipate any potential RCM issues. Communicating clearly about any changes to medical bills and checking again for coverage will keep the revenue cycle moving. Providers may also consider incorporating data on the social determinants of health to support efficient discharge planning and prevent high-cost readmissions.
Step 6: Charge posting
In the next step of the healthcare revenue cycle flowchart, providers must submit the claims to the relevant payer using the appropriate charge posting or charge entry process. Documentation must include a detailed breakdown of all the services provided to the patient, alongside patient information, history and insurance or payment plan status.
Again, getting every detail right will secure more timely payments that match the expected amounts.
Step 7: Coding and billing
Before patient billing gets underway, providers must check payer codes for the services that have been delivered. Payers use diagnostic (Dx) codes, place of service (POS) codes, current procedural terminology (CPT) codes, Healthcare Common Procedure Coding System (HCPCS) codes and others to determine payable amounts. If codes are not inputted correctly, claims are likely to be denied.
Automated claims management software can check that every claim is clean and error-free before being submitted. Experian Health's claims management software incorporates standard government and commercial payer's global edits as well as client-specific customized edits so providers can submit claims with confidence.
J. Scott Milne, Senior Director of Product Management at Experian Health, says providers can leverage tools such as Claim Scrubber and ClaimSource to automate and prioritize claims to maximize reimbursement:
"Both of these solutions are focused on the most important revenue cycle goal – to submit the claim correctly the first time. With the combination of Claim Scrubber and ClaimSource, healthcare organizations give themselves the opportunity to decrease denial rates, increase cash flow and decrease the overall accounts receivables."
Step 8: Claims management
After the claim has been filed, the payer's claims adjudication process begins. Payers will check eligibility, benefits, coding and contract rules to determine their financial responsibility. They may decide to pay in full, pay a partial amount, or deny the claim, with the reasoning set out in an Explanation of Benefits (EOB) statement. If the claim is denied, the provider needs to decide if it's worth reworking and resubmitting the claim. Rework is expensive and time-consuming, so many providers use a healthcare clearinghouse to check claims before they're submitted.
Providers may also consider using a tool like Enhanced Claim Status, which submits automated status requests based on payers' individual timelines, and provides responses that include the payer's proprietary codes and descriptions. This facilitates early intervention into claims that are flagged for denial, which improves productivity and faster reimbursements. Providers also get detailed denial analysis and monitoring reports to pinpoint the root cause of denials, so they can be fixed promptly.
Step 9: Payer Contract Management
The complexity and volume of payer contracts can leave providers with little negotiating power when it comes to querying and collecting underpayments and delays. Providers need robust processes to audit payer performance and keep track of changing payer requirements to ensure timely reimbursements.
Experian Health's Contract Manager helps providers stay on top of changes to payer payment policies, identify patterns of non-reimbursement, and appeal denials in the most effective way. It identifies inconsistencies between pricing claims and paid amounts, so providers avoid missed revenue opportunities. Positive provider-payer relationships make the revenue cycle management process easier for everyone. With reliable contract management tools, communication and two-way accountability are much more effective.
Step 10: Patient Billing and Collections
The final step in the healthcare revenue cycle management flow chart is to bill patients for the remaining amount they owe. Balances are collected by in-house collections teams or outside collections agencies. Revenue cycle management software makes this process smoother and more efficient. For example, Patient Financial Clearance assigns each patient to the appropriate financial pathway based on their individual circumstances, while Collections Optimization Manager can be used to build custom segmentation models and workflows. That way, resources can be focused on the accounts most likely to yield revenue.
Then, once the patient's bill has been issued, collections software can be used to create a compassionate and convenient payment experience and complete the revenue cycle.
Find out more about how Experian Health's Revenue Cycle Management Solutions help healthcare organizations deliver outstanding patient financial experiences, optimize RCM workflows and increase cash flow.