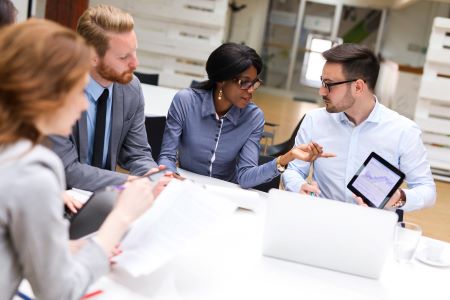 For the last two decades, E-Verify has been the primary method of internet-based employment verification. Given that it is a voluntary program for non-federal contractors, participation is further evidence of good-faith compliance with the Immigration Reform and Control Act (IRCA).
E-Verify quickly compares the information new employees provide on their Forms I-9 forms to the records on file in the Department of Homeland Security (DHS) and Social Security Administration (SSA).
However, before deciding on whether to use the platform, employers should consider both pros and cons of this program as well as other factors, such as the size of their company, type of industry, history of violations, and the nature of their workforce.
Basics of E-Verify
In the E-Verify process, employers create cases based on information taken from an employee's Form I-9. After comparing that information to records available, employers receive a response confirming the employee's employment eligibility or indicating that they need to take further action to complete the case.
Before using E-Verify, employers need to sign the Memorandum of Understanding (MOU) and use an enrollment checklist. All federal contractors and subcontractors are required to use the program for all employees except those who were hired before November 6, 1986. For other employers, participation is voluntary.
E-Verify is administered by SSA and United States Citizenship and Immigration Services (USCIS). USCIS facilitates compliance with U.S. immigration law by providing E-Verify program support, user support, training, and developing innovative technological solutions in employment eligibility verification.
E-Verify also allows USCIS to get an insight into employers' Form I-9 administration. As a result, any pattern of non-compliance, failure to meet the terms of the employer's E-Verify MOU, or any disregard of Form I-9 and E-Verify procedures cannot go unnoticed. This makes it even more important for employers to pay special attention to the employment verification process and prevent any E-Verify mistakes.
Pros and Cons
E-Verify is an intuitive and easy-to-use system designed to simplify the process of checking employee eligibility and ensure that businesses comply with all federal hiring regulations. Employers should check whether they are required to use E-Verify by federal, state, or local laws. Some states have their own employment verification laws and have mandatory or voluntary E-Verify participation. Moreover, employers should consider obtaining legal representation before enrolling in E-Verify, to ensure they are fully aware of the legal requirements and potential consequences of E-Verify.
 In addition to its operational ease, there are other advantages:
Uses data from the Social Security Administration (SSA) and the Department of Homeland Security (DHS) to check the employment eligibility of employees, which can increase the accuracy of the verification process and significantly reduces the likelihood of getting Social Security mismatch letters.
Helps employers reduce the risk of hiring unauthorized workers by providing employers with a quick and easy way to verify the employment eligibility of their employees.
With the photo-matching option, employers can compare the photo in the employee's document to the photo displayed in the E-Verify system when certain List A documents are presented for employment verification.
May allow employers in some states to pursue state or local government contracts.
The program eliminates manual data entry work when using an electronic I-9 management system to save a substantial amount of time, and money and reduce human error.
Makes it easier for employers to maintain and store employees' documents electronically, reducing paperwork, and making the process of retrieval easier and faster.
Helps employers comply with the law and protect the rights of employees by ensuring that they are not subjected to discrimination or mistreatment based on their immigration status.
Protects employers from civil and criminal penalties for hiring undocumented workers by establishing a rebuttable presumption that they have not knowingly employed an unauthorized worker and that they used the system in good faith, and in compliance with the law.
May lead to possible favorable treatment during auditing.
Some disadvantages of using E-Verify could include:
Relying on data from the Social Security Administration (SSA) and the Department of Homeland Security (DHS), which may not be up-to-date. This can lead to errors in the verification process and create challenges for employees who are authorized to work in the U.S.
Even with the insignificant error rate, E-Verify is not completely accurate; as the system cannot always detect instances of identity theft, typographical errors, etc. E-Verify system may generate false positives by flagging authorized employees as unauthorized, this can create challenges for employees. On the other hand, the E-Verify system may not flag unauthorized employees, this can create challenges for employers.
Employers must agree to allow the SSA and DHS to perform periodic audits of their hiring records but need to remember that using E-Verify does not decrease the chance of an I-9 audit fine.
Could be used by employers to discriminate against certain groups of employees based on their national origin or citizenship status.
Employers should consider the privacy concerns of employees and ensure that they are handling employee information in a secure and confidential manner. In instances of erroneous TNC results, applicants could take legal action against employers, accusing them of discrimination or failing to provide them with proper notice of E-Verify results thereby increasing the liability.
E-Verify is voluntary and mandatory only for certain employers. This can create confusion and inconsistency in the verification process if your IT systems are not properly set up or if your employees are not well trained.
The E-Verify system is an electronic system, so it is prone to technical issues that can cause delays in the verification process. Employers should consider whether they have technical capabilities, such as internet access, computer equipment, scanners, integration of E-Verify with HCM software, IT staff, training, SOPs, and job aids, etc.
The system can be complex and difficult to navigate, especially for small businesses that may not have the resources to comply with the regulations. While there is no cost to use the system, it requires a commitment to set up an account and upload information for each new hire. This additional administrative burden can limit the efficiency of smaller businesses necessitating them to allocate additional resources to comply with E-Verify regulations, including legal costs, staff time, and money.
After enrolling, E-Verify must become part of the hiring process and employers must provide ongoing training to their staff on how to use the E-Verify system and comply with the regulations.
Is E-Verify the Right Choice for Your Organization?
If a company is required by law to use E-Verify, the decision is already made, but for most private sector employers the program is voluntary. Using it depends on companies' needs and administrative capabilities. For companies that hire a lot of hourly paid workers, have a high turnover rate, or operate in an area with a lot of immigrant workers, E-Verify can be a useful tool. Either way, employers should examine their employment verification procedures, balance the pros and cons of using E-Verify and make an informed decision about whether it would be beneficial.
While E-Verify offers many benefits by ensuring a legal workplace and speeding up the hiring process, employers should carefully review their hiring processes to prevent any mistakes and ensure they are compliant and audit-ready. To simplify this, employers can automate Form I-9 administration and streamline the E-Verify process. Thus, they ensure efficient completion and storage of Form I-9 and eliminate paper forms that can be difficult to manage and internally audit while reducing the risk of errors and audit fines. As a result, employers minimize risk exposure and stay fully compliant with changing regulations and E-Verify requirements.
Use Form I-9 administration software to automate the completion, signature, storage and tracking of I-9 Forms and E-Verify and ensure compliance with the necessary regulations.