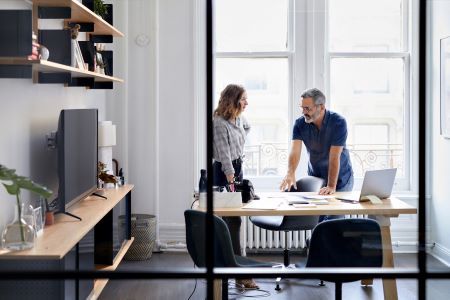 Every employer is responsible for ensuring proper completion of Form I-9 for all individuals hired for employment in the United States. Once completed, employers must retain these forms for a designated period of time for the purpose of possible audits and inspections conducted by the Immigration and Customs Enforcement Agency (ICE).
Form I-9 serves as a covenant between employers, employees and the US government by proving that an employer is hiring an employee in accordance with the federal and state guidelines for legal employment at the time of the form completion. Whether accidental or intentional, violation of this agreement can expose employers to various troubles including monetary fines, criminal prosecution and workplace raids to name a few.
Still, Form I-9 mistakes are common and range from Failure to properly complete Section 1 and 2 or Section 3, using an incorrect version, not complying with the list of acceptable documents, and ignoring the strict timeline for the completion of I-9. However, automated I-9 management replaces traditional paper forms with an electronic version that simplifies the verification process, reduces paperwork and helps drive compliance. Thus, employers can eliminate Form I-9 risks, overcome common challenges, offer a better experience for new hires and stay on top of changing Form I-9 regulations.
Eliminating Non-Compliance with Automated I-9 Management
On paper, it may seem to be just a two-page form, but in reality, to effectively manage Form I-9, employers need to handle the reverification process, timelines, protocols for updating and correcting, receipt rules, recordkeeping, storage and purge policies as well as rules regarding document retention. In addition to this, they need to consider E-Verify, a voluntary program for electronically verifying employment eligibility, run by U.S. Citizenship and Immigration Services (USCIS). While designed to complement Form I-9, E-Verify adds another layer of complexity to the employment verification process and exposes employers to possible legal actions and financial costs.
On the other hand, automated I-9 management simplifies and harmonizes verification rules while helping employers stay compliant. This way, they can create, manage and store Form I-9 securely while meeting the necessary requirements for employment eligibility.
Designed for ease of use and seamless integration with the existing HR and onboarding platform, automated I-9 management prevents further completion of Form I-9 unless information entered into every field is accurate and compliant. Also, using a technologically advanced solution fully integrated with E-Verify allows employers to reduce data entry time and reduce the possibility of errors.
Other benefits of automated I-9 management may include:
Intelligent dashboards providing a real-time and actionable view into the Form I-9 verification program and ability to run reports such as Section 1 and 2 completions, Missing SSNs, Receipts, Section 3 reverification, etc.;
Conversion of paper forms to indexed and searchable centralized electronic Form I-9's to help eliminate paper storage concerns;
The name, content, and order of the federal I-9 form which is legible whether viewed electronically, microfilm or when printed on paper.
Reasonable controls and validation to ensure accuracy and reliability by finding possible errors, streamlining corrections, and purge forms that do not meet retention requirements;
Centralized cloud-based data center for storing all Forms I-9 and supporting documents which can be retrieved and reproduced in legible hard copies in case of an audit within the specified period;
Detailed audit trails to ensure fully compliant electronic forms;
E-Verify integration to provide instant verification of identity and eligibility;
Built-in compliance tools to ensure that every Form I-9 is fully completed in accordance with USCIS guidelines;
Controls to prevent unauthorized access and creation of duplicates, deletion, or deterioration of the stored I-9 forms.
Efficient managing of timelines for all hires working either remotely, hybrid, or at physical locations;
Ensures privacy so that only authorized personnel have access to the electronic records;
Employers can achieve cost savings by storing forms electronically and through different integration opportunities with the other products.
Virtual Options for I-9 Verification
For more than two years, the Department of Homeland Security (DHS) has been allowing employers with remote workers to review Form I-9 documents virtually over video link or by fax or email, in response to COVID-19. While this flexibility is set to expire on October 31, 2022, the agency has issued a proposed rule for comments to permit alternatives to in-person verification of identity and employment eligibility documents during the Form I-9 process.
This proposal does not authorize permanent flexibility. Instead, it establishes a framework under which DHS could extend flexibilities, test alternatives to in-person inspection or permit alternatives during emergencies. Such changes could be temporary or permanent and could apply to all or only some employers, depending upon specific determinations regarding the level of security and the fraud risk involved.
While considering these options, DHS seeks public comments on the benefits and costs to employers of instituting Form I-9 flexibility. The comment period ends on October 17, 2022. DHS is also seeking feedback on several I-9 issues under consideration for the future, including document retention requirements, training requirements for employers, and potential eligibility criteria for employers wishing to use an alternative to in-person inspection.
Compliance Based on Automated I-9 Management
Properly completed Form I-9 is the most important aspect of immigration compliance and the key defense against government fines and lawsuits. However, Form I-9 compliance is not easily achieved and even if all of their employees are legally authorized to work in the US, employers can still face penalties for maintaining inaccurate or incomplete forms.
However, a different set of features, such as security, compliance, E-Verify integration, and easier document processing, make automated I-9 management an ideal solution for employment eligibility verification. This allows employers to replace manual procedures with an automated online process that includes electronic forms and documents, electronic signatures, and audit trails. As a result, they can be ready for potential enforcement actions, successfully adhere to the necessary regulations, maintain compliance with E-Verify requirements, and ensure using the correct version of the Form I-9.
Handle employment eligibility verification with an automated I-9 management solution fully integrated with E-Verify to bring consistency to the completion process, reduce errors, and ensure compliance with the necessary regulations.